United Kingdom Puccini, Tosca: Soloists, Chorus, Ensemble Cymru / Jonathan Lyness (conductor). Riverfront Arts Centre, Newport. 27.4.2019. (GPu)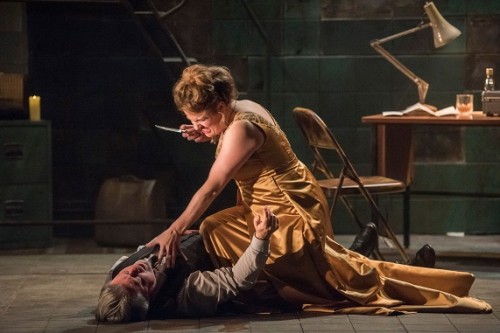 Production:
Director and Designer – Richard Studer
Lighting designer – Dan Saggars
Cast: 
Cesare Angelotti – Joseph Padfield
Sacristan – Emyr Wyn Jones
Mario Cavaradossi – Charne Rochard
Floria Tosca – Elin Pritchard
Baron Scarpia – Nicholas Folwell
Spoletta – Jonathan Cooke
Sciarrone/Gaoler  – Matthew Tilley
Shepherd Boy – Alys Mererid Roberts
It is 30 years since Mid Wales Opera presented its first opera, a production of The Magic Flute.  Energy and ambition have never been lacking and, in the years since 1989, productions have included – in no particular order – The Barber of Seville, Carmen, Così fan Tutte, Otello, Turandot, Don Giovanni, La traviata, Rigoletto, The Bartered Bride, Semele, Eugene Onegin, Falstaff, and Gounod's Faust. Singers to have passed through the ranks of MWO include Gail Pearson, Peter Hoare, Christopher Maltman, Leah-Marian Jones, Jeffrey Lawton and Keith Latham, while directors have included Jonathan Miller, Aidan Lang, Anneliese Miskimmon, Martin Constantine, and Stephen Medcalf.
Recent 'mission statements' point to some of the valuable work they do: 'Mid Wales Opera crafts and performs fully-staged intimate touring opera productions at venues across Wales and beyond. We are passionate about opera, taking inspiring productions into theatres and spaces where live opera is rarely seen and bringing it to new audiences. We are committed to nurturing, challenging and encouraging young and fresh talent by casting half or more of our performers from those who have recently graduated or are under thirty years old' and 'Our aim is to extend the company's traditional touring model to bring professional stagings and opera experiences to village halls, community run theatres and festivals right across ales and the Borders'.
The major driving forces in the establishment of MWO were Keith Darlington, then Head of Birmingham Conservatoire Vocal and Operatic School and the well-known vocal coach Barbara McGuire. Since its founding (in 1988), the company has been based at Theatr Hafren, Newtown.
Nowadays, as well as mounting and touring their productions, MWO also undertake projects in schools. A piece in the programme for this Tosca tells the reader 'In June 2018 we returned to Montgomery Church in Wales School to work with junior school pupils to create their own opera from scratch complete with unicorns and hobbits as well as wonderful singing and creative energy from the pupils'. That sounds fun!
Each of the 9 performances of Tosca, each in a different place, has featured a local 'community choir, with a mix of individuals, local choirs and operatic societies singing Puccini's mighty Te Deum, at the end of Act I'.
All of this valuable work would go for nothing if the company did not maintain high standards in their stagings. Naturally, MWO's performances have to be judged by the appropriate standards. Without being condescending, one has to recognise that such standards are different from the ones that would apply at, say, the Royal Opera House, The Met or La Scala. MWO performances need to be communicative and unintimidating (they are sung in English, without surtitles) and readily accessible to an audience who have little or no experience of opera. Above all – for me the acid test – they should be such as to encourage/inculcate a desire to see and hear more opera.
This Tosca passed every one of these tests. I have, in the way of things, seen or heard productions more wonderfully sung or staged more spectacularly. But this production had a great sense of dramatic intensity and an intimacy which drew the audience into the drama, as well as singing and playing that did much to show how powerful and beautiful the work can be.
The set, by Richard Studer (both director and designer) was well designed for the purpose, providing a plausible interior of Sant'Andrea della Valle in Act I. With some slight changes, it proved an adequate basis for Scarpia's quarters in Act II and the platform of the Castel Sant'Angelo in Act III.
The eleven-strong orchestra of Ensemble Cymru, playing an arrangement/reduction by conductor Jonathan Lyness provided excellent support throughout. I soon adjusted to the inevitable losses in terms of fullness of sound – the essence of Puccini's music was unmistakably here and was very well articulated by orchestra and conductor.
Of the cast of singers, all made effective and useful contributions. For me, however, there was one stand-out performance, which was that of Elin Pritchard as Tosca. Her interpretation of the character was both dignified and passionate, her voice full, but various in timbre. I see from the programme and from her website that recent and forthcoming engagements for her include roles with Opera North, English Touring Opera and the Buxton Festival. A singer whose voice seems equally strong across its range and who has an impressively assured stage presence, she surely has a significant career ahead of her. As her lover Cavaradossi, Charne Rochford was stronger in the heroic dimensions of his music and character (as when helping Angelotti to escape or standing up to Scarpia and his henchmen) than in its lyrical dimensions. His tone was unchangingly hard in Acts I and II, though it softened attractively in Act III's 'E lucevan le stelle' (I use the original libretto for ease of reference: the opera was sung in Amanda Holden's English translation), where he displayed an Italianate lyricism which had been oddly absent in his Act I account of 'Recondita armonia'. Nicholas Folwell's Scarpia was never without an edge of menace, though he avoided the exaggeration that some singers of this role indulge in. At moments, however, he could have done with a little more vocal power. But, drawing on his extensive stage presence, he remained a forceful dramatic figure.
With all that they do in spreading the word about opera, with what do to encourage the development of young artists, and with their best productions (like much larger companies, MWO has the occasional 'miss' too!), Mid Wales Opera makes a valuable contribution to the artistic landscape in Wales (and occasionally beyond) as well as to the wider opera 'industry'. Had this Tosca been my introduction to opera, my appetite for more would, I am sure, have been whetted. I hope that the doubtless continual struggle for funds will prove successful and that MWO will have many more years of activity ahead of it.
Glyn Pursglove
For more about Mid Wales Opera click here.