United Kingdom English National Ballet's She Persisted: Dancers of English National Ballet, English National Ballet Philharmonic / Gavin Sutherland (conductor). Sadler's Wells, London. 4.4.2019. (JPr)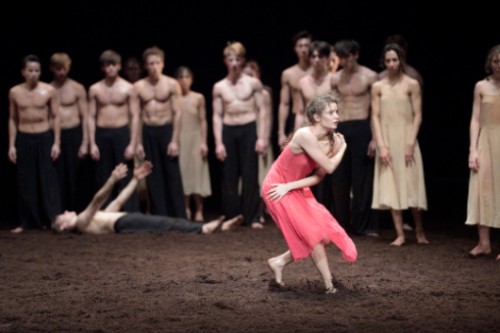 Broken Wings
Choreography – Annabelle Lopez Ochoa
Music – Peter Salem ('La Llorona' sung by Chavela Vargas)
Scenography – Dieuweke van Reij
Lighting design – Vinny Jones
Dramaturg – Nancy Meckler
Dancers: Katja Khaniukova (Frida), Irek Mukhamedov (Diego), Barry Drummond (Young Boy), Alison McWhinney (Diego's Mistress) and Artists of the Company
Nora
Choreography – Stina Quagebeur
Music – Philip Glass (Pianist, Chris Swithinbank)
Assistant to the Choreography – Nicola Henshall
Design – Louie Whitemore
Lighting design – Trui Malten
Choreographic mentor – Kerry Nicholls
Dancers: Crystal Costa (Nora), Jeffrey Cirio (Torvald), Junor Souza (Krogstad), Adela Ramírez, Angela Wood, James Forbat, Francisco Bosch, Henry Dowden (5 Voices)
Le Sacre du printemps (The Rite of Spring)
Choreography – Pina Bausch
Music – Igor Stravinsky
Set and Costumes – Rolf Borzik
Collaboration – Hans Pop
Dancers of English National Ballet featuring Francesca Velicu
Apparently 'Nevertheless, she persisted' was used in a derogatory sense in the US Senate by Republican Senator Mitch McConnell to silence Senator Elizabeth Warren, a Democratic, and has since become a feminist rallying call. It has now been adopted by English National Ballet for – as their artistic director Tamara Rojo wrote in her introduction – their 'second programme dedicated to female choreography which follows on from the overwhelming success of She Said in 2016 [which] set out to address the gender imbalance amongst major living choreographers, and I think it paved the way for more female choreographers to work with ballet companies … still She Persisted feels needed, as even more space can be made for female voices on stage.' This current run of performances at Sadler's Wells are dedicated to 'a wonderful dancer and teacher' Kevin Richmond who died on 13 March and was a member of London Festival Ballet/ENB from 1977 to 1999.
The first piece Broken Wings – previously seen in She Said – is from choreographer Annabelle Lopez Ochoa and dramaturg Nancy Meckler and has a wonderful central role for a female actor-dancer. After Grayson Perry's R-rated front cloth is raised what we see takes a sideways look into the lives of Mexican artists Frida Kahlo and Diego Rivera and it is as if her artwork comes to life. Katja Khaniukova's Kahlo emerges from a giant cube manipulated by Mexican Día De Los Muertos (Day of the Dead) skeleton-like figures: acting like the Fates from Greek mythology they appear to control her destiny. We see Kahlo first as an 18-year-old finding love for the first time with Barry Drummond's Young Boy before the accident that affects her health for the rest of her life, yet was the reason she began painting. Khaniukova is by turns as flirtatious, exotic and erotic as Tamara Rojo, the first Frida, was.
At times Frida is surrounded by colourfully costumed characters inspired by her painting, especially a troupe of male Kahlos. A representation of her 1946 'The Wounded Deer' plays a significant part in what we see. Throughout there has been a constant undercurrent that she is damaged – even wounded herself – in some way and soon we see Frida confined to bed having a very distressing miscarriage. Broken Wings is not to be missed for the cameo from the legendary dancer Irek Mukhamedov – enjoying himself immensely in his fat suit – as Diego, Frida's supportive but faithless husband. Unlike Gustav Mahler who forbade Alma to compose, Diego said, 'No matter how difficult it is for you, you must continue to paint'. Mukhamedov looks wonderfully dishevelled and Diego is clearly not the god's gift to women he believes himself to be. Even though Mukhamedov's feet hardly leave the ground his still-potent charisma oozed from every gesture he made.
Stina Quagebeur – a memorable Myrtha in Akram Khan's Giselle – has created the only new work in this triple bill, her first main one for ENB. Nora is a pared-to-the bone version of Ibsen's A Doll's House, focussing on the eponymous heroine's emotional turmoil. Accompanied by words from the play (in D.J. Walde's soundscape) we see how Nora has forged the signature for a loan to help her unfeeling bank manager husband, Torvald. The music now morphs into Philip Glass's Tirol Concerto (percussively played by Chris Swithinbank) as Torvald finds out about this from Krogstad (Junor Souza), an employee at his bank. Torvald vehemently reproaches and rejects Nora before relenting and showing forgiveness.
Quagebeur mixes many of the (over-)familiar tropes of modern dance with some taut characterisation and much fluid movement that recalls the work of Kenneth MacMillan and even Frederick Ashton's A Month in the Country. The eloquent Crystal Costa brings the conflicted Nora to vivid life and as Torvald, Jeffrey Cirio expresses his character's rage in an explosive sequence of spins and jumps. Nora is constantly accompanied by five dancers who reveal her innermost thoughts and her desire is to run out on a stifling marriage: this she eventually does.
Pina Bausch's Le Sacre du printemps (The Rite of Spring) was a remarkable company achievement and further proof – though no more is surely needed? – of the heights English National Ballet are attaining under Tamara Rojo. Stravinsky's music has been choreographed many times since the infamous 1913 Paris scandal. The late Pina Bausch tackled it in 1975 right at the beginning of her career at Tanztheater Wupperthal and it was not seen in the UK from 2008 until ENB performed it in 2017 being only the third company to do so.
The energy required by all-concerned is immense and the spell-binding, primeval, feverish and hallucinatory atmosphere it created gripped me and the audience around me. Bausch's The Rite of Spring – and the religion of the people that we see – is 'rooted in the earth' and we see this though 28 dancers performing on peat. This not only provides a most effective set design, but also becomes a significant part of the performance: streaking and staining the dancers during the tribal rites in way reminiscent of what happens in Akram Khan's Dust for the company. There is something slightly voyeuristic about getting this insight into the frenzied fertility ritual of whatever ancient tribe this might be.
There is almost too much happening, and your eye will rarely settle on anyone for any great length of time. The dancers were often in perfect unison during their almost perpetual motion and throughout they showed a complete involvement in the unfolding of the drama, almost appearing as if they had actually entered the trance-like state Bausch shows us. The dancers are often heard catching their breath in the quieter interludes and this seems to have been deliberately highlighted by Bausch in this work.
The tension builds inexorably as the sacrificial maiden (the 'Chosen One') is selected to wear a scarlet slip, its blood-like colour probably a metaphor for human sacrifice. It is tossed around before the Chosen One puts it on and triggers an orgiastic – and gymnastic – celebration of fertility. As the counterpoint to the huge emotional involvement the Chosen One has in the proceedings from this point, the man (James Streeter) who made the choice displays little emotion: initially he has his back to the audience and then spends most of the remaining time lying motionless on the peat. Finally, there is the long, degrading, agitated and agonising dance of death which was a tour de force from Francesca Velicu as the Chosen One. She won an Olivier Award for Outstanding Achievement in Dance for this role in 2017 and deserves – on this performance – to win it again! The Rite of Spring ends with Velicu collapsing exhausted onto the dirt and in a sense returning to the earth from whence she came.
Throughout She Persisted the impeccable English National Ballet Philharmonic played a full part – under the incomparable Gavin Sutherland – in creating an atmospheric blend of live and recorded music but they were at their very best with the relentless fervour they brought to Stravinsky's famous score. The compelling nature of his expressive music resulted in an organic relationship between it and Bausch's rampant animalistic choreography that is often missing in most modern dance. I just wish sometimes the amplification at Sadler's Wells could be reined in a little.
Jim Pritchard
For more about English National Ballet click here.