Pietari Inkinen talks to Gregor Tassie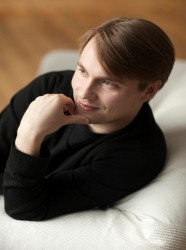 The Finnish conductor Pietari Inkinen started playing the violin and piano at four years and entered the Sibelius Music Academy graduating in violin studies (2003) and in conducting (2005) after which he studied with Zakhar Bron in Germany. He formed his own Piano Trio – the Inkinen Trio, and also performed in a rock band in Helsinki. He decided to devote his career to conducting and his first position was as chief conductor of the New Zealand Symphony Orchestra (2008-2015). Inkinen recorded all the Sibelius symphonies for Naxos with the NZSO. In April 2019 the Japan Philharmonic Orchestra under Pietari Inkinen are touring Europe in programmes reflecting both the central repertoire and music from the Far East and from Inkinen's homeland. Currently, Inkinen holds the chief conductorships at the Prague Symphony Orchestra, the Deutsche Radio Philharmonic Saarbrucken, the Ludwigsburg Schlossfestspiele together with the Japan Philharmonic Orchestra. The Japan Philharmonic play at the Suntory Hall in Tokyo and their 2019 European tour embraces Finland, Germany, Austria and the United Kingdom. Just after their debut in Vienna's Musikverein, he spoke with me about his career and his thoughts about music.
Gregor Tassie: You started your music studies at the Cologne Music Academy with Zakhar Bron, but then switched to conducting when you attended the Sibelius Music Academy. What was it that made you make this big change in your career after achieving success as a violin soloist?
Pietari Inkinen: Well, our country is renowned for its singers and conductors. So at first I chose to be a violinist, but playing in a chamber orchestra and leading the ensemble, I got the spark for my conducting career.
GT: Was there any specific inspiration for you in conducting, many young budding conductors have been motivated by Herbert von Karajan and Claudio Abbado.
PI: Yes, well there are plenty of Finnish conductors on the scene as well, so it seemed natural to follow a great conducting model like Esa-Pekka Salonen. The preceding generation were inspirational for me.
GT: Looking at your CV, the music of Wagner plays a big part, in recent seasons you have conducted Ring Cycles both in Japan, New Zealand, and in Australia. How did you become attracted to Wagner's music?
PI: Yes, my conducting teacher once conducted Tristan und Isolde and this was a very powerful experience and stayed with me for a very long time. I was inspired by the Ring and Wagner's music remains for me both a fascination and a most rewarding step in my career to climb as a conductor.
GT: The Edinburgh Festival has been programming the Ring over several years in a concert setting without sets and costumes and starring a singer with whom you have collaborated frequently – Simon O'Neill – who has performed in Die Walküre and Siegfried. How did you become associated with him?
PI: Since I started working with the New Zealand Symphony Orchestra, Simon has become one of my closest allies in this repertoire and we have both travelled along the Wagner road for a long time.
GT: I know that you are bringing Finnish music on your tour, by Sibelius and a world premiere by Rautavara, unfortunately Rautavara is only known for a few pieces of music, what can you tell me about this composer?
PI: Yes, from Sibelius of course we gained strength for forming our identity as a nation and he laid the foundation for future generations of both composers and conductors. At the time of Finland's separation from Russia, Sibelius's contribution was absolutely crucial for our nation. Also he laid the base for Rautavara, and on this tour we are playing his short piece, his final orchestral work, written by him for our Japan Philharmonic Orchestra and we are giving the world premiere of 'In the Beginning'. We have another two works, Rautavara's music is ethereal, included among them written years ago is a fanfare for this occasion [of National Independence]. He was an old man who was working at the piano every day.
GT: You currently work with four different orchestras. How do you manage this especially when they are on different continents?
PI: Being on the road is like growing together, there is a core repertoire [at each orchestra] which we play maybe as many as 15 times, so it gets a little easier over the years. But of course we are not robots, there are problems and the tours help to make it better, I get to know the players better, the orchestra have their own ideas and I have to convince them to go with it: relationships like this are much more fruitful, we grow together when you are travelling together. At the beginning of course it was difficult.
GT: Audiences in the UK are quite conservative, and it is difficult to get people to attend classical concerts, and as music education is being cut back the older generation tend to dominate the audiences. Is there anything you want to say about this?
PI: Well, for example we have just played at the Musikverein in Vienna and the audiences there are very experienced because of the excellent performers who play there, so if something is good they really appreciate it and show it and of course it is very exciting to play for such a crowd. We [at the Japan Philharmonic] are like all orchestras and have a very strong base at home, and there are very conservative audiences there also. The Japan Philharmonic spends a lot [of time] on education and on outreach programmes so we may attract a lot of the younger generation and people are more open-minded about classical music now. Education is a crucial part in our work, and we can't allow classical music to become a museum or that would be the end of it, so we have to look at new ways of bringing people to classical music.
GT: Thank you, I can assure you that audiences in Edinburgh are very knowledgeable and that they will give you a very warm welcome on your first visit to Scotland.
For more about Pietari Inkinen click here.