United States Mozart, Don Giovanni: Soloists, Juilliard Orchestra / Joseph Colaneri (conductor), Juilliard Opera, Peter Jay Sharp Theater, The Juilliard School, New York, 26.4.2019. (RP)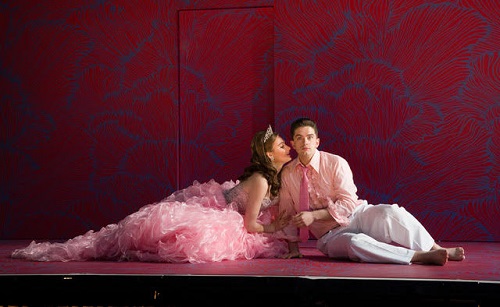 Production:
Director – Emma Griffin
Costumes – Olivera Gajic
Sets – Laura Jellinek
Lighting – Mark Barton 
Cast:
Don Giovanni – Xiaomeng Zhang
Donna Anna – Meghan Kasanders
Donna Elvira – Maritina Tampakopoulo
Leporello – Erik van Heyningen
Don Ottavio – James Ley
Zerlina – Jessica Niles
Commendatore – William Guanbo Su
Masetto – Gregory Feldmann
A friend wondered before the performance why Juilliard would mount something as daunting as Don Giovanni, suggesting that Le nozze di Figaro or Così fan tutte might be more congenial turf for young singers. (Tell that to the soprano who has to sing 'Come scoglio'.) She had a point, but after the fact the answer was obvious. Juilliard has the singers, including apparently not one but two promising Don Giovannis: Xiaomeng Zhang in this performance and Hubert Zapiór.
In the program, Brian Zeger, Artistic Director of Vocal Arts at Juilliard, wrote that the opera grapples with sexual desire clashing with honor and loyalty and notions of class. The former tend to take care of themselves in any production of the opera, but in this one the latter were underscored by Olivera Gajic's costumes. On point, the Commendatore, who channeled the late fashion designer Karl Lagerfeld in style and manner, was doing double duty, not only bringing Don Giovanni to justice but also keeping most of the cast attired in haute couture.
The aristocratic males wore stylish silk suits. Donna Anna was sumptuously gowned, while Donna Elvira was a bit edgier in an elegant pants ensemble. As for the peasants, it was dress-up time for the big day. Zerlina was a fairy-tale princess complete with tiara, pert and pristine in a pink explosion of a wedding dress. Her groom, Masetto, was snazzily attired in a white tuxedo with a matching shirt and tie. The servant, Leporello, was in rustic homespun green. Except for the Commendatore, they doffed their shoes as the opera progressed. I am not sure what that was about.
Director Emma Green had a fairly traditional take on the opera. Her emphasis was clearly on helping the young singers craft detailed, distinct characterizations, which they did. When called upon, the Juilliard's singers also proved to be accomplished dancers. A small cadre of fencers also appeared throughout the opera. It took a few minutes for it to sink in that there would be no falderal during the overture, just the ever-rarer opportunity to bask in the music.
The set was basic: a dizzying red and blue wall that was manipulated to create the backdrop for the various scenes. When emotions ran high, a wash of red illuminated the stage, where the brightest object was a large aquarium in the final scene. Don Giovanni's demise is always a bit tricky, and Green's solution was to have two of the fencers drown him in the aquarium. That didn't do it, however, as he reappeared to drag a terrified Donna Anna offstage as the final notes sounded and the stage went dark.
Xiaomeng Zhang has looks and charisma, and a voice with equal allure. Clad in a sleek red suit, his Don Giovanni moved like a leopard and exuded danger; the leer on his face as he described his obsession with women to Leporello was pure evil. (When he swung a matador's cape over his shoulder, you sensed an Escamillo in the making.) Zhang's singing radiated the same intensity, with the beauty of his voice revealed when wooing yet another conquest.
Equally exciting dramatically and vocally was Maritina Tampakopoulos as Donna Elvira. One of the funniest scenes of the production was watching her tear the pages out of Leporello's little book in which he kept track of his master's conquests. She sailed through both of her big arias with accuracy, fire and fury. Tampakopoulo's take on this forlorn woman was a tad arch, which only made it all the more pitiful to watch her come to grips with Don Giovanni's duplicity and lasciviousness; she had indeed loved him, a point often lost amid the histrionics.
As Donna Anna, Meghan Kasanders displayed a voice as sumptuous as the gowns she wore, and acted in the grand style as well. 'Crudele? Ah no, giammai mio ben!', the recitative that precedes the fiendishly difficult aria 'Non mi dir', found her voice at its most lustrous. Her Don Ottavio, James Ley, was more convincing as an ardent lover than an earnest suitor. Although he can spin out lovely legato lines with his silvery tenor, the voice was truly exciting when it bristled with energy and passion.
Jessica Niles brought sparkle to the role of Zerlina. There were no dark undertones to her 'Batti, batti o bel Masetto'; rather, she was flirtatious and seductive as she coaxed forgiveness from her husband for having gone off with Don Giovanni on their wedding day. Gregory Feldmann was a wholesome, winning Masetto with a fresh and resonant voice.
The Leporello of Erik van Heyningen was the Everyman of the tale. His appeal was instant due to his forthright manner and natural ease coupled with the warmth of his voice. William Guanbo Su was just the opposite, dignified and aloof as the Commendatore in both his corporeal and spectral guises. No amplification was needed to make his stentorian voice resound through the theater.
There was a palpable sense of excitement emanating from the pit. Under Joseph Colaneri's masterful watch, the orchestra, all Juilliard students, played splendidly. Some of their peers were on the stage and as at ease as the singers. George Meyer was cool and nonchalant accompanying Don Giovanni on the mandolin as he serenaded Donna Elvira's maid. In the final scene, the woodwinds, especially the clarinets, provided spirited entertainment for the guests before the Commendatore arrived and cast a pall over the festivities.
Rick Perdian