United States Mozart, La clemenza di Tito: Soloists, Chorus and Orchestra of University of Cincinnati College-Conservatory of Music (CCM) / Jiannan Cheng (conductor), Corbett Auditorium, Cincinnati, Ohio. 12.4.2019. (RDA)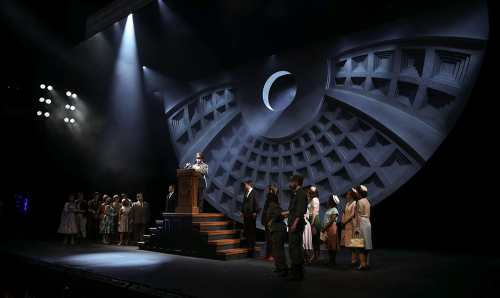 Production:
Stage director – Robin Guarino
Scenic designer – Mark Halpin
Costume designer – Rachel C. Boylan
Lighting designer – Evan P. Carlson
Cast:
Tito – Carlos Cárdenas
Vitellia – Teresa Perrotta
Sesto – Brenda Iglesias
Annio – Grace Kiver
Servilia – Yewon Yoon
Publio – Antonio Cruz
If you search online for La clemenza di Tito you will get a 700-word summary of the plot of Mozart's last opera. Fear not. I will spare you both a detailed outline and a lengthy account of the convoluted goings-on that led to his writing it, and instead will zero in on a few essentials.
In the last months of his short life, Mozart was offered a commission to write this work in Prague, and he took it simply because — no matter how bad his health and how fatigued he was — he needed the money. Mozart had previously worked closely with two great men of the theatre: Lorenzo Da Ponte, who had authored Le nozze di Figaro, Don Giovanni and Così fan tutte, and Emanuel Schikaneder, who had written and starred in The Magic Flute. Mozart had been spoiled by these two great librettists, and now he was saddled with a mishmash of a story that had been shaped and reshaped — and misshapen — by a number of hacks, who had turned the original Metastasio poem about the Roman Emperor Titus into a hodgepodge.
Valiantly the composer plowed ahead, and in spite of a story that caused Empress Maria Luisa of Spain to label Mozart's creation at its opening 'una porcheria tedesca' ('German swinish stuff') he penned some lovely arias for the principal characters. But besides a string of show-stopping turns for the soprano Vitellia and the castrato Sesto (these days assigned to a mezzo-soprano) much of the score is plagued by the constraints of the opera seria genre, one that Mozart had abandoned shortly after composing his much better opera Idomeneo.
Those constraints consist of linking musical sequences with recitatives devised to push forward the story. That structure, lacking the great ensembles of Mozart's earlier masterpieces, can make Tito hard to slug through, although a revelatory staging could go a long way into alleviating the boredom.
At the College-Conservatory of Music (CCM, part of the University of Cincinnati), Robin Guarino's production sets the action in a time and place vaguely redolent of the Cuba where I grew up during the triumph of Castro's Revolution circa 1959. But in this instance — and unlike Guarino's usually reliable work — a quintessential quality missing from the visual and dramatic elements: authenticity.
Inaccuracies and illogical plot twists abound in the libretto, and when the words are sung in Italian and displayed on supertitles, we have to accept them. But setting the opera in 1959 Cuba poses challenges. Once Castro entered Havana in the early days of that year, there was no senate left over from the previous regime. Within weeks, kangaroo courts set up by the new government systematically imprisoned or sentenced to death most of those       associated with the Batista government — those who had not fled into exile in the wee hours of December 31, 1958.
And, most importantly, the 'clemency' of which the title speaks was not in evidence during the first year of Castro's regime. During that time, he had many killed who had fought alongside him in the mountains of Eastern Cuba — for the mere suspicion of betrayal, or for fear that they would rise up as rivals.
There are also glaring gaffes in the costuming of both principals and chorus. Vitellia in a trench coat in 90-degrees-in-the-shade Havana? No way! Pillbox hats for the girls in the chorus? Not in 1950's Cuba! A government functionary in red shoes? He would have been shot on sight! Security men in black suits? Try guayaberas or safari jackets instead! The Supreme Leader in a Disco outfit? That came about in the 1970's and Castro would not have been caught dead wearing one.
If we were to remove the olive-green fatigues, the scruffy beards and the Spanish language graffiti on the walls, this could be anywhere in a world of turmoil at the end of the 1950s. But in staging an opera and updating the time and place, specificity and precision are musts, and both those qualities are missing here.
As can be expected of students, the principal singers ranged from promising to immensely gifted, and that is a good sign. CCM is grooming wonderfully trained singing actors — young artists on the brink of major careers, including winners of the Metropolitan Opera National Council Auditions. The vocal demands of at least three of Tito's principal roles are serious, and on opening night, in the title role, it was exciting to hear Carlos Cardenas offer some terrific singing. A true Mozart tenor with a clarion top — and style in spades — the young Colombian was memorable as a Fidel look-alike.
Mezzo-soprano Brenda Iglesias was quite believable as a young and bearded revolutionary, and sang Sesto's 'Parto, parto' very well. As the man-eating Vitellia, Teresa Perrotta delivered 'Non piu di fiori' at the end of the evening as a showstopper. Soprano Yewon Yoon was a lovely Servilia. The orchestra, led by Jiannan Cheng, did good work throughout, with kudos to the wonderful clarinet obbligati of Chanul Kim in a couple of the arias.
Since CCM is in the business of training young musical artists for a career, it would be nice to allow its voice students to perform in operas in which the musical style is supported rather than contradicted by the staging style. A Mozart opera seria — set in the time and place that both composer and librettist intended — would afford the singers a chance to work in 18th-century costumes, and for Phillip Glass or John Adams, in 20th-century attire. These wonderfully-gifted operatic hopefuls need both.
Rafael de Acha