United Kingdom Rautavaara, Beethoven, Takemitsu and Sibelius: John Lill (piano), Japan Philharmonic Orchestra / Pietari Inkinen (conductor). Usher Hall, Edinburgh, 14.4.2019. (GT)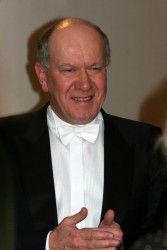 Rautavaara – In the Beginning
Beethoven – Piano Concerto No.3 in C minor, Op.37
Takemitsu – Requiem for Strings
Sibelius – Symphony No.2 in D major
In the present day – through increasing globalisation – almost all the world's orchestras are staffed by musicians who have gained their education in Asia, Europe and the Americas. From my experience the only exceptions are orchestras in Russia, also notably the Czech Philharmonic, and based on this concert – the Japan Philharmonic are entirely of homegrown players. This of course allows audiences to gain a quite different experience of visiting musicians. I cannot remember hearing an orchestra from Japan: this is their sixth UK tour and it is nine years since this orchestra's last visit here.
From DVDs and CDs my impression has been of immaculately well-trained musicians, yet without the warmth of tone and colour associated with the best European orchestras and this assessment was confirmed in this Edinburgh appearance by the Japanese Philharmonic Orchestra. The Finnish conductor Pietari Inkinen commissioned the opening piece from the late Einojuhani Rautavaara (1928-2016); his last completed orchestral work – premiered by him in 2017 – and which he has toured extensively. Rautavaara's In the Beginning was atmospheric – hinting of Debussy's impressionism – the large strings section dominated the first passage, contributing to some beautiful playing, some noticeably also from the oboe. There was no distinct theme overall, and just as the darkly mysterious music began to promise more, the piece suddenly ended as if life is suddenly cut short.
In the Beethoven Piano Concerto, one had the opportunity of hearing how really good this orchestra can be – already the strings had revealed they are very well-trained, and when accompanying one of the great pianists that extra ounce of musicality can emerge. In the thousands of performances that he has given worldwide John Lill must have played this concerto hundreds of times, but here it sounded under his fingers as fresh as it was decades ago. Lill has that pearly tone with a touch of imperial grandeur honed immaculately and Beethoven is his forte. Notably Wilhelm Kempff was his teacher. Here he was marvellously assisted by the orchestra's world-class woodwind players, and in the Allegro con brio, a lovely oboe from Hiromasa Matsuoka was stunning for its nuance and colour. In the Largo, it seemed strange that there seemed little or no eye contact between Lill and Inkinen, yet this must have been thoroughly worked out in rehearsal, or they have a long history of collaboration in this work. There was superb musicality from the flute of Takashi Endo, once more the oboe of Matsuoka, matched by Hiroki Domen on clarinet and the bassoon of Masanobu Kimura. It was clear that Lill is a world apart from the modern-day piano school, he has the old artistry and style, whereas many of our contemporary pianists are ultra-clinical and often without the artistry formed over many years. This was a deeply thought through performance by this great artist in his seventy-sixth year and before the close of the slow movement, we heard an attractive solo passage from the soloist. In the finale, Lill started briskly, his playing was bright, cheerful and upbeat, again he found the colours and that extra nuance from decades of experience, almost fifty years since he won the Tchaikovsky Competition (jointly with Vladimir Krainev) ably assisted by this fine orchestra and its world-class woodwind.
Takemitsu's Requiem for Strings is a useful visiting card for this orchestra, despite the scarcity of ideas, the sound created was both stunning and elegiac in its prolonged lament – allowing the strings to show all their skills – yet too often the music seemed dream-like and like film music. There was little more than a single, yet simple, idea which swept across the orchestra – like a great wave of reflective tragic emotion – and towards the close, we were left with a solo threnody from the orchestra leader Masayuki Kino.
Sibelius's Second Symphony again revealed this orchestra's strongest side with excellent first violins and with a very fine brass section, again the oboe, bassoon and clarinet showed star qualities against those superb strings. The conductor showed fine control of the difficult transitions and indeed the discipline was high. Inkinen is a conductor economical in gesture – there are no great sweeps of his hands, everything is tightly controlled and effective, there is no showmanship in his work. The solo trumpet of Cristofoli Ottaviano emphasised the sound of nature so intrinsic in this music, and a suitable pastoral mood was invoked again by the pulsating brass. Once more the wind section showed that at times the orchestra has world-class qualities. In the finale, the slow gradual build in climax was held in masterly fashion by Inkinen and brought this darkly romantic masterpiece to a suitable and satisfying conclusion.
Gregor Tassie
For an interview with Pietari Inkinen click here.