United Kingdom Elgar, Saint-Saëns: Lucas Debargue (piano), Bournemouth Symphony Orchestra / Kirill Karabits (conductor). The Lighthouse, Poole, 3.4.2019. (IL)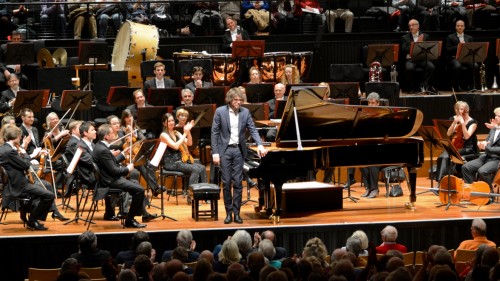 Elgar – Concert Overture: Froissart
Saint-Saëns – Piano Concerto No.5 in F Major
Elgar – Symphony No.1 in A flat
Kirill Karabits empathises so well with the music of Elgar – its spirit and sensibilities.
This memorable concert, with the Bournemouth Symphony Orchestra on splendidly top form, began with a stirring reading of Elgar's early Froissart Overture. The score – with its heading that quotes Keats ('When chivalry lifted up her lance on high') – was brilliantly evoked by Karabits, who fully asserted the music's redolence of valour and honour. The opportunities presented by its palate of vivid colour and rhythmic energy were well seized.
The central concerto spot was filled with French pianist Lucas Debargue's alluring and sophisticated reading of Saint-Saëns's sunny, melodic Fifth and final Piano Concerto; it was completed in Cairo some six years after Elgar was working on Froissart. The piano writing for this piano concerto frequently anticipates that of Ravel, himself an admirer of Saint-Saëns's piano concertos. Limpid, fluid charm, contrasted with dramatic power (that episode in the finale suggesting the pounding ship's engines, for instance) characterised Debargue's reading. His every note was cleanly delivered and crystal clear even through passages of torrential notes. Debargue's remarkable virtuosity was worn lightly. It never intruded on, or diminished, the overall sparkle of the music. Karabits's accompaniment added lustre and, where appropriate, imaginative evocations of exotic Eastern locations.
The main item of the concert, Elgar's monumental First Symphony, achieved world-wide success, with some hundred performances in the year it was premiered. Even palm court orchestras were quoting from it in their programmes!
I quoted Elgar's invented term,'nobilmente', at the heading of this review, because the composer often used it in the markings of his scores. It was probably most famously used in connection with the opening theme of his First Symphony.
Karabits sensibly propelled the substantial opening movement strongly forward, not allowing the music to sprawl or dawdle over detail. The following scherzo contrasts a stirring military-style quick march and a quieter reflective episode that Elgar wanted played 'like something you hear down by the river'; at that point, Karabits spun evocative magic. This golden glow spread over the following slow movement, surely one of the most beautiful and poignant pastoral evocations in all music? Through its closing passages, with those magical, quiet, distant horn calls, for me, the pastoral transcends towards the spiritual. The finale was quite breathtaking, with its beautiful romantic melody (Karabits having the BSO unrestrainedly singing their hearts out) followed by the closing proud bombastic flourishes with the brass resplendent.  An Elgar First Symphony to cherish.
All bodes well for the greatly anticipated finale to the BSO's 2018/2019 season, dedicated to a performance of Elgar's The Dream of Gerontius and conducted again by Kirill Karabits.
Ian Lace