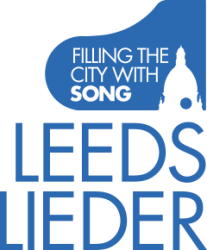 Leeds Lieder Festival 2019: Thursday 25th to Sunday 28th April 2019
Leeds Lieder announces their Ninth Festival – 'Then Shall Song's Magic Break Free' – a four-day celebration of art-song (25th to 28th April) under the Artistic Directorship of Joseph Middleton. Following dramatic expansion in recent years, Leeds Lieder has enjoyed year on year increases in audience numbers and glowing critical acclaim. Supported by Arts Council England, it places song at the centre of the cultural landscape in the north of England, championing the art-form, educating and growing audiences and commissioning new works. An array of world-class artists is invited to Leeds in April 2019 for what is set to be the most enthralling and varied programme to date, featuring cornerstones of the Lieder repertoire alongside works written especially for this year's Festival. Austrian mezzo soprano and legend of the recital platform, Angelika Kirchschlager, appears as the Guest of Honour. An ambitious education programme, interactive and informative events for children, poets and amateur singers complement the performance programme.
Performance highlights include:
'the current front-runner in the new generation of Lieder singers' Benjamin Appl alongside 'that peerless song accompanist' Graham Johnson OBE in a Heine Songbook – Schumann, Mendelssohn, Clara Schumann, Brahms and Liszt (25th April).
Grammy Award-Winning Angelika Kirchschlager and internationally acclaimed pianist Julius Drake perform Schumann, Brahms and Schubert direct from performances at La Scala Milan and Vienna Staatsoper (26th April).
Much loved Swedish soprano Miah Persson joins Festival Director Joseph Middleton for a recital of Clara and Robert Schumann, Grieg and Sibelius (28th April).
Alumnus of the BBC New Generation Artist Scheme, Composer in Association at BBC Philharmonic and winner of the BBC Proms/Guardian Young Composer of the Year Mark Simpson presents the 2019 Leeds Lieder commission, his 3 Verlaine Settings to be performed by Nicky Spence and Malcolm Martineau OBE (27th April).
Young artist recitals are given by BBC New Generation Artist, the Egyptian soprano Fatma Said (27th April); first prize winner at the Queen Elisabeth Competition and Das Lied, German baritone and Vienna Staatsoper principal Samuel Hasselhorn (28th April); Kathleen Ferrier Award winners, British bass William Thomas and Michael Pandya (26th April).
20 singers and pianists will become Leeds Lieder Young Artists and work in Masterclass with Angelika Kirchschlager (25th April), Laurence Olivier Award winner Amanda Roocroft (26th April), Malcolm Martineau (27th April) or Ann Murray DBE (28th April). They will compete for the inaugural Leeds Lieder/Schubert Institute UK Song Prize, perform in a live-streamed recital (27th April), a study event with Lieder expert Dr Natasha Loges (28th April) and informal Lieder Lounge.
Education and diversity sit at the heart of the Festival. 1000 school children from around Leeds will take part in our song projects in 2019, resulting in performances in Leeds Town Hall. Families and children under five can discover the joys of the sung voice and piano at the Lieder for Little'uns workshop (28th April). Angelika Kirchschlager will feature 'In Conversation' with BBC Radio 3's Andrew McGregor, and Lieder authority Richard Stokes will give pre-concert talks.
There will be opportunities for amateur- and community-based music making and poetry reading. Budding singers can get involved and take part in our Bring and Sing rehearsal and concert. Participants will experience the thrill of being trained by Anna Lapwood, a prize-winning conductor who has appeared at Buckingham Palace and Westminster Abbey. On the second day of the festival she will lead rehearsals for a performance of Vivaldi's Gloria (26th April). Poetry fans can also delight in the open-mic Pop-Up Poetry event (26th April). Throughout the spring composers from leading universities and conservatoires have been collaborating with poets from around Leeds in our 'revelatory' (New York Times) Composers and Poets Forums, culminating in two public workshops and a showcase (27th April).
All events take place at The Venue, Leeds College of Music, 3 Quarry Hill, Leeds, West Yorkshire, LS2 7PD
Tickets are on sale now via the Leeds College of Music box office click here / alternatively phone 0113 222 3434