Canada Various: Nelson Goerner (piano), Vancouver Playhouse, Vancouver, 7.4.2019. (GN)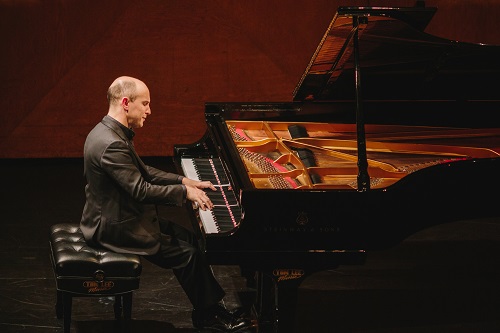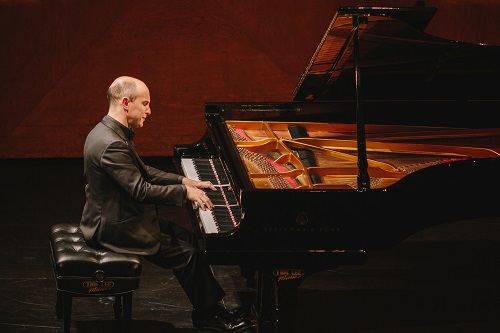 Brahms – 4 Klavierstücke Op.119
Beethoven – Sonata No.23 in F minor Op.57, 'Appassionata'
Schumann – Papillons Op.2; Toccata in C major Op.7
Chopin – Nocturne in C minor Op.48 No.1; Nocturne in E flat major Op.55 No.2: Andante spianato et grande polonaise brilliante in E flat Op.22
There are few finer pianists of his generation than Argentinian Nelson Goerner, and this concert gave another example of his unique elegance, insight and pianistic strength. After a notable Beethoven 'Hammerklavier' on his last visit (recently released on CD to strong acclaim), it was his 'Appassionata' that grabbed the spotlight now: an intense, magnetic reading that flowed together all of a piece. Appealing slices of Chopin, Brahms and Schumann also showcased the variety of Goerner's repertoire, each strongly appointed in detail and integration.
The opening allegro of the 'Appassionata' was beautifully paced, with intensity levels well judged, a sense of anticipation throughout and emotional contrasts cunningly negotiated. Goerner's pianism was elegantly sculpted with luminous trills at the start and discerning clarifications of line and texture. The rich chords and deliberate tempo at the opening of the Andante hinted almost at a funeral march, made all the more effective when contrasted with more insistent activity later. The finale was superb, capturing the movement's rhythmic propulsion yet leading onward with point and emphasis at the ends of phrases. This was a purposive and cohesive Beethoven, etched with clarity and an iron hand and, of its type, I doubt I have heard much finer.
Goerner's quest for clarity and a natural sense of motion featured in the other works too. If there were any reservations, it was that the hall and the chosen piano managed to produce a thicker, more impacted sound than ideal, the instrument somewhat inflexible and wooden in the top of its register. This was noticeable to some degree in Schumann and Chopin but less so in the more upholstered textures of Brahms. Schumann's Papillons was given a richly etched reading, full of animation, detail and rhythmic acuity, but it sometimes seemed that the more capricious and delicate tonal shadings did not fully spring from the instrument. Hearing the composer's Toccata is always a delight: Horowitz turned the work into a blockbuster long ago, and pianists are still tempted to seek a pretty electric response. Goerner's reading seemed sort of in between that and a more considered effort, though I am not sure that his mind was completely settled: there was rewarding structural delineation throughout but also traces of hurry in the more virtuoso passages.
Ever since his debut EMI disc two decades ago, Goerner has been a natural advocate for Chopin, extending his reach more recently through his Alpha recordings and also participating in the Fryderyk Chopin Society's project of recording Chopin on historical instruments. He served on the jury of the 2015 Warsaw Chopin Competition. The two Nocturnes here are hardly sufficient to showcase his abilities in this genre, but one could readily feel the natural poetic ardour he breathes into these pieces: contemplative but never sentimental, fastidious in detailing, and never shy of letting the narrative evolve to a more Lisztian amplitude and majesty. The treatment of the Andante spianato et grande polonaise brilliante was particularly cogent, etching detail in almost a rigorous way at the opening before letting the richer rhythms take over: a reading of strong balance, cumulative strength and tempered joy.
In the four Brahms pieces that opened the concert, I was taken by the pianist's poetic repose in the first Intermezzo, its tonal half-lights creating a suspended inner world. Nonetheless, the mood transformed quickly, and the latter pieces were relatively ardent and linear in their projection: the closing Rhapsody was indeed imbued with burning embers. There was much that was scintillating as pianism here, yet there might have been room for a gentler give-and-take and a more teasing vertical suspension of the lines. A more granite-like anchoring of the rhythms would seem to suit the 'late' Brahms template particularly well, emphasizing the angular, determined quality of the writing, while leaving room for its whimsical charm and moments of vulnerability.
The Beethoven and the Chopin were the highlights of this fine recital, but this hardly measures the delight everyone felt in having Nelson Goerner back here for almost a full week of masterclasses and performances. His encores were the indefatigable Chopin Nocturne in C sharp minor Op.Posth. and Francis Poulenc's high-spirited and rollicking 'Caprice Italien' from his Napoli Suite.
Geoffrey Newman
Previously published in a slightly different form on http://www.vanclassicalmusic.com.