United Kingdom Verdi, La forza del destino: Soloists, Royal Opera Chorus and Orchestra of the Royal Opera House / Sir Antonio Pappano (conductor). Royal Opera House, Covent Garden, London, 29.3.2019. (JPr)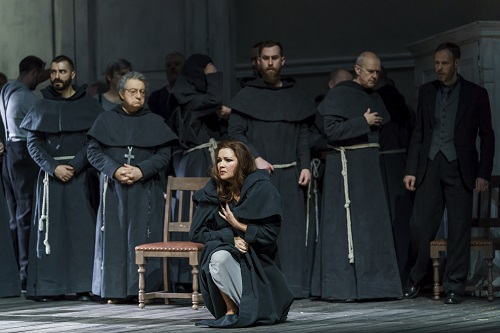 Production:
Original director – Christof Loy
Associate director – Georg Zlabinger
Designer – Christian Schmidt
Associate set designer – Federico Pacher
Lighting designer – Olaf Winter
Choreographer – Otto Pichler
Associate choreographer – Johannes Stepanek
Dramaturg – Klaus Bertisch
Cast:
Leonora – Anna Netrebko
Don Alvaro – Yusif Eyvazov
Don Carlo di Vargas – Christopher Maltman
Padre Guardiano – Ferruccio Furlanetto
Fra Melitone – Alessandro Corbelli
Preziosilla – Veronica Simeoni
Marquis of Calatrava – Robert Lloyd
Curra – Roberta Alexander
Alcalde – Michael Mofidian
Maestro Trabuco – Carlo Bosi
This series of performances has been the hottest of hot tickets with debates raging about ticket prices, the black-market resale of tickets and whether star tenor Jonas Kaufmann would turn up for the first night after missing the dress rehearsal (which he did).
The story of the Verdi's opera takes a tragic turn during Act I which casts a dark shadow over the rest of the opera, and this is of course foreshadowed by the famous 'Fate' motif, the three Es played in unison by the brass that develops in the strings. We will hear this theme time and again throughout the opera. La forza was written for St. Petersburg, where the first version premiered in 1862. The opera begins with the Marquis of Calatrava interrupting the planned elopement of Don Alvaro (son of a Spanish grandee and Inca princess) and his daughter Donna Leonora. Since Alvaro is mixed-race he is considered an unsuitable match. Calatrava is accidently killed and Leonora's brother Carlo vows to avenge his father's death by killing Alvaro and his sister; and this will consume him for the rest of the opera. Right from the start there was a serious problem: destiny triggered by the Marquis's Act I curse on the two leading characters eventually caused the death of too many characters for the sensibilities of the opera's first night audience.
By 1869, at the urging of his publisher, Verdi had returned to La forza attempting to find what he called 'that damned ending'. This time he was more successful, restructuring the four acts so that each had a distinctly different character. The curse remained, as did most of the deaths, yet the overall impression of the opera was far less depressing. Significant changes were the (now) very familiar overture; an additional final scene to Act III, following the duel between Carlo and Alvaro; and a new ending, in which Alvaro remains alive, instead of throwing himself off a cliff to his death. It is this 1869 version – that was well received – that has survived to become popular with admirers of Verdi.
Regardless – even in this version – La forza is no masterpiece though it provides a showcase for some great singers. This is no surprise given the insight into how it was composed described by Francesco Izzo's programme essay (Epic Transformations) and how Verdi 'considered the composition to be finished once he had completed what is often called a "continuity draft" – consisting of vocal parts, a bass line and instrument cues. The transfer of that draft into a "skeleton" full score and the orchestration were complementary and, in a way, mechanical'.
It is a very odd work as the 'heroine' is offstage for Act III and the final act's opening scene and there are numerous improbable events, changes of tone, concealed identities and shifts in time and place. The musical influences on Verdi are numerous and often La forza is reminding you of something else, particularly Wagner's Tannhäuser with its pilgrims chorus and Leonora's concluding 'Pace, pace mio Dio!' and especially – because there are more (intentional) laughs in this Verdi opera than all the rest of his combined oeuvre – a number of Donizetti works, especially, L'elisir d'amore.
For directors, staging this almost four-hour work often means a similar struggle to that which beset Verdi. Having abandoned the classical demands of unity of time, place and action, the time span is extremely large, and the locations move back and forth, over large geographical distances. Christof Loy's modern dress staging is an austere one but worked for me. The German director maintains unity during all the thin plot's chaotic events; amongst other things, by constantly transforming the same space, whereby recognisable objects remain from the opening scene in the Marquis of Calatrava's home. It is there we see a doorway and a large long table that will reappear during the subsequent acts. On that table is a statue of the Virgin Mary which plays such an important role in Leonora's obvious religious mania.
During the overture, Loy gives an insight into the Calatrava family and their history. Small children are the main characters here. We see Leonora as a girl locked herself up in her own world with that statue of Mary. It becomes clear what the mores of that time are: class and rank demands you do not marry for love but someone from your own class and race, and it is also no surprise the church plays a central role in all this. At times Loy literally zooms in on the feelings and suffering of the characters, using video projections to get under their skin. At the same time, analogous to Verdi's approach, he gives a very realistic picture of the social circumstances in which both the protagonists and the people lived in those days. Leonora is haunted by the ghosts of her past from the moment she is cursed through images from the pivotal moments in her life. Believing Alvaro has returned to Latin America Leonora seeks refuge in a monastery.
Much suspension of belief is needed as fate intercedes for the two rivals, Alvaro and Carlo, to become friends during Act III in the midst of the war. The men live under different names and after Alvaro saves Carlo from a fight they affirm their loyalty to each other in life and death. However, Carlo finds a portrait of his sister in Alvaro's box and matters take their fatal turn. Alvaro is now a monk at the same monastery were Leonora is a hermit, though neither knows this and – guess what – that is where Carlo finds him for their final confrontation.
All totally nonsensical of course but it gets some sublime music for both the principals and the chorus who especially get to sing some beautiful religious music, as well as, warlike and joyous passages. The Royal Opera Chorus are on particularly roistering form for Act III's upbeat 'Rataplan' which provides something of a more cheerful note between all the dark events despite being a thought-provoking paean to military life.
The singing – with one exception – was stylistically some old-fashioned can belto not often to be heard at Covent Garden in recent decades. Sometimes it was all so loud that Antonio Pappano's best efforts in the pit were overwhelmed and sounded – as a result – as if it was doing little more than accompanying the voices. From the long overture onwards there were many virtuosic solo moments from his musicians when there was no singing, but throughout I would have liked a more melodramatic sound from the orchestra to support all the onstage histrionics.
Anna Netrebko holds the stage every second she is on it through her strength and conviction. However for more than two hours (of an evening lasting about four!) the role keeps her off it. She is totally engaged dramatically and is totally in control of her dark sound and her incredible range. The voice rises from the depth to some top notes that can pin the listener to their seat or – depending on the mood of the music – show the most exquisite refinement.
I was delighted to be at the performance where Netrebko sang alongside her husband, Yusif Eyvasov, although they do not get much time together during the opera for their real-life chemistry to become evident. Eyvasov acts convincingly and his Act III 'La vita è inferno all'infelice … O tu che in seno agli angeli' must have convinced any doubters that he is now developing into one of this generation's leading dramatic tenors.
A revelation for me was Christopher Maltman's emergence as a Verdi baritone and he clearly knows how to beautifully (if that is the right word?) shape the role of Carlo, the unforgiving fanatic. His performance in the second act, when he pretends to be a student at the inn and then reveals his dark mission and plans, was mightily impressive.
It was great to see the veteran Robert Lloyd – in presumably one of his final Covent Garden appearances – in the short role as the Marquis who get quickly dispatched. He was not the only veteran as he was joined in the cast by other singers of a similar vintage including Roberta Alexander who came and went in Act I as Curra one of the servants. There was also Ferruccio Furlanetto's gravitas as the authoritative Padre Guardiano and Alessandro Corbelli as his soup-slurping comic sidekick Fra Melitone. (He lacks so little compassion for the beggars he is feeding that he accuses them of being 'ferociously fertile' having sneeringly dismissed God's role in giving one woman six children!) This shows how in this opera, Verdi puts comic roles alongside the serious ones, and that was fairly new at the time and not something he was destined to repeat (Falstaff apart, possibly). Another one was Carlo Bosi's entertaining muleteer and Dulcamara-like peddler Mastro Trabuco. The one singer not on the level of those around her was Veronica Simeoni's rather disappointing gypsy Preziosilla.
There was rapturous applause for all concerned at the end to this opera that was thoroughly deserved. I enjoyed the evening but am in no rush to see this sprawling – often incoherent – opera again anytime soon.
Jim Pritchard
For more about what is on at the Royal Opera House click here.