Switzerland Massenet, Manon: Soloists and Chorus of the Opernhaus Zürich, Philharmonia Zürich / Marco Armiliato (conductor), Opernhaus Zürich, Zurich, 7.4.2019. (CCr)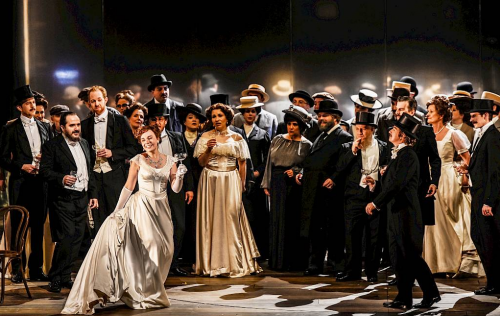 Production:
Director – Floris Visser
Set designer and Costumes – Dieuweke van Reij
Lighting – Alex Brok
Choreography – Pim Veulings
Choir director – Ernst Raffelsberger
Dramaturgy – Kathrin Brunner
Cast included:
Manon Lescaut – Elsa Dreisig
Le Chevalier des Grieux – Piotr Beczała
Lescaut – Yuriy Yurchuk
Le Comte des Grieux – Alastair Miles
Guillot – Éric Huchet
De Brétigny – Marc Scoffoni
Poussette – Yuliia Zasimova
Javotte – Natalia Tanasii
Rosette – Deniz Uzun
L'Hôtelier – Cheyne Davidson
Manon is in one sense another Carmen, but with ball gowns and politesse. A careless girl, she ruins herself and a naive young man, rejecting society and following pleasure. But unlike Carmen, her pleasure-seeking is far more material than carnal, and also unlike Carmen, she really does adore her Des Grieux. Who else in French literature ruined men and herself through unfulfillable material desire? Emma Bovary possibly, compared with whom Manon lacks the fullness of psychological personhood. Manon as an operatic character is a bit all over the place, falling in love at 16, then leaving her lover for stability and riches, then returning to him out of devotion – or is it boredom – finally driving him into debt and ruin and getting herself deported in the process. (In the far more explicit source text by Abbé Prévost from the year 1730, Manon is the central character but is only known through the eyes of the other characters – an enigma.)
In other words, it is a supremely difficult task for the soprano to spin Massenet's gorgeous music and so-so libretto into a character whose identity grips us as it evolves. She must be an alluring mixture of young, innocent, impetuous, vain, a little silly, ardent, dissolute, and, first and foremost, a young woman who is after her own advancement. She must get off a train at the beginning of the opera and make us believe it is the first time she's ever left her village, then end the opera dying at the hands of prison guards, muttering something about how the stars are her jewels and grandly narrating her own life – 'Et c'est là, l'histoire de Manon Lescaut'. She has to find a way to be winning and dangerous and pitiable all at once. Has anybody since Greta Garbo actually managed this?
Elsa Dreisig, despite her name not yet 30 and possessing a disarming charm, would appear to fit the bill. Vocally, she is a match (this production is her role debut as Manon, and she is utterly confident in the role). Although her very highest notes tend a little shrill and her lower voice is a bit lineless – it is odd to hear a French native speaker struggle to convey denser textual passages – she has a fabulous lightness of ascent and then great tone once she's up there. If her singing is monochromatic and not supple or dark, we may attribute this to her youth, and enjoy the youthful delight and pureness of her sound instead, knowing it will grow with time. As an actress, however, Dreisig is not mature enough to compel as Manon; she lacks the requisite mystery and boldness and is mostly just blandly sweet. Hers is a Manon that has more in common with Micaëla than with Carmen – it seems she's there to have a nice time in life, but wouldn't you know it, things just keep going wrong. Putting Manon in a red dress doesn't make her seductive if Dreisig can't shed the mousiness.
The shortcomings of Dreisig's earnestness are compounded by this production, which is by Floris Visser. Set not in 1730 but in Massenet's belle époque, the main vibe of the evening was one of hapless pleasure seeking, and not in a way that would appear all that critical of society. There are probably two basic ways to tell Manon: whether as some form of cautionary tale of our excesses, or as an unadulterated embrace of joy, no matter the cost. Curiously, Visser doesn't commit to either. His crowds shimmer and saunter, but their role is meaningless as surveyors of the characters' doings. The libretto gives them the stupidest lines to sing, and Visser gives them dull blocking. The stage too often looks static and crowded and lacks real gaiety. The soldiers philander, but in ways that neither make them repulsive nor bring on a smirk. Lescaut (the excellent Yuriy Yurchuk) wants to protect his cousin, so why is he undressing her with his eyes, and why isn't that flirtation turned into something for us to actually consider? The wealthiest are the poorest behaved, and only the nobleman Guillot (sung and acted with great verve by Éric Huchet) has any actual fun. Nobody else is given much to actually do.
The set, by Dieuweke van Reij (the costumes are hers, too), is part of the problem. It is simply an ochre-stained plaster box that serves as a train station, a vestibule, a bare-bones Paris apartment, and a seedy parlour or two. A stage this spare sucks the air out of the singing, though it does capture light magnificently, and there's a nice light-motif by designer Alex Brok: twice when Manon hears the call of glamour and wealth over nobler pursuits, the stage turns sapphire blue. Des Grieux appears very effectively as an apparition to Manon during her Act III flights of fancy. In Act IV, the bow ties get loosened and there is a Proustian salon, courtesans in the Guermantes way, lasciviousness with bite. Such occasional touches are successful and welcome, but are often hesitatingly submitted and then forgotten. Neither lavishly inventive nor meaningfully literal, it is the near total lack of psychological intuition towards Manon's inner states that makes this production frustrating.
Frustrating, but not failed. This Manon is above all a musical gem. The French was crisp, the ensemble cast strong, and the terrific Marco Armiliato led the Philharmonia Zürich through a pompy, swervy telling of the score that far outstripped what was visible on the stage in vigour and heart. Des Grieux was sung by none other than Piotr Beczała, and the man can do no wrong. If his 'En fermant les yeux' could be more finely differentiated, or more intimate, we can still luxuriate in the tenor's divine muscular syrup of voice, in his utterly plangent cries of joy and sorrow. Beczała is not a subtle or cerebral actor, but he is sensitive, and his basic poise goes a long way as he portrays a young man in over his head with a woman he doesn't understand and cannot keep happy. It would be interesting to experience him in a bolder production and to see whether he would thrive with an intelligent director who steered him through more complex storytelling.
Casey Creel