Switzerland Oscar Straus: Eine Frau, die weiss, was sie will!: Dagmar Manzel, Max Hopp (singing actors), musicians / Adam Benzwi (conductor), Zurich Opera, Zurich 27.4.2019. (JR)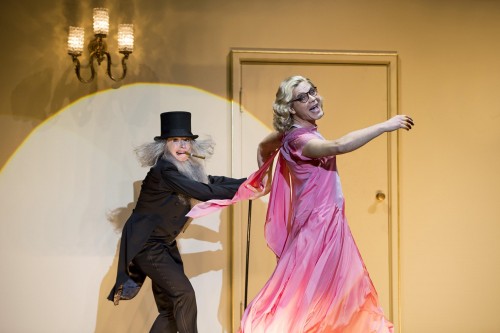 Production:
Producer – Barrie Kosky
Costumes – Katrin Kath
Dramaturgy – Pavel B. Jiracek
Lighting – Diego Leetz
Cast:
Dagmar Manzel (Manon Cavallini, Raoul Severac, Léon Paillard, Lessac, the waiter from Restaurant Larue, Fefé)
Max Hopp (Lucy Palliard, Fernand Maupreux, Trémoularde, Marcel Trapu, General Lanval, Count Bernheim,Maestro Duval, Bank Director Bernard, Theatre Director Dobois, Babette, Jean and many others)
Oscar Straus (no relation to Johann or Richard) was a Viennese composer of operetta; he made his name between the Wars in Berlin. This Barrie Kosky production of Eine Frau, die weiss, was sie will! (A woman who knows what she wants!) came to Zurich Opera lock, stock and barrel from a 2015 performance by the Komische Oper in Berlin where Kosky is artistic director (and where Andreas Homoki, currently his counterpart in Zurich, was also at the helm). Kosky has an evident passion for operetta – this one was premièred in 1932 at the Komische Oper, which was then called the Metropol Theater.
The operetta has no chorus, no dance troupe, no large cast of singers, no large orchestra – it is very much in the vaudeville tradition. There are just two actors, who sing and play a multitude of characters. There are echoes of the Marx Brothers as a swing door, front and centre stage, allows the actors to appear and disappear behind the curtain and to change costumes in the twinkling of a song. The actors assume more than eighteen different roles, each with their own costume (some admittedly involving only a minor change), and each with their own voice (and tonal range) and accent. The army of five costume attendants must work exceptionally hard and fast behind the curtain; they received their own curtain call at the end.
The performance was an absolute tour de force for both actors. I use the term 'actor' consciously, rather than 'singer' as Kosky, in the programme (also brought wholesale from the Komische Oper) explains that Straus saw the protagonists as singing actors. Dagmar Manzel and Max Hopp are recognised theatrical stars in Germany and acted and sang (in the style of musical theatre) the piece to perfection – it received absolutely rapturous applause.
For Kosky, vaudeville is the musical version of the commedia dell'arte. Berlin had a rich tradition of vaudeville and cabaret during the period of the Weimar Republic, from 1918 to 1933. Sadly the arrival of Hitler and the Nazis forced the emigration of Straus and many of his collaborators to Hollywood, including the leading lady Friederike Massarik (stage name Fritzi Massary).
By way of historical background: author and impresario Ernst von Wolzogen had brought cabaret to Berlin and founded an appropriate theatre, the 'Überbrettl'. Richard Strauss and Engelbert Humperdinck turned down the job of chief conductor there, but Oskar Straus accepted. He had studied composition with Max Bruch. Johann Strauss wrote to him saying that Straus had a real talent for hit melodies, should forget symphonies and concentrate on waltzes. Straus's works lie between those of Johann Strauss and Franz Léhar on the one hand and those of Emmerich Kálmán and Paul Abraham on the other hand. No lesser figure than the young Arnold Schoenberg, incidentally, later became Kapellmeister at the Überbrettl.
The plot of the operetta is fairly simple. The celebrated operetta star Manon Cavallini has a bevy of suitors and admirers. One man, Raoul Severac, has a young woman, Lucy, in love with him. Lucy implores the diva to turn him down so she can be free to marry him. Manon turns out to be Lucy's mother and all ultimately ends well.
The catchy tunes were more than adequately sung by both actors, with the aid of excellent amplification. Many of the 'numbers' alluded to the then topical and rising theme of female emancipation. It was however Manzel's and especially Hopp's sublime acting and comedic skills, rather than their vocal ones, which enthralled and entertained the audience throughout. The small orchestra consisted of woodwind, three trumpets and a trombone, percussion, a banjo, two pianos (one played by the conductor from time to time) and some strings. Adam Benzwi conducted with non-stop energy – Benzwi is an American pianist and Music Director at the Komische Oper.
I had a smile on my face throughout the show: it was a hilarious romp from start to finish – one hour and twenty minutes without an interval, the actors hardly stopping to catch their breath. A few local references to the Zurich area made the audience feel at home, as the actors spoke – when not in hilarious foreign accents – with a Berlin twang. At one stage, Hopp briefly appeared in an ornate blue dress and brown wig, announcing himself to great hilarity as Cecilia Bartoli and threatening to sing a baroque aria from the Bernese Oberland.
Hardly a set, just a swing door, two lamps, to represent the foyer of a theatre. The costumes hit a comic high note when both actors changed both persona and gender depending on which way they faced – Hopp on one side portraying Lucy in a long blonde half-wig and fluffy pink dress, and on the other side her tennis-playing beau. When the two dressed up as balding old men, Morecambe and Wise sprang to mind.
Sadly, Zurich Opera could only bring this 'show' down from Berlin for one sold-out performance. Perhaps next time they will be able to risk some repeat performances. This was undoubtedly the most amusing night at the Zurich Opera I have witnessed.
John Rhodes