United Kingdom Mozart, Fauré, Chopin, Prokofiev: Lise de la Salle (piano). Wigmore Hall, London, 14.4.2019. (CC)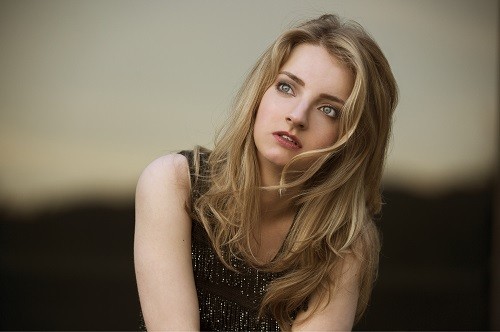 Mozart – Fantasia in D minor, K397 (?1782). Rondo in D, K485 (1786); Variations on 'Ah, vous dirai-je, maman', K265 (1881/2)
Fauré – Barcarolles: No.4 in A flat, Op.44 (1886); No.5 in F sharp minor, Op. 66 (1894); No. 6 in E flat, Op. 70 (?1895)
Chopin – Nocturnes: D flat, Op.37/2 (1825); F, Op.15/1 (1833); C minor, Op. 48/1 (1841)
Prokofiev – Ten Pieces from Romeo and Juliet, Op. 78 (1937)
Recitals by Lise de la Salle are usually keenly awaited. It was surprising, then, that there was so much space free in the Wigmore Hall at this particular concert. Intriguing also that this programme included the some of the very same pieces (Mozart's K265 Variations and seven of the ten pieces from Prokofiev's Romeo and Juliet)  that she played at a Sunday lunchtime recital in 2007 that was apparently standing room only (review click here).
De la Salle's sound is glorious, and while she adjusts for the composer and period, at its core is a luminosity and beauty that never breaks, no matter what the dynamic level. She seems to play with her entire body and yet gestures are kept to a minimum – nothing is superfluous.
This was a long first half – the interval came after the Chopin, leaving the Prokofiev to enjoy a space all to itself. Three perfectly chosen Mozart pieces reintroduced us to de la Salle's fine, stylish playing of this composer. Her articulation is beautifully clean; and she has a wonderful understanding of Mozart's use of gesture (Affekt) in the sighing gestures of the D minor Fantasia. The D major Rondo, K485 is thematically related to a quintet by J. C. Bach, but Mozart takes the theme to glorious planes. Giving the music space enabled de la Salle to give an almost orchestral rendition of the piece, a joy to experience, with textural clarity a dream, while question/response between voices was expertly differentiated. Ending the Mozart triptych was the Variations on 'Ah, vous dirai-je, maman', the theme better known in the UK as 'Twinkle, twinkle, little star'. There was ultra-fast, diamante right-hand articulation, supremely even left-hand passagework at speed, while the minore variation took us to an inner space inconceivable at the outset, given the simplicity of the theme itself. A truly extraordinary journey.
The three Fauré Barcarolles acted as a reminder of the calibre of these pieces (they appear on recital programmes all too rarely). The harmonic twists and turns of the right hand against the even left in the Fourth Barcarolle immediately enchanted, and took us to a very different place from the Mozart; the singing left-hand melody did exactly that. The Fifth Barcarolle begins with a harmonic darkening that presages the storm-tossed turmoil of this piece. Debussian waves of sound hinted at ecstasy before Salle brought out a ringing climax. The Sixth Barcarolle exuded freshness, bracing in its freedom, the perfect contrast to the struggle of No.5.
A set of three Chopin Nocturnes closed the generous first half, the famous D flat (Op.27/2) singing beautifully; it was interesting how de la Salle seemed to be relating its left-hand semiquavers to the left-hand barcarolle trope. The F major, Op.15/1 is a mini tone-poem, starting innocently before rising to a con fuoco climax. There was no sense of holding back from de la Salle because this was a Nocturne; rather, the energy was near-overwhelming (and yet at the same time perfectly pedalled to avoid blurring, even at the very back of the hall). Moving to C minor, and Op.48/1, with its funereal overtones, brought home a key part of de la Salle's intelligence that pays dividends in everything she touches – she has a rock-solid sense of rhythm, never rushing her fences. This allowed the music to unfold naturally and to grow organically to its climax. Wonderful.
Post-interval, the Ten Pieces from Romeo and Juliet found another mode of playing from de la Salle, her sound brighter, a touch more brittle now yet her legato, in the opening 'Folk Dance', undiminished in its connectivity. Perfect staccato in the 'Scene (The Street Awakens)' led to a 'Menuet (Arrival of the Guests)' that was noble and dignified. De la Salle's displayed superb finger fluency in the ultra-rapid 'Juliet as a Young Girl', the mysterious contrasts finely drawn. Conjuring a grand sound for 'Masks', de la Salle found exquisite contrasts between the clarity of her right hand and the evenness of the left-hand chords. A ringing 'Montagues and Capulets', a scampering 'Mercutio', a tender 'Dance of the Girls with Lilies' and a magnificently bittersweet 'Romeo and Juliet before Parting' were highlights of an all-encompassing reading.
This was some of the best Prokofiev playing I have ever encountered, crowning a recital that offered gift after gift, jewel after jewel. There was only one encore, though, a perfectly-drawn 'La Fille aux chevaux de lin' from Debussy's first book of Préludes.
Colin Clarke