Belgium Halévy, La Juive: Soloists, Koor Opera Vlaanderen, Symfonisch Orkest Opera Vlaanderen / Antonino Fogliani (conductor), Opera Vlaanderen, Antwerp Opera House, 17.3.2019. (SS)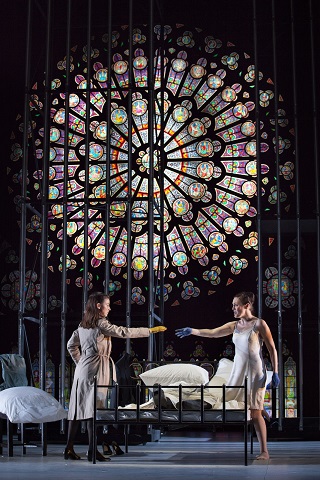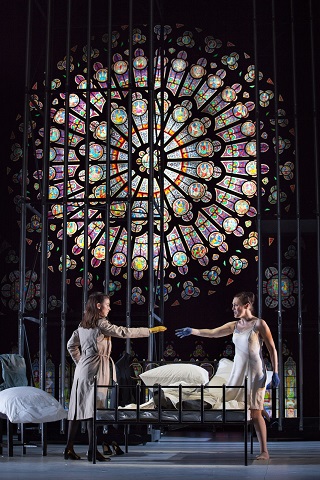 Production:
Director – Peter Konwitschny
Set and costume design – Johannes Leiacker
Lighting – Manfred Voss
Cast:
Eléazar – Roy Cornelius Smith
Rachel – Corinne Winters
Princess Eudoxie – Nicole Chevalier
Prince Léopold – Enea Scala
Cardinal de Brogni – Riccardo Zanellato
Ruggiero – Leon Košavić
In an online discussion I participated in a few years back, which touched on the contrasting approaches of Peter Konwitschny and Stefan Herheim to the same opera, one insightful opera queen commented to the effect that while Herheim's productions complicate the traditionally linear operatic experience by deconstructing a work's reception history and position in the wider cultural context, Konwitschny guts the bourgeois essence of opera entirely and reorders a work's meaning(s) according to his own antagonistic, interrogative agenda. Professional opera critics, never the most receptive bunch when it comes to Regietheater, typically show deference to Herheim but are less averse to dismissing Konwitschny, for reasons implied by this appraisal: Herheim's spectacular theater is intellectually elaborate and respectful to the work in a higher sense, whereas Konwitschny is likewise a brilliant conceptual thinker but at the same time provocative and tendentious.
Those of us who think highly of Konwitschny do so to some degree, yes, because he's an invigoratingly radical voice in a system where so many directors are either shameless reactionaries or hopeless mediocrities. And yet the notion that he tells you what to think (unlike Herheim, who makes us think for ourselves) not only makes his work sound narrow in its focus, but also obscures how open-ended it actually is. Konwitschny's concepts have always been gloriously unpredictable and you never really know what you're going to get. I remember a Queen of Spades in Graz that was total anarchy, while his Bohème in Bratislava (also shown in Leipzig) was powerfully sincere, betraying a director who has an enormous soft spot for Puccini's opera. Yet even here, in one of his rare outwardly traditional shows, the snow and nutcrackers fronted a dark, ambiguous landscape that appeared both magical – 'it looks so festive!' said the middle-class Austrian sat next to me – and inhospitable. Peel back the bohemian romance and this opera becomes cruelly relatable for precarious millennials; I found myself staring into the cold black void of Konwitschny's Latin Quarter and felt it staring back at me.
What, then, to make of the veteran director's La Juive, revived this month in Antwerp and Ghent by Opera Vlaanderen, which features his seemingly most conventional concept yet? Fromental Halévy's grand opera famously ends in barbarism, with its eponymous Jewess and her father thrown into boiling cauldrons while a baying Christian mob rejoices 'we are avenged on the Jews!' In Konwitschny's ending, emphasis is placed on the villainy of the crowd: Eléazar's revelation that Rachel is the Christian-born daughter of his old nemesis Cardinal de Brogni is undercut by a chorus member barking, in English, 'just kill the dirty fucking Jews'. The many glowing reviews of this production tend to focus on the theme of mob rule, framing it as either the dominant accent or even the entirety of Konwitschny's concept.
It's ironic, on the one hand, to see middle-class opera critics who love to grumble about Regietheater suddenly warming to the idea of direction with a critical inflection. But on the other, this seems largely just another post-Trump, post-Brexit manifestation of liberal yearning for anti-populist gestures, with maybe a touch of the Christopher Hitchens effect – liberals love a repentant leftist who moves right (even if Konwitschny has done nothing of the sort). Liberals also believe that no good ever comes out of polarization, and tend to regard the differences which drive it are trivial and irrational. Here too, it looks as if Konwitschny is making the same point: his use of dyed hands, colored blue for the Christians and yellow for the Jews, casts religious difference as an arbitrary stain on the body, estranging us from our humanity. The paint is hastily scrubbed off in the Act IV prison encounter between Eudoxie and Rachel, with one critic writing 'they come to the moving realisation that they are no different from one another'. This projects too much onto a short, tense scene that moves fitfully: Eudoxie gets her stay of execution for Léopold and is saved by the council's arrival from having to deal with Rachel's competing claim, while for Rachel, their business is unfinished. What Konwitschny does with this is basically Werktreue: Eudoxie washes her hands at the moment she declares her single-minded resolve, and only then is she followed by Rachel as a copycat action to demonstrate she is equally committed to Léopold. If they had bonded over the realization that their shared humanity transcends everything else, you might expect to see Eudoxie to make an intervention or at least some appearance at the very end, yet she remains offstage.
While I'm not persuaded that Konwitschny is making a commentary about sectarianism or preaching kumbaya-ism, one thing is clear: religion dominates this production, in which all religious imagery and clothing is paradoxically abandoned (save for a huge stained glass rose window that serves as a permanent backdrop). As such, it's less a plea for secularism than a reflection on the complications of excluding religion from public life, on the fractures and flaws of laïcité.
Corinne Winters was outstanding in her role debut as Rachel. Her warm spinto is complemented by a well-supported, slightly dusky lower middle register, two great assets for the wide tessitura of her big Act II aria 'Il va venir', which she knocked out of the park. In this production, Rachel is headstrong but also beset by unbearable emotional pressure – when Léopold's deception backs her into a corner, she straps on a suicide belt – and Winters, who had her breakthrough as Violetta in another Konwitschny production, gave the most forceful acting performance of the cast.
What Konwitschny has done with Eléazar seems the right call for a modern production of this opera: the spitefulness and vindictiveness are toned down, but without making a saint out of him, and Roy Cornelius Smith cut a sympathetic, beleaguered figure. This role seriously tests his vocal reserves and his tenor tended to become hoarse, but there was palpable humanity in the singing.
Enea Scala made the best of Prince Léopold, whose only functions are to look handsome and be a cheating husband. The role falls into the category of shallow suitors that Konwitschny doesn't have much time for, handing Scala the minor indignity of Rachel tutting 'tenors!' during his overwrought declarations of devotion, which he sang with bright Italianate timbre prone to tightness at the top.
Princess Eudoxie, shown as a reckless extrovert with about as much self-awareness as her husband, was played to campy perfection by Nicole Chevalier, who made a scene-stealing entrance waving a handgun and swigging from a champagne bottle that ended up as target practice. With impressive flexibility to her shimmering lyric instrument, Chevalier went on to stand out in every scene she sang in.
Cardinal de Brogni, Halévy's only big bass role, was sung by Riccardo Zanellato as a kind of more tender Germont. And like Germont with Violetta, there's a key moment when the Cardinal asserts his authority over the crowd and brings them to heel. An honorable, blameless cleric trying in vain to curb the mob? With the historical Catholic Church, I think we can be more cynical than this.
It wouldn't take much encouragement from the podium to make Halévy's score sound overheated and bombastic, and Antonino Fogliani's well-paced conducting steered clear of excess without going too far in a light-footed direction. Opera Vlaanderen may have become known as a Regie house under Aviel Cahn, but it's also home to an excellent orchestra, and as with last month's Cardillac it was a treat to hear another infrequently performed score sounding this good. The chorus, which has such a pivotal role in this opera, sang with great panache too.
La Juive's final performance in Ghent is due to be streamed at the same time on OperaVision, where it will remain available on demand for six months. It's not Peter Konwitschny's most radical production but still thought-provoking, and the superb performances by Winters and Chevalier are well worth hearing.
Sebastian Smallshaw