United Kingdom Ralph Vaughan Williams, The Pilgrim's Progress: Soloists, Chorus and Opera Orchestra of Royal Northern College of Music / David Parry (conductor). RNCM Opera Theatre. Manchester, 31.3.2019. (RJF)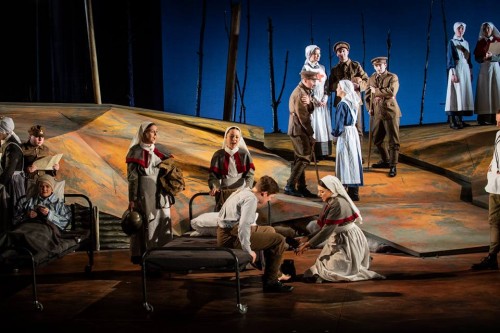 Production:
Director – Jonathan Cocker
Set and Costume designer – Bob Bailey
Lighting designer – Ian Sommerville
Cast included:
John Bunyan – Liam McNally
Pilgrim – Edward Robinson
Evangelist – Peter Lidbetter
Pliable – Harri Graham
Obstinate – Emyr Jones
Mistrust – Joseph Ashmore
Timorous
- Andrew Terrafranca
Interpreter – Kamil Bien
Watchful – John Ieuan Jones
Herald – William Kyle
Voice of Apollyon – George Butler
Woodcutter's Boy – Ralph Williams
Mister By-Ends – Ryan Davies
Madam By-Ends – Stephanie Maitland
Vanity Fair Act III – Andrew Masterson, Clare Hood, Naomi Rogers, Andrew Terrafranca, Steffan Owen, Samuel Snowden, James Mitchell, Emyr Jones, Samuel Knock, Matthew Baldwin,  James Holt, Matthew Curtis, Erin Rossington, Victoria Armillotta
Being something of a musical polymath, Ralph Vaughan Williams (1872-1948) did not follow the path of many European, and several British composers, of his period and concentrate on the musical stage. The consequence was a diversity of composition that spread from the likes of The Lark Ascending, of which there are echoes in this work, through a few operas such as Hugh the Drover and Sir John in Love to religious oratorio and symphonic pieces such as his renowned Sea Symphony and Symphony Antarctica. Throughout much of his diverse work there remained periodic patches of application to the composition, over four decades, of this powerful work that is based on John Bunyan's essay of three centuries before, and which he was greatly influenced by his days in the trenches of the First World War in which he served. At its premiere at Covent Garden in 1951 it was considered a failure but evoked a better response at Cambridge three years later when its religious message came over more powerfully. In respect of performances, the RNCM and its progenitor have a proud record of presenting a work (in 1970 and again in 1992) which – because of logistical issues with such a large cast – is rarely performed. The work is essentially a series of tableaux over a prologue, three acts and an epilogue showing the temptations and vicissitudes impacting the Pilgrim on his journey to the celestial city.
Set in the Trenches of the First World War, the powerful images of the basic stage set in this performance were quite outstanding. When added to the equally impacting lighting, costumes, orchestral and sung contributions, the whole made for a spiritual – in the most diverse sense – experience, the likes of which I have personally rarely seen, or felt, at a performance of a vocal or oratorio work. The design and lighting team, orchestra, and conductor are to be congratulated in all respects for providing an outstanding basis for the extensive cast of students. To that list I should also add the diversity of costumes seen, be they of soldiers, nurses, nuns or the aristocratic toffs at Vanity Fair; they were varied, apt and perfect in the setting. However, those aspects are only the framing around the picture. The icing on the cake was the performances of the students as a choral group in total along with those with solo contributions: the latter in total number making it impossible to name each.
The most notable however was, inevitably I suppose, the baritone Edward Robinson in the role of Pilgrim. The role demands being on the stage most of the time. Sometimes being listened to by fellow actors, sometimes in solo contribution and above all acting out what he was singing about, whether it was him being physically abused and threatened with death or experiencing the Act III Vanity Fair. Last year Edward had the experience of singing in an audio recording of the work Dorothy (1886) by Victorian composer Alfred Cellier under the baton of Richard Bonynge. Whilst the internationally renowned soprano Majella Cullagh sang the eponymous role, the remainder of the soloists were like him, students of the RNCM. It is now issued by Naxos (review click here). This cast also includes Stephanie Maitland who also appears in that recording. Such experiences are part of what the RNCM provides for its students as they undertake several years of personally expensive study before embarking on a life in a highly competitive profession. As a digression, I must note that a list of recent appearances of past alumni in international opera houses was included in the printed programme and tells its own story.
Certain roles were double cast over the further performances of the run, which extends towards the Easter vacation.
Robert J Farr
For more about the RNCM click here.