Switzerland Lucerne Easter Festival [1] – Verdi, Messa di Requiem: Zarina Abaeva (soprano), Eve-Maud Hubeaux (mezzo-soprano), Dmytro Popov (tenor), Tareq Nazmi (bass), Chorus of Perm Opera, musicAeterna Orchestra / Teodor Currentzis (conductor), Kultur- und Kongresszentrum (KKL) Lucerne, 10.4.2019. (JR)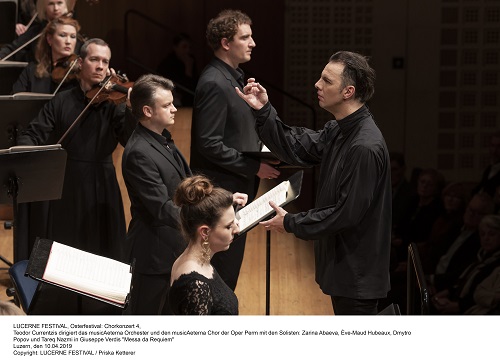 This was, undoubtedly, the hot ticket of the musical year, so far. Teodor Currentzis and his Russian forces are touring with his interpretation of Verdi's Requiem. There are ten performances all around Europe, he has just been at the Elbphilharmonie in Hamburg, where the critics and the audience raved. Later this year he will take the work to New York.
First, I had to look up the whereabouts of the city of Perm. It counts nearly 1 million inhabitants, the largest city in eastern Russia. It is 1150 miles north-East of Moscow, half way to Mongolia and nearly in Siberia. It is a major industrial city (with Russia's largest oil producer there), has average winter temperatures of minus 20 and the dubious honour of having Russia's highest crime rate. That's enough geography.
Currentzis is worshipped in Perm. Single-handedly he has put Perm on the cultural map. He formed his orchestra (musicAeterna) in Novosibirsk, Siberia, in 2004, and treats them all as his friends: when not rehearsing, he socialises with them, and enjoys a game of ping-pong with his musicians. In 2011 he moved the orchestra from Novosibirsk to Perm, 1200 miles to the west. He has taken his forces to the top of the tree: in the coming years he will appear with them at the Salzburg Festival with Tristan and Isolde and a B minor Mass. Currentzis covers the whole musical spectrum from Rameau to contemporary.
I last heard the Verdi Requiem under Sir John Eliot Gardiner, a very fine, straight-laced performance. Currentzis was, as expected, anything but straight-laced.
The 80-strong chorus appeared first, looking like monks, wearing long black robes from top to toe. Then the orchestra appeared, in the same garb. There were few chairs on stage: most of the orchestra stood throughout the performance. I am not entirely convinced if this really lent much to the overall performance, only (most of) the first violins swayed gently at times and could give a smidgeon more expression to their playing.  Currentzis came out with the soloists, after quite a long pause; Currentzis dressed in his customary black with floppy hair slicked back (it doesn't last long). He shuns a baton, dances inelegantly on the podium, like a puppet on hot coals, but the results are undeniable.
The opening was magical, virtually inaudible. I was close to the front and only just heard it. The chorus, even sotto voce, impressed straight away, with the crispest of diction and control of dynamics. The deep Russian basses were to die for. Every single chorus member was giving their all. The soloists also showed their mettle early on.
Then, the audience-pleasing Dies Irae, so thrilling Verdi repeated it three times. If the opening had been ultra-quiet, this day of wrath was terrifyingly loud and chilling, the bass drum was thwacked for all it was worth. The trumpeters blazed from on high. It was shock and awe, Russian style.
'Mors stupebit' was splendidly intoned by Kuwaiti bass Tarez Nazmi. He grew up in Munich and studied with Christian Gerhaher. He was not new to me, since he is one of my favourite sonorous basses. Popov was not a new name to me either; he will sing Don José (Carmen) at Zurich Opera next season. He was splendid, both his 'Ingemisco' and 'Hostias' beautifully controlled.
The Swiss mezzo, Eve-Maud Hubeaux, was a fairly last-minute stand-in for Hermine May who could not sing for 'personal reasons'. The mezzo part in the Requiem is often overshadowed by her neighbours, though when given exposure, she comes into her own. Hubeaux fared extremely well, though her hand movements, undoubtedly expressive, jarred at times. The intonation in her very lowest register tended, on occasion, to the variable.
Russian soprano Zarina Abaeva soared magnificently above the stave (up to a high B) and was quite a powerhouse especially when, just for the final 'Libera me' she was (most effectively) placed at the rear of the stage, right in front of the chorus.
The orchestra, as usual in this Requiem, plays a secondary role. They do not have the lushness of sound of a principal symphony orchestra or the character of other longer-established smaller ensembles, but their dedication was clear. Rehearsals must have been lengthy, they did not put a foot wrong. No lip faults, no false entries, perfect ensemble.
Currentzis held the applause for what seemed an eternity – actually nearly three minutes.  Everything in this performance had been rehearsed, right down to holding the final applause – the orchestral players froze on the last note, all bows remained on the instruments until Currentzis finally gave the almost imperceptible signal to unfreeze. Currentzis shook the hand of each section principal as they left the stage, section by section, Currentzis himself leaving with the last.
This was a performance of extremes, and some purists may find fault with that. It almost had the appearance and feel of a ritual rather than a concert. There were many exaggerations, but also on the positive side many phrases highlighted which normally go unnoticed in a less detailed performance. There was, however, no doubt that the audience were in rapture and the standing ovation instantaneous. There will be another performance of the work, this time by the Berlin Philharmonic at the Baden-Baden Festival; Muti conducts. I await a report from a friend who joined me for the Currentzis: it will make a fascinating comparison.
 John Rhodes