United States Anne Carson, Norma Jeane Baker of Troy: Renée Fleming, Ben Whishaw, The Griffin Theater, The Shed, New York, 7.4.2019. (RP)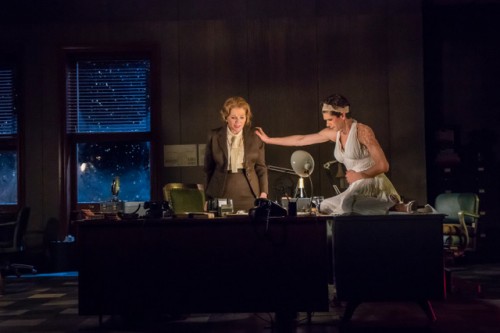 Production:
Score – Paul Clark
Director – Katie Mitchell
Set designer – Alex Eales
Costumer designer – Sussie Juhlin-Wallén
Sound designer – Donato Wharton
Her biography in the program is a model of economy: 'Anne Carson was born in Canada and teaches ancient Greek for a living'. She is also an acclaimed poet, essayist and scholar who conceived a theater piece – half spoken, half sung – that explores the lives and myths of two legendary beauties, Helen of Troy and Marilyn Monroe. The result is Norma Jeane Baker of Troy, a head-spinning reinterpretation of Euripides's Helen, commissioned by The Shed to inaugurate its 500-seat Griffin Theater.
Carson also assembled much of the creative team, securing actor Ben Whishaw's participation from the start, and turning to her longtime collaborator, composer Paul Clark, to write the music. He came up with the idea of creating the entire soundtrack out of opera star Renée Fleming's voice by recording her singing small clusters of notes that he digitally manipulated to create almost every sound heard on the stage. The only exceptions were the telephone ring, a radio announcer and, of course, the actors' own voices. It's amazing to think there was anything remotely human about the intense, reverberating sounds that punctuate the silence.
The action plays out on New Year's Eve 1963 in an office space that houses the company typing pool. Outside, snow is falling. A man (Whishaw) enters. Furtive and frenetic, he begins to dictate his disjunct version of Euripides' play. A mousy secretary (Fleming) enters and starts to transcribe the story. At first the man dominates the action, but slowly the woman becomes an active participant, his stream-of-conscious delivery slowly evolving into a collaboration, with the woman singing bits of blues-style songs.
Helen's story emerges more or less in line with the myth, except for her claim to have never gone to Troy at all: it was a cloud blowing across the Mediterranean Sea that created all that havoc. She also spends a great deal of time pining over her daughter, Hermione. Norma Jeane was a real person, and Carson's take on her is more complex and nuanced. Truman Capote wanders in and out of the tale, and there are frequent references to Arthur of Sparta and New York, most likely referring to Monroe's third husband, the playwright Arthur Miller; and also to actor Yves Montand, with whom she had an affair.
The Hollywood legend materializes before the audience's eyes as Whishaw strips down to his skivvies and transforms himself into Marilyn Monroe. He shoves falsies into his bra, pads his bum, slips on satiny white mules trimmed with marabou, slithers into 'the' white dress, puts on some makeup and dons a platinum wig. It is neither the artifice of a drag queen nor an exercise in macho transvestitism: rather, Marilyn Monroe the icon is being constructed (or deconstructed) before your eyes. Whishaw manages this while nervously stalking the stage, dictating in manic spurts, channeling multiple voices and singing. It's a performance not to be missed.
Throughout her operatic career, the most frequent criticism lodged against Fleming was that she tended to play it safe, avoiding heavier roles and maintaining a certain coolness dramatically to preserve her voice. Those days are behind her now. I was terribly impressed by her in action during SongStudio, the weeklong series of masterclasses and sessions that she has taken over from Marilyn Horne. In Norma Jeane Baker of Troy, she takes a giant and successful leap out of her former comfort zone.
I am the wrong person to judge to what extent Fleming succeeds in shedding her diva aura. After seeing her so often on stage, the slightest things, even the sparkle in her eyes, trigger memories. She nonetheless submerged herself into this nameless amanuensis, who serves as a Greek Chorus to Whishaw for much of the 90-minute play. But when Fleming sprang into action, it was as if a tightly coiled spring had suddenly been released.
Norma Jeane Baker of Troy runs through 19 May 2019. If you plan to attend, read up on it before you go. The piece is dense and dark, some of its references obscure and the dialogue fast paced. Insights into Carson's concept are needed to fully decipher what transpires on stage, and the same holds true for Clark's ingenious soundtrack. The more you know about it, the more you will be amazed by it.
And if that isn't enough of a push, go to discover The Shed. It's exhilarating to be a part of something so new and bold.
Rick Perdian
For information of future performances of Norma Jeane Baker of Troy at The Shed, click here.