Sweden Tommie Haglund, Delius: Ilya Gringolts (violin), Miah Persson (soprano) Royal Stockholm Philharmonic Orchestra / Tobias Ringborg (conductor), Konserthuset, Stockholm, 28.3.2019. (NB)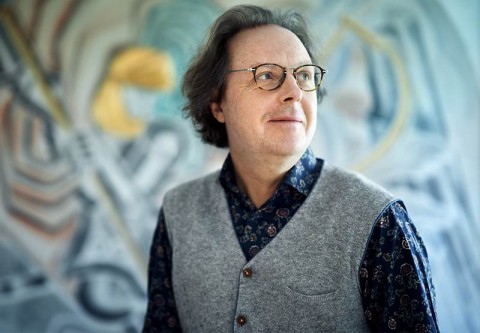 Tommie Haglund – Serenata per Diotima; Hymnen an die Nacht; La Rosa Profunda; Symphony
Delius: Intermezzo – Fennimore & Gerda
A series of concerts hosted by the Royal Stockholm Philharmonic at the magnificent neoclassical Konserthuset in the city from March 28th – 31st was  a cause for considerable celebration.  Not only did it mark composer Tommie Haglund's 60th birthday, but it was the first time that Sweden's premiere orchestra have focused on the works of one of Sweden's, and indeed Scandinavia's, leading composers. The opening concert was broadcast live on Swedish Radio and was significant, not only because it presented several of Haglund's most important scores but especially for the world premiere of his Symphony.
Both of the orchestral programmes from this 'Composer Weekend' were conducted by Tobias Ringborg and his performances were marked by a deep and detailed appreciation and understanding of the scores which was matched by the committed and virtuosic playing of the orchestra.  With the exception of Symphony, all of the works performed here had featured in the Festival of Haglund's music held in his home town of Halmstad the previous October. Key to the appreciation of any composer is the ability of an audience to have the opportunity to hear in concert in different performances this complex and richly rewarding music. Haglund is fortunate to have organisations and performers  such as the Royal Stockholm Philharmonic and indeed Joachim Gustafsson and his Helsingborg Orchestra (who were the backbone of the Halmstad retrospective) presenting his work with such conviction and dedication.
The Stockholm weekend opened with the Serenata per Diotima. Haglund's music exhibits certain basic characteristics that apply across all his works; a preference for a basic slow pulse which is then decorated and elaborated as well as a single arching span with the music emerging from and disappearing into silence. These are all evident in this twelve-and-a-half-minute Serenade for strings but at the same time this work is one of Haglund's most overtly lyrical and consistently serene pieces. From the opening bars the rich weight of the Philharmonic strings – a striking feature of the entire concert was instantly evident – as was the refined and sensitive solo playing of the orchestra's leader – Seohee Min. As a piece this was an ideal opener for this concert, and it provides  listeners with a perfect entry point into Haglund's sound world which embraces lyrical and visionary music in a serious but accessible manner. There is a spiritual almost Romantic warmth at the heart of Haglund's work so that even when he uses strikingly individual tonalities there is a rich 'sunset sonority' to his writing that is as powerfully impressive as it is individual.
Much the same could be said of the music of one of Haglund's great influences; Frederick Delius.  Not for a second that Haglund's work sound even slightly Delian but rather that they share a visionary aesthetic and sense of rapture. Haglund was introduced to Delius's work by Eric Fenby who in turn became a very significant influence in his musical life. So it was particularly apt that the concert included Fenby's edition of the Intermezzo from Fennimore and Gerda by Delius. Let alone in Sweden one imagines – this music is not heard in concert that often, and it is quite stunning to hear. The orchestral strings were joined by woodwind, horns and a trumpet for a beautifully thoughtful and poised performance. The principal flute and oboe in particular made the most of their carolling solos over typically Delian iridescent harmonies finding exactly the right expressive freedom in the writing. Perhaps Ringborg's pulse was a fraction 'straight' in this music where the underlying pulse needs a near improvisatory freedom following the ebb and flow of the emotion implicit in the work as well as the opera from which it derives.
The first half of the concert was completed by Hymnen an die Nacht. It is a mark of the stature of Haglund's music and his standing that international soloists of the highest calibre are seeking out his works to play. Likewise for the listener, we are now in the fortunate position of hearing diverging interpretations, with a 'performance vocabulary' beginning to develop. Haglund rarely, if ever, writes absolute music instead expressing through his work an intensely experienced personal response to an experience or personal encounter or vision. In the violin concerto Hymnen it is easy for the listener to perceive a desperate struggle between the soloist/protagonist and the massed oppressors of the orchestra. The soloist in tonight's concert was the remarkable Ilya Gringolts. He is one of those blessed players for whom no  technical hurdles seem to exist which given the ferocious demands of the solo writing here is hugely beneficial. From the first moments of the work the violin rages against some implacable fate – unusually for a Haglund score the music opens with a strident almost violent cadenza. Gringolts's imperious technique allowed him to make light of the angularity of the solo writing – a characteristic of Haglund's music is shifting from one extreme of an instrument to another as part of a single musical phrase. Aligned against the soloist the orchestra is roused to a series of daunting climaxes. Tobias Ringborg ensured that these were well balanced.  Initially I did wonder if these were as overwhelming as they could or should be, but it became clear that Ringborg was pacing these with careful control – vital in a work spanning nearly 35 unbroken minutes – so that the final climactic 'crisis' did achieve the sense of an ultimate point of no return.
Although Gringolts has technique and power to spare, a particularly effective aspect of this performance was his willingness to explore the lyrical/vulnerable character of the solo writing too. The 'night' of the title is surely a spiritual and physical journey through darkness, pain and doubt finally reaching a dawn which although promising few certainties itself at least heralds a chance to begin again. Normally it would seem imprudent to put such a subjective narrative onto a piece of music but here it does feel as though such a description is valid and relevant. Gringolts's playing was technically supremely assured throughout but there was a sense that he emotionally grew into the piece as the performance progressed. This is such a big piece in both a literal and emotional sense that few performers would feel they had explored all the depths and riches of the work in their first reading. By the time the soloists' opening cadenza material returned, Gringolts was fully inside the work and the increasingly fraught and frenetic interaction between soloist and orchestra was superbly handled by all the players. A musical and emotional masterstroke by Haglund is his use of  John Dowland songs after the final crisis that risks total musical collapse. It might be argued that the sheer beauty of the Stockholm orchestra's playing here reduced the chilly vulnerable fragility of the 'dawn' this represents but it is a closing passage of remarkable power in its accepting reconciliation. An inspirational work that drew an inspired performance.
The second half of the concert opened with La Rosa Profunda. Here soprano Miah Persson joined  the orchestra for an intensely dramatic reading of this short but powerful score sets a text by the Argentinian poet Jose Luis Borges which is a meditation on the nature of time and the perception of life. This work also featured in the Halmstad festival and what was particularly interesting was the significantly different approach of the two soloists. Here, Persson gave an intense, almost operatic performance endowing the work with the sense of it being a scena of compelling conviction. In this she was again supported superbly by Ringborg and the orchestra. Last October the soloist was Ann-Christine Larsson who sought to emphasise the stillness and meditative qualities of the work. It has to be said that both readings are wholly effective and absorbing and certainly the warm applause at this concert reflected the impact this work had on the audience.
The greatest anticipation of the evening was for the world premiere of Haglund's Symphony.  Unusually for Haglund, the work bears no other title than this with no hints at the external impetus or emotional compass of the work.  The absence of a single main 'protagonist', vocal or instrumental implies a variation in approach as well.  Yet key Haglund musical fingerprints remain; the work is in a single span and again the basic pulse is slow, albeit often divided down into passages of frenetic energy.  This is also Haglund's largest/longest work to date – the score indicates a playing time of circa 45 minutes although this first performance ran to 46 and a half minutes.  One thing to note immediately before considering the actual piece; a single span of this duration demands exceptional focus, concentration and skill from the performers and without doubt Tobias Ringborg and the Royal Stockholm Philharmonic were superb in this respect.  The pacing of the work felt organically 'right'.  My sole observation would be that at key points in the score Haglund places pauses or bars of free improvisation over set musical cells; my instinct is that Ringborg will allow these musical markers slightly more time to establish and help define the architecture of the work.
In advance of hearing the work the question remained whether it would be the apotheosis of Haglund's work to date or launch him towards new musical horizons.  The intriguing reality is that it was both.  Those familiar with his earlier work would find recognisable Haglund signposts here of scale, construction and pulse as mentioned previously however, the work also marks a significant evolution in his work.  Haglund's orchestration has always been intuitively individual and highly effective.  But in this work, perhaps because of the absence of a single 'protagonist' as the focal point of the musical action he has raised his use of orchestration from the colouristic to a significant factor in the work's style and structure.  As ever, demanding solos and passages are given to the various sections of the orchestra but in a different manner than previously.  Except for the expanded percussion section, Haglund's orchestra is – as always – very 'standard' – triple wind and 4.3.3.1 brass plus strings and percussion.  The presence of a harp and orchestral piano/celeste proves to be factor in his handling of orchestral timbre.  Allying these instruments to the tuned percussion as well as a major part for crotales, suspended cymbals and tuned gongs surrounds the upper part of the orchestral sound picture with a shimmering, glittering halo with metallic sonorities at the fore.  Simply put this brings a lot of 'light' into the score.  Noting Haglund's use of extreme range across the orchestra, this shining light of sound is often juxtaposed with passages written in the deepest 'darkness' of the orchestra's lowest register.
There is always a spiritual and visionary aspect to Haglund's music as well as the oppositions created by conflict and resolution.  It is possibly too simplistic to hear in this Symphony the antitheses of light and dark, good and evil, innocence and corruption. Haglund has written that this work was in part inspired by a poem written by a young woman, Annie Murgatroyd who died of tuberculosis aged twenty eight at the turn of the last century. She wrote; '… Tis the touch of heaven in earthly things that comforts me..' Haglund's music could be heard to encapsulate the philosophical concepts of Music of the Cosmos set against the Music of the Earth/Man. On a purely musical level, the work can be heard as a kind of Concerto for Orchestra and in this regard as well as many others it was an ideal vehicle for the superb members of the Royal Stockholm Philharmonic. From the very opening flute solo – which contains musical material that will bind the work together – gorgeously played here with sinuous grace, to the trademark stratospheric solo violin writing and complex ornamentations within the steady pulse this allowed all the sections of the orchestra to excel. Another feature was the juxtaposition of instrumental groups which had the effect of not simply orchestrating a string line doubled or reinforced in the woodwind. Indeed the nature of juxtaposition and opposition seems to be central to the work's conception. Hence dense textures are set against light as well as the afore mentioned high/low, static/active amongst others polar opposites. In the festival booklet Haglund referred to 'Innocence as an inner state when all about threatens'. He also speaks about feeling joy simultaneously with pain and happiness in the midst of grief.
As mentioned, Haglund has a very unique and personal approach to both instrumentation and harmony. His music operates at what might be called a high level of dissonance and little – if any – traditional use of what might be termed harmony. Yet in his hands this dissonance translates into remarkable grace rather than anything at all 'ugly'. Quite how he achieves this transformative effect is a mystery and a testament to his unique genius. Much like his beloved Delius, on the printed page Haglund's scores can appear quite empty even arbitrary in the way the notes are distributed. But deeper study – and even more so in performance – this seeming baldness is transfigured into something of disarming beauty. My sense on a first listen is that Haglund consciously seeks – and achieves – this rapt beauty more in this new work than any other which is why it can be seen as a summation of that aesthetic ideal from before as well as a gateway to new.
Symphony is dedicated to Haglund's two key teachers; Claes Göran Bjerding and Eric Fenby. In both cases they could be described more as mentors or guides rather than composition teachers in any traditional sense. Both Bjerding and Fenby encouraged Haglund to follow his own intensely personal vision and in this work that support, and belief is given its ultimate expression. Touchingly, Bjerding – a trumpeter by training – is enshrined in the work when the opening material returns on a solo trumpet. Throughout the work there is a sense of struggle which reaches a final impassioned outburst with nearly the full brass complement hammering out clashing sextuplets over a searing chord for wind and strings. With this last cathartic outburst the textures thin and the rhythms become less complex. As with other works, it is not so much that Haglund has found an 'ending' but rather some form of reconciliation or acceptance and as so often in his music the notes fade into hard-won silence.
In every respect this performance has to be judged a triumph for composer and performers. Without doubt future performances will reveal greater depths and even subtler nuances but this was a supremely accomplished first performance. The audience – who had sat in rapt silence and with evident concentration broke into genuinely enthusiastic and affectionate applause which became a standing ovation when Haglund took to the stage. The entire concert – with Haglund's cello concerto in place of Hymnen ­– was repeated two days later to even greater acclaim with some minor adjustments by Haglund incorporated into the score and Ringborg allowing the music that extra breadth and breath that is so integral to these scores.
The stature of Haglund's work has never been in doubt, but it was especially pleasing to see one of Scandinavia's finest orchestras performing it with the skill, dedication and commitment as here. His particular genius is to tap into the human experience and express it using a very individual and 'contemporary' musical style that is both deeply personal and also profoundly communicative. Audiences are moved by this music in a way that the often-arid world of contemporary music does not frequently witness. As the momentum for performing these major scores grows it is to be hoped that orchestras and conductors around the world will soon become fully aware of the important works of Art that Haglund has created. My feeling is that Symphony will prove to be a landmark work not just for its composer but as a mirror of the age in which we live. A major achievement in every respect.
Nick Barnard