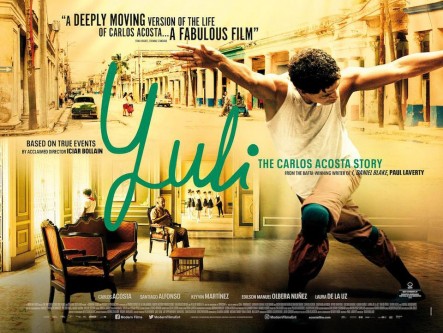 Yuli – The Carlos Acosta Story
Sadler's Wells, EC1R 4TN
Monday 6 May 2019 at 6pm
Tickets: £25
Ticket Office: 020 7863 8000 or www.sadlerswells.com
On Monday 6 May, Sadler's Wells presents a special screening of new film release, Yuli – The Carlos Acosta Story, followed by a live Q&A with Carlos Acosta, film director Icíar Bollaín and BAFTA-winning scriptwriter Paul Laverty, hosted by Sarah Crompton. Acosta's company, Acosta Danza, is a Sadler's Wells International Associate Company.
Acclaimed as one of the most extraordinary dancers of his generation, Acosta has won countless awards and thrilled audiences all over the world.
Yuli, the nickname given to Acosta by his father, encapsulates Acosta's childhood in an impoverished Havana to adulthood, based on his autobiography No Way Home: A Cuban Dancer's Story.
The film held its World Premiere at the San Sebastian Film Festival on 23 September 2018, where it won the Best Screenplay Award. Yuli is released in the UK and Ireland on Friday 12 April 2019.
Sadler's Wells International Associate Company, Acosta Danza, was founded by Acosta with the intention of paying tribute to the vibrancy of Cuban culture. The company returns to the UK in autumn, including Sadler's Wells from 18 – 23 November.