United States Pärt, Reich: International Contemporary Ensemble, The Choir of Trinity Wall Street Church, The Shed, New York City, 11.5.2019. (DS)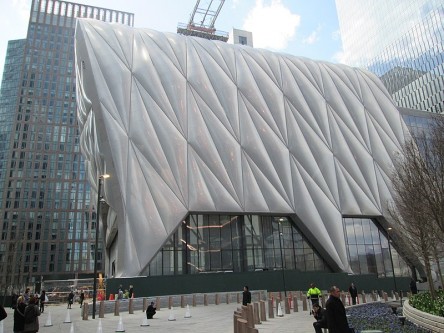 Pärt  – Drei Hirtenkinder aus Fatima
Reich – Reich/Richter
Over the last 20 years, Manhattan's west side has undergone one of the biggest urban renovations and gentrifications in its history. Among the many changes of international recognition are the High Line — a transformation of a 1.5-mile freight train track into a public park — and the relocation of the Whitney Museum from its Upper East Side reinforced concrete home into a towering, Renzo Piano-designed structure overlooking the Hudson River in the Meatpacking District.
A few weeks ago, just south of Times Square, Hudson Yards opened — a hotly contested new glass plaza of luxury buildings (including a suburban-like glitzy shopping mall geared to the jet set) — dumping itself down at the northern end of the High Line. In short, it is an abomination and a punch in the face of anything once thought of as characteristically Manhattan.
Nevertheless, one structure, the Shed, is keeping the glimmer of a heartbeat alive in this desert of taste and culture. Designed by Diller Scofidio + Renfro (architects who renovated Juilliard and Alice Tully Hall about a decade ago), this theater and arts space has a notably stylish but no-nonsense interior with escalators leading to each floor. It is housed in a bubble-wrapped, matte-silver covering which moves on immense wheels to reveal — when required — an outdoor performance space.
One of the Shed's first concerts made a refreshingly creative splash in this otherwise uninspired plaza. Some stellar live musicians and first-rate abstract art happily collided in Reich Richter Pärt, bringing together the music of Reich and Pärt with the art of Gerhard Richter in two spacious gallery rooms. Both composers have collaborated separately with Richter — who has been no stranger to music, having taken inspiration from John Cage and J.S. Bach for some of his past paintings. During a run of two months (ending June 2), musicians from Ensemble Signal, International Contemporary Ensemble, the Choir of Trinity Wall Street, and the Brooklyn Youth Chorus have given four performances a day, making it possible to pop in at one's convenience for 50 minutes, conceivably even during a work break.
Pärt's Drei Hirtenkinder aus Fatima was paired with new digitally produced and hand-woven tapestries by Reich of dripping pinks, yellows, greens, and deep maroons. As visitors entered, no special announcement was made to sit and listen. Instead, singing voices began to emerge from different points around the gallery room. It was hard to pinpoint the performers, since all singers were dressed in lay clothes scattered about among the audience. The music filled the entire space without overwhelming the listener, imitating the experience of hearing chant in a cathedral.
For Reich/Richter, guests were asked to proceed to the adjacent gallery, where stools and floor pillows were provided for listeners to sit anywhere in the room between the ensemble and a film screen. Reich's work was a return to orchestral writing for the composer after 30 years, and reminiscent of Music for 18 Musicians, both in depth of color and instrumentation. It was precisely paired with a color film installation of evolving stripes and patterns by Reich and filmmaker Corinna Belz.
Starting with solid bands of color and metamorphosizing into ever dividing (and sometimes seemingly melting) pixels, the visuals met the music so organically that it became difficult to separate one from another. While the experience was not aesthetically groundbreaking, it was beautiful. Reich's new opus truly lived up to his sublime abilities to elevate rhythmic patterns and harmonies to a heavenly blend, which builds and develops over an unexpectedly long time without ever losing its core heartbeat.
During my visit, I heard the International Contemporary Ensemble and the Choir of Trinity Wall Street, and their unwavering commitment to such precision demands were critical in making the experience a success.
If Reich Richter Pärt is the inaugural example of the possibilities ahead for music at the Shed, New York City will see some original, worthy programming in the seasons to come.
Daniele Sahr