Germany Puccini, Tosca: Soloists, Chorus of the Bayerische Staatsoper, Bayerisches Staatsorchester / Andrea Battistoni (conductor), Nationaltheater, Munich, 4.5.2019. (JMI)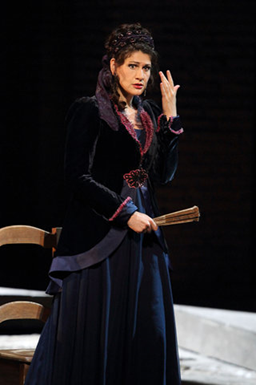 Production:
Director – Luc Bondy
Sets – Richard Peduzzi
Costumes – Milena Canonero
Lighting – Michael Bauer
Cast:
Tosca – Anja Harteros
Cavaradossi – Stefano La Colla
Scarpia – John Lundgren
Angelotti – Alexander Milev
Sacristan – Kristof Klorek
Spoletta – Kevin Conners
Sciarrone – Christian Rieger
Gaoler – Oleg Davydov
Most opera lovers will agree that there are a few great opera houses in the world, and among them is the Bayerische Staatsoper. In my opinion, the Munich company is currently the best of them all. It is not unusual, therefore, that I see familiar faces in the Nationaltheater, especially when something of great interest is being offered, such as Anja Harteros as Tosca and a Tannhäuser with an outstanding cast.
This production of Tosca was first staged here in June 2010 with Karita Mattila and Jonas Kaufmann in the lead roles. It has been revived several times since then, most notably in the unforgettable performances of the July 2016 Festival when Kirill Petrenko conducted and the cast was led by Anja Harteros, Jonas Kaufmann and Bryn Terfel. I have reviewed this Luc Bondy production on earlier occasions, and my opinion has not changed (review click here).
I found Andrea Battistoni's conducting rather unconvincing: his Tosca was generally noisy, uninspired and lacking in nuance, especially in Act I. Things improved in the second act where at least there was a dramatic charge. Of course, it all reminded me of how enjoyable it was three years ago with Kirill Petrenko in the pit.
Once again, we were lucky to have Anja Harteros as the protagonist; she has given superb interpretations of Tosca since she debuted in the role in Berlin in February 2013. I have always enjoyed her in the part and find her to be one of the greatest Toscas  – if not the greatest – of recent years. She gave an excellent performance here, but it wasn't at the height of previous ones. Perhaps the conductor and her vocal colleagues had some influence on her work.
Cavaradossi was sung by Stefano La Colla, who still does not impress me; I am surprised that Munich continues to feature him so regularly. His voice is wide and attractive, but elegance is lacking, as is his way of attacking the high notes. Baron Scarpia this time was sung by baritone John Lundgren, whose voice is not especially appealing. He is a fine actor but a monotonous singer who does everything in forte.
In the secondary characters, Kevin Conners as Spoletta was the most appropriate. Both the Angelotti of Alexander Milev and the Sacristan of Kristof Klorek were modest, while Christian Rieger as Sciarrone and Oleg Davydov as the Gaoler were correct in their roles.
The Nationaltheater was sold out. The audience gave a warm reception to the artists in the final bows, where the biggest ovations went to Anja Harteros, although there were also bravos for her two main colleagues in the cast.
José M. Irurzun