United Kingdom Julia Leigh, Avalanche: A Love Story: Barbican Theatre, Barbican Centre, London, 1.5.2019. (CS)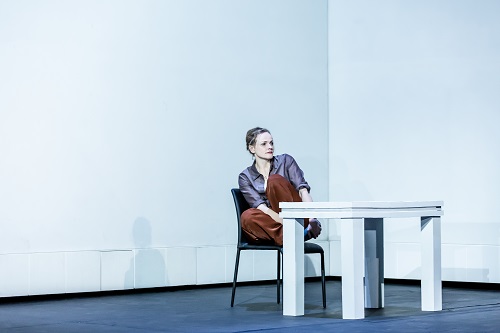 Cast:
Woman – Maxine Peake
Childling – Alexander Quinlan, Kit Rakusen, Ausra Ramdharry-Panka, Kiera Thompson
Production:
Director – Anne-Louise Sarks
Set and Costume Design – Marg Horwell
Lighting Design – Lizzie Powell
Composer and Sound Design – Stefan Gregory
When Australian novelist Julia Leigh was in her late thirties, life looked rosy.  Her second novel had been published and her creative career was flourishing.  Romance with a former boyfriend, Paul, had been reignited and they started to discuss marriage and children.
Things don't go to plan.  They consider IVF.  Neither the reality that the statistics scream nor the need to reverse Paul's vasectomy – nor her own phobia of needles – dissuade or caution them.  Soon, the cracks in their relationship start to appear.  Paul accuses Leigh of being more committed to the screenplay she's written for the film, Sleeping Beauty, which she is also directing, than to their relationship and any future relationship they might have with their as yet unborn child.  How can she direct a play and be pregnant?
Eventually, she and separated.  Paul first granted, and then denied, her permission to continue the treatment using his own sperm.  Later Leigh looked for a sperm donor.  She had six rounds of IVF treatment.  They were all unsuccessful.  Innately eupeptic and optimistic, Leigh had been nicknamed 'Pollyanna Juggernaut' by Paul, but by the end of this process she was distraught, depressed and bereft.  In 2016 she related her experiences in a book which she has now adapted into a play, Avalanche: A Love Story, which is currently running at the Barbican Theatre as part of the Barbican's Fertility Fest.
Leigh's 'Woman' is played by Maxine Peake, who has spoken of her own experience of infertility and IVF treatment.  Her performance is a tour-de-force, transfixing and troubling in equal measure.  She charts the protagonist's journey from self-awareness to self-absorption with almost chilling control, drolly diluting the hurt and humiliations with brief flashes of humour.  She delivers Leigh's aphoristic text with a sure sense of style, her voice gradually becoming more brittle, as her optimism acquires a bitter tint and finally succumbs to disappointment and failure.
Paradoxically, Peake exercises great discipline to depict physical and psychological dissolution.  At first, she stands centre-stage, chatty and self-deprecating in equal measure.  Later she needs a wall to lean against for support, then slumps at the rear of the set, legs crossed in front of her; later she climbs on a chair and curls into a protective ball.s
The set externalises her breakdown.  A white cube confronts us, its fourth wall waiting to be painfully broken.  It's aptly clinical and contains just a desk and a chair.  Lit with a teal glow, it conjures the quiet ghostliness of an Edward Hopper painting, its geometrics tempered by an interplay of light and shadow.  The light, however, glares ever more starkly, unforgivingly.  It blinds, literally and metaphorically.  The Woman cannot see her way out of the moral quagmire, just as she cannot bear to look at the small children who come onto the stage.  In any case, the small girl front-right playing with a doll's house is happily self-contained, her back turned on the Woman.  When the desk shatters – a metaphor for the fracture of her own body and psyche – a young boy plays with the fragments, like Lego; but we know that, like Humpty Dumpty, she can't put herself back together again.  As the play reaches its conclusion, the walls literally come tumbling down.  She stands, exposed and vulnerable, as grey snow falls, an ashy powder in an apocalyptic wilderness: a dystopia of the mind.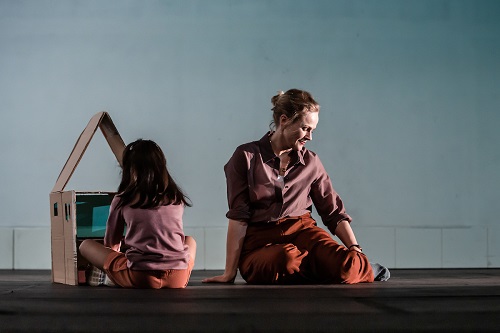 Sound, too, dramatizes her trauma and decline.  The stage blackens for Peake's first entrance, and we hear a thunderous rumble, the brief roar of a wild beast.  It's a threatening 'whump', the sound of that powder compressing, shifting, sliding a little, downhill.  As the play proceeds, the rumble resumes; it gets louder, closer, until the sound is everywhere, smothering, suffocating.
The drama is in a sense two-fold, 'external', one 'internal'.  We have a blow-by-blow account of the punishing business of IVF – medical appointments, blood tests, invasive scans – and its physical effects.  It makes for a grim catalogue of symptoms from aching joints to ovarium cysts.  But, the psychological and emotional fallout is more gruelling still, as Leigh probes difficult, probably unanswerable, and undoubtedly self-excoriating questions about her desire for motherhood, the lengths (and costs) she's prepared to go to get what she wants, and the validity of the grief she feels.
I have no doubt that many in the audience sympathised, and empathised, with the dilemmas and traumas that Leigh places under a cruel spotlight.  But, the issues are complex – surely peculiar to individual circumstances, identities, relationships and contexts – and here we have just a singular perspective, one that is increasingly solipsistic as the play progresses and the years pass, as the 'Woman'/Leigh becomes ever more single-mindedly fixated on a goal designed to satisfy her own desires.  It becomes the only measure of her 'success'; the definition of selfhood.  Perhaps the desire for motherhood is inherently 'selfish' to some degree, just as being a mother inspires an instinctive selflessness.
The first-person perspective is problematic in this regard.  A monologue inevitably takes us into an individual's mind.  But, here there is no distance between authorial pen and protagonist's psyche, such as one finds in 'one-man shows' such as Willy Russell's Shirley Valentine, with its rejuvenation and rediscovery of the joys of life; or, even of Simon Callow's account of Oscar Wilde's spell in Reading Gaol, De Profundis, which presents Wilde's reflections, regrets and recriminations.
The play's refrain is 'It's up to you': the choice is an expensive one, and in all sorts of ways – and one that hardly feels like freedom.  But individual decisions are shaped by wider contexts.  Here, the views of Paul, Leigh's family and friends, work colleagues – views which are made to appear unsympathetic and judgemental – are revealed only from the Woman/Leigh's perspective, though in her book Leigh acknowledged, 'I guess it's common sense but I sincerely believe in the truth of what I'm writing and at the very same time I know Paul would shape a different story.'
Peake makes Avalanche: A Love Story a powerful theatrical experience.  But, for me it felt too much like reading a Plath poem, with none of the consolations tendered, however tentatively, by the beauty of the poet's language.
Claire Seymour