United States Various, Lucretia: Annie Rosen (mezzo-soprano), Paul Max Tipton (bass-baritone), Emily Jo (dancer), Justin Mock (dancer), Jacob Ashworth (Medieval vielle and Baroque violin), Hannah Collins (cello), Nina Stern (recorders and winds), Arash Noori (lute and guitar), I-Jen Fang (percussion), Aya Hamada (harpsichord), Hilda Huang (piano), Cantata Profana, HERE Arts Center, New York, 23.5.2019. (RP)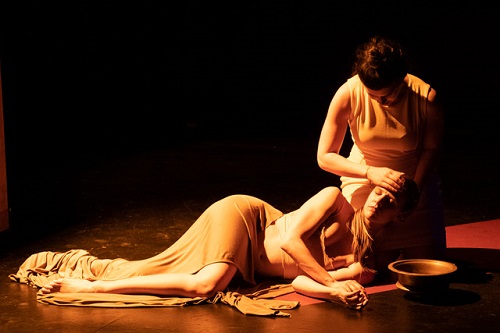 Jacques Gallot – 'La belle Lucrece'Anonymous – 'Ecce torpet probitas', 'Axe Phebus aureo', 'Ich was ein chint so wolgetan' (Carmina Burana)
Joan Baez – 'Silver Dagger'
Traditional – 'The Outlandish Knight' (arr. Shirley Collins)
Ottorino Resphigi – Excerpt from Lucrezia
François Sarhan – 'Scènes d'amour'
Ian Power – 'Water dripping from a leaking pipe behind drywall'
Paolo Benedetto Bellinzani – Duet from Tarquinio e Lucrezia (Duetti da camera Op.5)
Pietro Locatelli – Capriccio No.3 in C minor (24 Capriccios)
Marti Epstein – 'Crossing Hands' (American Etudes)
Georg Friedrich Handel – La Lucrezia
Production:
Director and Choreographer – Shadi Ghaheri
Sets – AO LI
Lighting – Victoria Bain
In a concert hall, Cantata Profana's Lucretia would perhaps be considered adventurous programming, while the troupe's topnotch early music specialists would definitely garner praise. In terms of content, the varied program of works from the Medieval era to the present would barely raise an eyebrow. Staged, however, the result is a powerful theatrical experience addressing sexual violence against women.
The underlying narrative was the rape of Lucretia by Sextus Tarquinius that has inspired writers, composers and artists since the fifth century BC. Here the tragic tale served as a springboard for a progression of vocal and instrumental works that explored a woman's journey from innocence to despair. In Iranian-born director Shadi Ghaheri's bold and provocative staging, not a single word was spoken to provide context; music, movement and imagery alone created the story.
Lucretia provided a dark view of men, starting with 'Ecce torpet probitas' with its credo that rules are meant to be broken and greed reigns supreme in the world. Wise mothers keep their daughters close to them, as in Joan Baez's 'Silver Dagger'. Crafty girls were ever vigilant, like the young maid in 'The Outlandish Knight' who pushed an erstwhile suitor into a stream rather than join the six others he had lured to their deaths. The most plaintive tale was that of a young maid in 'Ich was ein chino so wolgetan' who was praised and popular when still a virgin, but mourned the day that a villain took her 'little castle with his rigid ram'.
Lucretia embodied all women who had been subjected to rape or sexual assault. As in an opera, Gallot's musical portrait, 'La Belle Lucrece', performed by lutenist Arash Noori, served as an overture. Her story was told piecemeal in excerpts from Resphigi's last opera, Lucrezia, and Bellinzani's cantata for two voices, Tarquinio e Lucrezia, as well as Handel's solo cantata, La Lucrezia, which ended the program. In it, Lucretia kills herself rather than live with the dishonor that she unwilling brought upon her family, vowing vengeance on Sextus Tarquinius from the afterlife.
The two dancers, Emily Jo and Justin Mock, created scenes that ranged from the romantic to the monstrous. The most vivid of the latter was performed to the backdrop of French composer, director and visual artist François Sarhan's 'Scenes d'amour,' a collection of images and sound that combined Hollywood romance and film noir. Equally potent was the scene in which they danced to Locatelli's Capriccio No.3, performed by violinist Jacob Ashworth.
The most psychologically penetrating experience was when percussionist I-Jen Fang stood alone center stage in a column of light, beating out the incessant rhythms of Baltimore-based composer Ian Power's 'Water dripping from a leaking pipe behind drywall'; the title says it all. Whether we were inside the mind of a victim or that of a perpetrator was unclear, but the sense of foreboding was inescapable.
That mezzo-soprano Annie Rosen and bass-baritone Paul Max Tipton made such a strong impression was due to a combination of their artistry and the power of the music they performed. Tipton instilled the Medieval songs and ballads with a directness that vividly captured their textural and musical nuances. The bellicose aria from the Bellinzani cantata displayed his impressive voice at its most dramatic and florid.
Rosen sang 'Silver Dagger' with a disarming, forthright simplicity, leaving no doubt that her mother's knife would find its mark. Those same qualities imbued Rosen's soul-baring account of Handel's La Lucrezia. It was a bravura performance in which Rosen's dark-hued voice captured Lucretia's vulnerability and rage. As Rosen sang, she bathed Jo and then herself with water: a rite of purification that prepared the women for death. As the final notes sounded, Rosen drove a sword through them both, and then all went black.
Rick Perdian