Switzerland Honegger, Schumann, Brahms: Yuja Wang (piano), City of Birmingham Symphony Orchestra / Mirga Gražinytė-Tyla (conductor), Tonhalle Maag, Zurich  26.5.2019. (JR)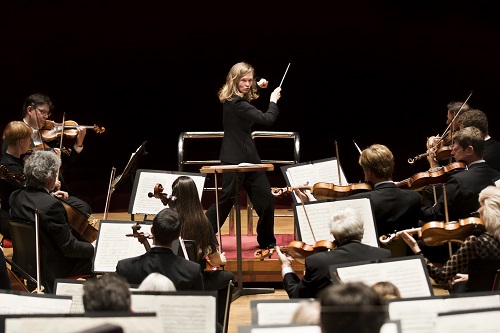 Honegger – Pastorale d'été

Schumann – Piano Concerto Op.54
Brahms – Symphony No.2 Op.73
The City of Birmingham Symphony Orchestra are in the middle of a major central European tour (after visiting the delights of Basingstoke) taking in Paris, Luxembourg, Innsbruck, Amsterdam, Cologne, Dresden, Stuttgart, Dortmund and Frankfurt. I caught their concert in Zurich which they repeat in Geneva, and finally Munich.
For their Swiss visit, the CBSO started the concert with a very short piece by Arthur Honegger. Although born in France and a member of 'Les Six', Honegger was Swiss and studied in Zurich. His best-known work is possibly Pacific 231 inspired by the sound of a steam locomotive. He short to fame however with a choral work, Le Roi David. His Pastorale d'été is a charming but rather inconsequential piece. Written in Wengen, in the Bernese Oberland, it evokes the beauties of the Alpine landscape in the style of Debussy; it reminded me of a delicate Delius miniature.
The concert really began when Yuja Wang emerged in one of her trademark striking dresses: it was black and there was a dash of purple in her jet-black hair. Wang started the Schumann by attacking the keyboard, which would have irked many a purist; but this was simply par for the course for Wang. She soon settled down, whilst remaining the pianistic power house that she is. Savage playing alternated with delicate passages; some would say she didn't reach the heart and soul of the music. Her cadenza, however, had the audience spellbound and certainly her sparkling playing brought this old chestnut of a concerto to vibrant life. In the slow movement, it was the orchestra's splendid cello section which caught eye and ear, almost stealing Wang's limelight. The final spirited Allegro vivace brought a smile to the face of Wang and the audience as she brought the work to its exciting close. She then treated us to no fewer than three encores – her standard Fazil Say-style variations on Mozart's Turkish March, a reflective piece by Schubert, and then – to bring the house down – variations on Carmen. The audience roared, yet strangely Wang did not appear to revel in the applause. It was perhaps all too formulaic, and she has heard it all before.
Finally, after the interval, Mirga and her Birmingham orchestra got the chance to show off their skills. And they did so with aplomb. Brahms might have seemed a rather dull, conservative choice for a central European tour and a comparison with local orchestras steeped in such classic repertoire dangerous, but they quickly dispatched any such fears. Mirga galvanised her forces, occasionally even whipping them into a frenzy. In the Adagio the celli stood out yet again, adding considerable weight and impressive vibrato; they were placed front right, traditionally, and rather overwhelmed the sound of the violas and second violins, certainly from my seat in the stalls. The woodwind duly took their turn to shine in the third movement, along with scampering strings, and finally it was the turn of the brass to bring the work to its joyous conclusion. No encore: after three encores from Wang, we had no need for more.
Gražinytė-Tyla had conducted, arms swaying, hair billowing, with alternating grace and boundless energy – it is no surprise to read she has now been signed up with Deutsche Grammophon. In recording with DG, the 32-year-old Lithuanian follows in the footsteps of the likes of Herbert von Karajan, Claudio Abbado and Andris Nelsons, and becomes the first female conductor to sign an exclusive long-term contract with the famous label.
During the interval, we had a talk from Dr. Clemens Trautmann, President of Deutsche Grammophon. He forecasted the demise of the CD in favour of streaming and informed the audience that they had launched a new project called 'Yellow Lounge' attempting to bring classical music to a younger audience in more informal, more exciting settings such as clubs. Signing up exciting young musicians such as Wang and Gražinytė-Tyla is surely a wise element within such a strategy. Thanks go to Migros Kulturprozent Classics for helping to finance the CBSO tour of the Swiss cities and ensuring a packed hall.
Let me end with a laugh: whilst researching Migros's concert website, I read (in German) that Brahms had composed the second symphony 'in einem Zug'. That means 'in one go' or 'at one stretch'. However my computer was switched to Google translation into English and reported that Brahms had composed the work 'in a train'. Pacific 231 perhaps?
John Rhodes