Thomas Sanderling talks to Gregor Tassie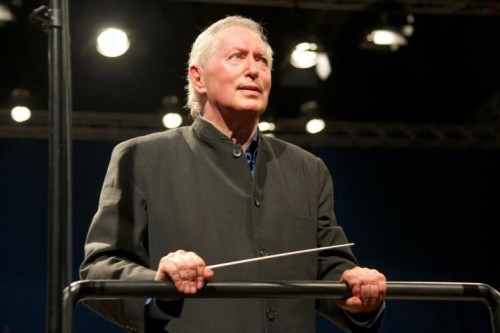 There are few conducting dynasties as distinguished as the Sanderling family. Kurt Sanderling (1912-2011) began his career under the guidance of Erich Kleiber and Wilhelm Furtwängler at the Deutsche Oper in Berlin in the 1930s and – with the ascent of Hitler to power – emigrated to the USSR and was appointed conductor of the Moscow Radio Orchestra in 1936. He was chosen chief conductor of the Kharkov Philharmonic in 1939 and with the outbreak of war Sanderling found himself assistant to Mravinsky in Novosibirsk where the Leningrad Philharmonic was evacuated. His first son, Thomas, was born in Siberia in October 1942 and the family soon moved to Leningrad where he later studied the violin at the Music School of the Leningrad Conservatoire. When his father moved to Berlin in 1960, Thomas studied at the Hanns Eisler Music School. He won a conducting competition in 1962 and studied with Hans Swarovsky, and later with Herbert von Karajan and Leonard Bernstein. Thomas first conducted provincial orchestras before his first major appointment at the Halle/Salle Opera in 1966. Since which he has developed a major career working all over the world. Thomas Sanderling was appointed music director and chief conductor of the Russian Philharmonic (of Novosibirsk) in 2017 after many years as their principal guest conductor. Thomas's half-brothers; Michael Sanderling is the chief conductor of the Dresden Philharmonic and Stefan is the chief conductor of the Liechtenstein Symphony Orchestra. Thomas Sanderling enjoyed a close association with Shostakovich who attended his debut in Moscow, and who gave him permission to translate into German the texts of his Thirteenth and Fourteenth Symphonies which he premiered and recorded in Germany.
GT: You were born in Novosibirsk during the war. Do you have any memories of the city when you were a child?
TS: I have no memory of these years; I was just two years old when my father -who was a conductor at the Leningrad Philharmonic Orchestra returned to Leningrad.
GT: Mravinsky's orchestra was based there during the war, did this lead to the Novosibirsk Philharmonic being set up?
TS: It is a good question, but in a different context, it is ironic because the war led to an astonishing cultural explosion for Novosibirsk, at the same time the Leningrad Philharmonic, the Pushkin Drama Theatre [the former Tsarist theatre – the Alexandrinsky which had the best actors], the Tretyakov Museum and Art Gallery were evacuated there and also with many evacuees [who were musicians] and this led to the formation of the whole orchestra [in 1956].
GT: Do you have any memories of Mravinsky and his orchestra when your family moved to Leningrad?
TS: Of course, my father was the permanent conductor of the Leningrad Philharmonic Orchestra and growing up I saw a lot of Mravinsky when we exchanged visits to each other's homes. I often visited the rehearsals and later Mravinsky asked me to be his assistant at the orchestra. This was a very difficult question for me because I wanted it, but on the other hand when my family moved to Germany I was seventeen years old so [my parents] thought that I should grow up in the Central European tradition. But I did return many times as a guest conductor, Mravinsky attended my rehearsals and invited me to his home, so there was a regular contact until I moved to the West in 1983.
GT: What made you become a conductor?
TS: You know the wonderful [St Petersburg] Philharmonic Hall is like my second home, when you enter this great hall with the beautiful white columns you feel like entering a cathedral, so altogether it made a great influence upon me. Somebody told me they published the Mravinsky diaries [in Russian], and that I am mentioned. I was among those who suggested that he taped his memories for his diary – so there is another association with him. Mravinsky also gave me consultations, and there is a funny photo of me sitting between his long legs.
GT: You made recordings of Sergei Taneyev's symphonies, do you think he is a composer who needs more popularity?
TS: Yes, Taneyev deserves more popularity because in several pieces he is a composer of genius. His Fourth Symphony – even in Russia – is not so popular and it was always called the C minor Symphony and then we did not know it was his Fourth Symphony. We recorded it [on Naxos], and then I played it at the Konzerthaus in Berlin and got an enthusiastic response from both the orchestra and the audience. There is also the cantata St John of Damascus, and the wonderful Concert Suite for Violin and Orchestra. By the way, I discovered that the Suite contains six bars quoted from Wagner's Tristan und Isolde, nobody in Russia knows about this because – in Russia – they are not so familiar with Tristan. I think that the Quintet is fantastic, and some of the string quartets led to Taneyev being called the 'Russian Brahms'. This is more than enough to call him a genius, after all – for only one work – they call Bizet a genius for his Carmen.
GT: Are there any other composers you think should be more popular?
TS: I am very involved in the rediscovery of Mieczysław Weinberg. He was regarded by Shostakovich as a great composer, and his widow Irina Antonovna – who I am good friends with – established my contact with the Weinberg family, so that is how it all started. By the way, I conducted the world premiere of Weinberg's Requiem with the Royal Liverpool Philharmonic [in 2009]. It is very interesting because I conducted a concert with the Dresden Staatskapelle – a very good orchestra – entirely of Weinberg works. Then, in 2013, I gave the world premiere of his last opera The Idiot in Mannheim and the live recording on the Onyx label won awards ['Premiere of the Year' by Opernwelt]. I also conducted the final symphony written by Weinberg – the 22nd – in Berlin last January. Next season on 8 December Gideon Kremer and I will give the centenary concert of his birth at the Bruckner Haus in Linz. Weinberg is a very important and interesting experience [for musicians and audiences] – even The Idiot which lasts over three hours which is an extraordinary experience for the audience.
GT: You are accompanying Valentina Lisitsa in Edinburgh. Do you think that the way she has developed her career through YouTube and booking her own concerts can be a model for other young musicians?
TS: You know that I don't know anything about her early career, but I have played with her several times and it was good to communicate – through music – with her on that tour of Austria and Germany but she didn't talk about herself. All I can say is that she is a very good artist – whatever she did in her early years seems to have worked for her.
GT: Teodor Currentzis started his career in Novosibirsk and has become successful through his unusual working style with musicians. What do you think about his methods?
TS: First of all, Teodor Currentzis and I have known each other for quite some time – when I was the principal guest conductor of the National Philharmonic in Moscow – and that was before he came to Novosibirsk. Here he organized a chamber orchestra which later became MusicAeterna specializing in early music and new music. Currentzis and this orchestra then moved to Perm [when he was appointed chief conductor of the Opera Theatre] and I must say that he is a very gifted conductor. I was invited to Perm to conduct Der fliegende Holländer and it is a very good, interesting group [of musicians]. So, judging by this he has done very well.
GT: It is a long time since your orchestra has been here, do you have any good memories of Scotland?
TS: The last UK tour by this orchestra was with the founder of the orchestra Arnold Kats. My experience started much later – you know this was during perestroika – and I was called back to Russia, and when Kats heard about it – through the Goethe Institute – he invited me to Novosibirsk. I began as a guest conductor, but I didn't come to Scotland on that tour. I want to say that one of the greatest experiences in my life was that Shostakovich gave me the privilege of conducting the premieres of his [Thirteenth and Fourteenth Symphonies] in the West. I have recorded (with the Helsinki Radio Orchestra on Ondine) a Scottish ballad 'Annie Laurie', along with songs by Shakespeare and Sir Walter Raleigh, and 'Macpherson's farewell' by Burns and the Suite on Verses of Michelangelo Buonarroti with Gerald Finley. He wrote the songs before writing the Eighth Symphony. Altogether, I have recorded three Burns songs in different versions and very much look forward to being in Scotland. All the German conductors like to perform Mendelssohn's 'Scottish' Symphony and the Hebrides Overture.
GT: Can you tell me about musical life in Novosibirsk, do you attract musicians from all over Russia or only from the Siberia area?
TS: We have to start with the fact that Novosibirsk is the third biggest city in the country. To be sure it is recognised as the capital of Siberia and there is the Academy of Sciences there, and we have had a good new hall for five years. The best artists in Russia are happy to come to us. In my second season, the subscriptions are completely sold out and the second series is also sold out. We host the Trans-Siberian Arts Festival whose director is a native of Novosibirsk – a good friend of mine and a great violinist – Vadim Repin. We have hosted many great musicians here and who all express satisfaction with the orchestra – among whom recently include Renaud Capuçon and Gideon Kremer.
GT: We are looking forward to hearing and seeing you in Edinburgh.
In May 2019, Thomas Sanderling will be conducting the Russian Philharmonic (of Novosibirsk) in fourteen concerts in their first UK tour since the 1990s. For more details click here.