United Kingdom Beethoven, Mozart: Katherine Bryan (flute), Pippa Tunnell (harp), Royal Scottish National Orchestra / Sharon Roffman (leader/director), Usher Hall, Edinburgh, 3.5.2019. (SRT)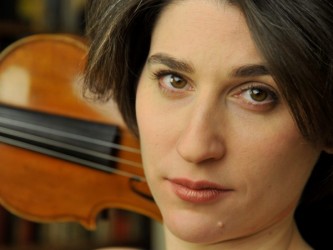 Beethoven – Coriolan Overture; Symphony No.5
Mozart – Concerto for Flute and Harp
Across town, on the other side of Edinburgh, the Scottish Chamber Orchestra are no strangers to the conductorless concert – their usual repertoire and their smaller size make it more feasible for them – but in more than a decade of attending the Royal Scottish National Orchestra, I have never once seen them do it… until tonight.
This concert was meant to be conducted by Nathalie Stutzmann but, for various reasons, several weeks ago the decision was taken to have this concert (with identical repertoire) directed by the leader, Sharon Roffman. They had already announced plans to have a Roffman direct a concert in April 2020, which must have broken the psychological barrier, but bringing it forward by a year is still a pretty big step.
In the event, the lack of conductor was probably the least remarkable thing about this concert. Roffman clearly knows what she is doing and, beyond a few very slight lapses in ensemble, if you had listened with your eyes closed you probably would not have guessed there had been a difference. The orchestra were clearly completely on board, and there was a lovely moment at the very end of the concert where they walked off together, then lined up along the front of the stage for their final ovation. I have never seen that before, but it was a strangely powerful statement of community that drew even bigger cheers from the audience, not least for Roffman herself.
No: other things deserve more comment; not least the unusual touches of period style. The RSNO is, pretty much, a Romantic Symphony Orchestra, and it is rare for them to take on board historically informed practice. What a treat to see so much of it on display here, then. It was partly in the period brass, which lent a real smack to the finale of Beethoven 5, but also in the lesser vibrato in the strings, which gave the symphony's second movement a bit more of an edge than usual. Most compellingly, they stood for both Beethoven works. That might have had practical implications to make the director more visible, but it also affected the sound, giving them a tightness of concentration and leanness of sound, perhaps most obviously in the transparency of the Coriolan Overture that made the undulating cello line come through with unusual clarity.
Not so much in the Mozart, perhaps, but I suspect that is more of a flaw in the piece. Lovely as are the melodies, the more I hear of this flute and harp concerto, the more I think Mozart sounds like a tourist slightly lost in an unfamiliar landscape. They say he wasn't keen on the flute, and he didn't write anything else for the harp, so the writing, particularly for the harp, is rather boxy and restricted. Still, the orchestra's principal flute and harp didn't let it hold them back. Katherine Bryan bobs along physically when she plays in the orchestra, though I had never noticed before how much she uses her eyebrows! No matter: the lyricism of her line was a treat, and Pippa Tunnell played through the (undeniably pianistic!) harp part with as much grace as you could imagine. They were at their best in the finale, which sounded at times like a game of chase. Still, their encore (that was not announced and sadly I did not recognise) made in four minutes a more convincing argument for this pairing of instruments than Mozart had managed in thirty.
Simon Thompson
For more about the RSNO click here.