United States Vaughan Williams, Riders to the Sea; Orth, Empty the House: Soloists, Chorus, Curtis Symphony Orchestra / Daniela Candillari (conductor). The Curtis Opera Theatre, Perelman Theater, Kimmel Center, Philadelphia, 2.5.2019. (RP)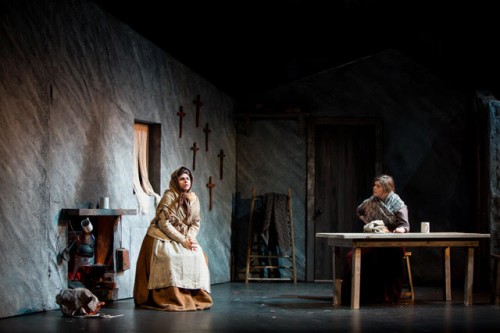 Production:
Director – Mary Birnbaum
Sets – Grace Laubacher
Costumes – Amanda Seymour
Lighting – Anshuman Bhatia
Riders to the Sea
Cast:
Nora – Sage DeAgro-Ruopp
Cathleen – Olivia Smith
Maurya – Emily Damasco
Bartley – Patrick Wilhelm
Empty the House
Cast:
Faith – Sophia Hunt
Paul – Dennis Chmelensky
Brenda – Tiffany Townsend
Young Faith – Sara Church
Unfathonable loss was the theme that united The Curtis Opera Theatre's double bill of Ralph Vaughan Williams's Riders to the Sea and Rene Orth's Empty the House. In both, fathers and sons are gone but memories haunt the wives and daughters who survive. The sea was the thief in the former, and closure was possible as there was no guilt to surmount. It was a far more complex spiral of loss in the latter, however, and time had not eased the anguish and guilt.
Director Mary Birnbaum created realistic domestic settings for the two: a stone cottage in the Aran Islands for Riders to the Sea and a cheery yellow kitchen in Houston for Empty the House. Christian crosses hung in both. The six on Maurya's walls memorialized her husband, father-in-law and four of her six sons lost to the sea. There is a sole crucifix in Brenda's hallway, more likely a symbol of the faith that she clings to for solace and support than a memorial to her son, Paul, who was gay and died of AIDS.
For Riders to the Sea, Vaughan Williams set almost verbatim J. M. Synge's 1902 play of the same name, for which he used the Hiberno-English dialect of the Aran Islands. The play ends with one of the most famous lines in Irish drama, 'They're all gone now, and there isn't anything more the sea can do to me'.
The opera's music is ghostly, forbidding and mournful, with few traces of Vaughan Williams's pastoral, Tudor-scented idylls. Some of the musical themes and sonorities are to be found in his symphonies; a gentle, haunting melody that he would later use in Dona nobis pacem is heard twice. In that anti-war cantata, it is sung by the chorus to a line from Walt Whitman's poem 'Reconciliation' in Leaves of Grass: 'That the hands of the sisters Death and Night incessantly softly wash again, and ever again, this soil'd world'. The keening of the women over the body of Bartley was the most mournful sound to be heard in the opera.
Mezzo-soprano Emily Damasco was Maurya. a widowed mother in perpetual mourning, who has premonitions that her son Bartley will die on his way to Connemara to sell a horse, as he indeed does. Her dark-hued voice captured the despair and resignation of a mother for whom grieving is a way of life.
The fine young soprano Olivia Smith was Cathleen, her older daughter, who, like her mother, was worn down by worry and grief. However, Cathleen's sister, Nora, portrayed by soprano Sage DeAgro-Ruopp, is still full of vigor and life. Both vocally and physically, she provided a degree of lightness to the dark mood that prevailed throughout the opera, as did baritone Patrick Wilhelm as the happy-go-lucky Bartley, who paid no heed to his mother's pleas that he not go on his journey.
Rene Orth, a recent graduate of the Curtis Institute of Music, is Opera Philadelphia's Sixth Composer in Residence for 2018-19. Her music has been hailed as 'always dramatic, reflective, rarely predictable and often electronic'. In 2016, Empty the House was her first opera to be staged in a black-box production at Curtis. For this revival, Orth expanded it by adding musical interludes and arranging the score for full orchestra.
Orth's music was full of orchestral color and particularly rich with percussion, especially the marimba. The sound of a drop of water falling was heard throughout the opera. She has the ability to craft music that captures emotion and pulls you into the drama. Her style is eclectic, but when Paul was on stage, the music was redolent of Copland in terms of clarity and spaciousness. Full of hope and promise, it's a sound that I can only describe as American.
The libretto for Empty the House is by Mark Campbell, who won a Pulitzer Prize for Silent Night, along with the composer, Kevin Puts. It is a story of loss, regret and anger. As a mother raising two small children on her own after her husband walked out the door, Brenda worked two jobs to keep a roof over their heads and food on the table. Unable to afford a babysitter, she locked her daughter in the basement to keep her safe when she was away. For her daughter, it was a horrifying experience that scarred her for life. Her son Paul, who was used as a punching bag by neighborhood toughs, left home as soon as he could.
On Brenda's kitchen wall there is a sampler with the Biblical text, 'But as for me and my household, we will serve the Lord'. To Faith, her mother's conservative Christian values are a sham: the daughter is unable to forgive or forget that Brenda turned her son away when he was dying from AIDS. Brenda's defense is that, like many people, she was ignorant and frightened by the disease. Reappearing at the end as a ghost, Paul has forgiven his mother and comforts her, but he can't coax his sister to do likewise. At least for the present, too much of Faith's identity is wrapped up in resentment.
I was engrossed by Empty the House. The characters were realistic, the plot ran true, and Campbell's libretto did not pass judgment on anyone. My heart ached equally for mother, son and daughter, although to my surprise I came to care for Brenda the most. Paul died in the mid-1980s when little was known about the disease and sodomy was still a crime in Texas. (The law would remain on the books until the US Supreme Court struck it down in 2003.) Brenda's actions can't be defended, but she paid an awful price for them.
Soprano Tiffany Townsend captured Brenda's giddiness at her hopes for a new life once she is gone from a house so full of memories, as well as her rage at the injustices life has piled upon her. Townsend has a powerhouse of a voice that one moment was giggly and light and the next exploding in anger. It was an outstanding, richly detailed performance of a complex character who could easily have been perceived as little more than a caricature.
Sophia Hunt as Faith, her daughter, was constantly petulant, only at ease when she was with her brother. It was especially poignant watching her view the flashbacks of her childhood with Sarah Church portraying her as a little girl. They garnered sympathy from this viewer, but hardly seemed to move Faith. Hunt too is the possessor of a powerful soprano that was released in Faith's outbursts of anger and frustration.
I saw baritone Dennis Chmelensky as Junior last year in the Curtis Opera Theater production of Bernstein's A Quiet Place. The role of Paul revealed more of his phenomenal talent: his voice is so natural and free, and his ease on stage belies the fact that he is acting. He too was called upon to rage furiously at fate, but radiated warmth when he returned in an attempt to heal his mother and sister. The bruises on his young face became Kaposi's sarcoma lesions when he reappeared as a ghost. It was a powerful reminder of how horrible and frightening the disease was in those years, when the lesions meant almost certain death.
Rick Perdian