United States 2019 New York Opera Fest [2] – Stradella, La Susanna: Soloists, Orchestra / Jacob Ashworth and Ryan Brown (musical direction), BAM Fisher, Brooklyn, 4.5.2019. (RP)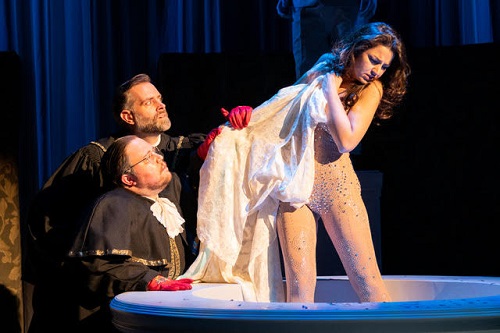 Production: 
Director – Ethan Heard
Movement Director – Emma Jaster
Sets – Reid Thompson
Costumes – Beth Goldenberg
Lighting – Oliver Wason
Cast:
Susanna – Lucía Martín Cartón
Scholar/Testo – Sara Couden
Student/Daniel – Ariana Douglas
Judge – Patrick Kilbride
Judge – Paul Max Tipton
For generations of aspiring singers, the Baroque composer Alessandro Stradella was known for one song, 'Pietà, Signore', which it turns out had been wrongly attributed to him. His music was consigned to obscurity until recent decades, but Stradella's colorful lifestyle always intrigued musicologists: a financially independent libertine, he was stabbed to death by hired assassins at the age of 38. In late seventeenth-century Italy, when his career was at its zenith, operas were banned during Lent, and sacred oratorios took their place. Stradella's La Susanna is one of the most intriguing and moving of the genre.
Ethan Heard, Co-Artistic Director of Heartbeat Opera, didn't even have to scratch the surface of the Biblical tale of Susanna and the Elders to reveal its #MeToo sensibilities. Sadly, as the story unfolds you quickly realize next to nothing has changed over the centuries. A few high-profile incidents excepted, more often than not when powerful men are accused of predatory sexual behavior, it is still the woman who is humiliated and her conduct put under the microscope. Fewer still are exonerated, which in Susanna's case required a form of divine intervention.
Heard interjected a woman's point of view into the narrative by introducing the conceit of having a female scholar and her student assistant observe and comment on the action. The concept was realized by a brief spoken introduction, some pacing about the stage and plenty of raised eyebrows and expressions of outrage. The universality of the tale was underscored by scrambling the eras in which it played out. Susanna's costumes reinforced society's objectification of women, while the elders, in the person of two judges, and the statutes that towered over all wore the male uniforms of church and state.
Susanna was first seen modestly attired in a robe. A short while later, the judges ogled her as she bathed in a large stone basin atop a pedestal; sensual allure was created by the rhinestones on her body stocking and silvery sequins that slipped through her fingers like drops of water. As Susanna awaited trial, she was dressed in twenty-first century prison orange. In the courtroom, she appeared in a demure navy-blue outfit that didn't suit her accusers cum judges, who tarted her up a bit by ripping off her jacket and applying makeup to her face, including bright red lipstick.
Susanna was performed by the crystalline-voiced soprano Lucía Martín Cartón, whose dramatic instincts were as sure as her impeccable musicianship. Susanna's lament, 'Da chi spero aita, o Cieli', in which she despairs that her beauty alone condemns her to death, was incredibly moving.
The two judges were buffo characters, here performed by tenor Patrick Kilbride and bass-baritone Paul Max Tipton, both elegant singers well-versed in the style of the Baroque. Wearing black robes adorned with white jabots and impressive red leather gloves, they embodied moral authority until the sight of the naked Susanna inflamed their passions. Rebuffed by Susanna, they decided it was better to frame her than to have their reputations impugned. Once their misdeeds were revealed, they were stripped of their robes and stood handcuffed on a pedestal in their underwear. It wasn't a very imposing sight.
Sara Couden played the scholar who presided over the proceedings, as well as Testo, the narrator of the story. Attired in earth tones and a statement necklace, Couden delivered Testo's recitatives in a plummy voice and her arias with zeal and authority. Far spikier in black leather was soprano Ariana Douglas as her student assistant. When called upon to undertake the role of the bold young prophet Daniel, who rescues Susanna and exposes the evil deeds of the judges, Douglas physically and vocally was all fire and fury.
Stradella's orchestral music is spare and pungent, enriched by dissonances and the composer's ingenious use of counterpoint. The co-music directors, Ryan Brown of Opera Lafayette and Jacob Ashworth of Heartbeat Opera, performed as violinists, leading an excellent ensemble made up of theorbo player Arash Noori, cellist Loretta O'Sullivan, bassist Anthony Manzo and harpsichordist Andrew Appel. The ensemble's tuning was done so that the dissonances that peppered the score were the aural equivalent of a diamond etching crystal. Although used sparingly, the sound of the theorbo and the harpsichord with its lute stop engaged provided a particularly piquant addition to the musical fabric.
The purist in me recoils a bit at an agenda-driven staging of a Baroque oratorio, especially one with such delicate musical sensibilities as La Susanna. The music on its own must have been a titillating diversion for the citizens of Modena during Lent's forty days of penitence and self-denial, but times have changed. Connecting the dots between the ancient and present day made it real and, for a modern audience, visuals are an essential element in achieving that end. (The screams of slut, whore and so forth, however, as Susanna was about to be stoned were overkill.) What I embraced most was the opportunity to hear Stradella's music performed with such style and sensitivity.
Rick Perdian