United States Manuel Penella, El gato montés: Soloists, Chorus and Orchestra of LA Opera / Jordi Bernàcer (conductor), Dorothy Chandler Pavilion, Los Angeles, 5.5.2019. (JRo)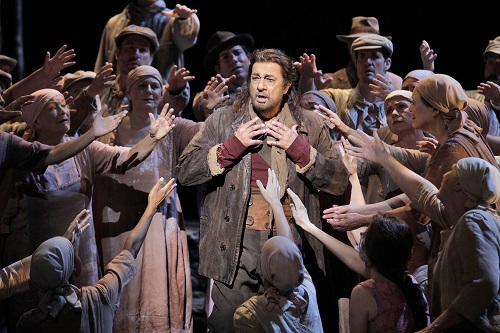 Production:
Director – Jorge Torres
Sets and Lighting – Francisco Leal
Costumes – Pedro Moreno
Chorus director – Grant Gershon
Choreography – Cristina Hoyos and Jesús Ortega
Cast: 
Juanillo (El Gato Montés) – Plácido Domingo
Soleá – Ana María Martínez
Rafael Ruiz – Arturo Chacón-Cruz
Padre Antón – Rubén Amoretti
Fortuneteller – Nancy Fabiola Herrera
Hormigón – Juan Carlos Heredia
Frasquita – Sharmay Musacchio
Young Shepherd – Niru Liu
Pezuño – Daniel Armstrong
With its verismo portrayal of a tragic Andalusian love triangle involving a matador, a gypsy girl and an outlaw, and a lyrical score indebted to the influence of Puccini, El gato montés offers more than a light evening of Zarzuela. Though it lacks the brilliant music and coherence of Puccini's operas or Bizet's Carmen, this production, imported from Madrid, made up for any deficits by the commitment, passion and musicality that the largely Spanish-speaking cast and conductor brought to the material. It proved to be a stirring evening with rapturous music and a cast of undeniable power, centered on the magnetic force of Plácido Domingo's portrayal of the title character.
Steeped in the Zarzuela tradition from childhood, Domingo's attachment to this Spanish form of operetta is well known. Having sung the tenor role of Rafael, the torero (heard here in 1994), the ageless Domingo still astounds, this time around as a baritone. As Juanillo, the wild cat, he seemed to channel another ageless, virile hero, Anthony Quinn – the actor who brought to life such memorable outsiders as Zorba and Zampanò, the strongman. Domingo portrays Juanillo with so much pathos that he elevated the material to create an existential hero.
Having escaped from prison after killing a man in defense of Soleá, the woman he has loved since childhood, Juanillo has become a bandit. Soleá is left alone without a protector until Rafael falls in love with her and takes her in to live with him and his mother. Filled with gratitude and affection rather than love, Soleá agrees to marry Rafael though she is eternally bound to her outlaw lover. The plot ends tragically with the death of all three – Rafael in the bullring, Soleá and Juanillo in the mountains.
As if inspired by Domingo's Juanillo, Arturo Chacón-Cruz's portrayal of Rafael rose to the occasion. His ardent lyric tenor was suited to the role, and his naturally youthful demeanor (sometimes a hindrance when portraying more mature characters) was an asset here and a perfect foil for Domingo's world-weary Juanillo. Chacón-Cruz's irrepressible love for Soleá was palpable.
Ana Maria Martinez never disappoints. Her expressive soprano can tear the heartstrings, and as the gypsy who is willing to die to save both men from their ultimate deaths, she too rises above the limitations of the piece to create a vivid character study. It is the plot of Penella's opera that works to undermine the characters: narrative incoherence, confused dramatic structure and loose ends conspire to keep this otherwise musically sound piece from a wider performing life.
Penella didn't utilize Spanish folk music as a jumping off point, but rather invoked Puccini, with only snippets of traditional Spanish music in the score. Jordi Bernàcer, Resident Conductor at San Francisco Opera, was able to draw lush Puccini-esque sounds from the LAO Orchestra but also, in emphasizing the textures of those regional pieces, drew out vivid colors. The most famous and often performed among these is the pasodoble, a military march resounding from the arena; the garrotín sung by the gypsies in Act I is another example, as is the shepherd boy's coplas.
The secondary roles were well sung – particularly Nancy Fabiola Herrera's fortune-teller and Rubén Amoretti's Padre Antón. Amoretti was impressive in his comedic turn as the vain but lovable padre.
The action took place on a mostly stark stage with stone steps that culminated in a platform. For the bullfight, the outside of the arena was illustrated minimally on a backdrop. I found the understated qualities of the set effective, contrasting with the highly emotional and romantic content of the story. Where the sets failed were with some overwrought additions – a contorted tree here, a huge mask weeping blood there, or a bizarrely carved gold mirror decorated with bulls and bullfighters.
Of course, no opera set in Andalusia is complete without flamenco. The choreographic duties fell to the renowned Christina Hoyos, Antonio Gades's principal dancer. There was little room for the performers to maneuver because of the stairs and crowded platform, but they strove valiantly to produce the requisite local color. The choreography eschewed true flamenco in favor of a hybrid form.
The LAO chorus added substantially to the verismo drama by enlarging the domestic triangle and creating a world unto itself – one of endless longing and high stakes in and out of the arena.
Jane Rosenberg