United Kingdom Britten, Paul Bunyan: Soloists, Chorus & Orchestra of English National Opera / James Henshaw (conductor), Alexandra Palace Theatre, London, 13.5.2019. (CC)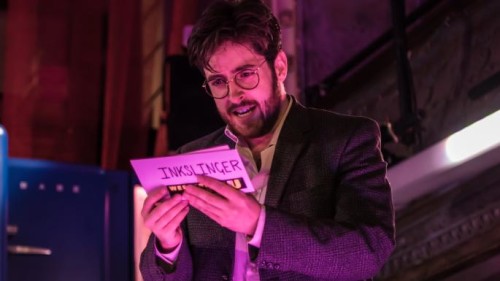 Production:
Director – James Manton
Designer – Camilla Clarke
Associate Costume Designer – Laura Haley
Lighting Designer – Marc Rosette
Choreographer – Jasmine Ricketts
Cast:
The Voice of Paul Bunyan – Simon Russell Beale (recorded voice)
Narrators/Wild Geese – Claire Mitcher, Rebecca Stockland, Susanna Tudor-Thomas
Johnny Inkslinger – Elgan Llŷr Thomas
Hel Helson – Alex Otterburn
Tiny – Rowan Pierce
Hot Biscuit Slim – Zwakele Tshabalala
Fido – Claire Pendleton
Moppet – Sophie Goldrick
Poppet – Lydia Marchione
Sam Sharkey – Graeme Lauren
Ben Benny – Barnaby Rea
Andy Anderson – Adam Sullivan
Pete Peterson – Geraint Hylton
Jen Jenson – Paul Sheehan
Cross Crosshaulson – Andrew Tinkler
John Shears – Benson Wilson
Western Union Boy – David Newman
Quartet of the Defeated – Michael Burke, Morag Boyle, David Newman, Paul Sheehan
Lumberjacks – Paul Sheehan, Ronald Nairn, Allan Adams
Young Trees – Rowan Pierce, Amy Kerenza Sedgwick, David Newman, Zwakele Tshabalala
Heron, Moon, Wind, Beetle, Squirrel – Deborah Davison, Fiona Canfield, Amy Kerenza Sedgwick, Suzanne Joyce, Jane Read
Britten's Paul Bunyan, an operetta in two acts and a prologue, with a libretto by W. H. Auden, is a tremendous piece of music theatre, as English Touring Opera's performances at the Linbury Theatre, Covent Garden in 2014 showed (review). The present production, directed with immense imagination by James Manton, comes to the large spaces of 'Ally Pally's' theatre after its first run at Wilton's Music Hall (review).
Written in America, Bunyan was premiered in 1941 at Columbia University, but was withdrawn and it is in the revised version of the 1970s in which we hear the piece. Britten revels in the freedom to shed one compositional skin for another, from the Copland-ish Americana of the opening to hummable show tunes (including blues) with his own, individual, accent. The piece is easily segmented into constituent parts, while one clever technique is to use 'Ballad Interludes' in which a narrator can move the action along nicely.
Imaginative use of space is at the core of this production, with the chorus inhabiting the aisles and parts of the balcony to fine effect; immersive, certainly, but one also appreciates the clarity of Britten's choral writing. Telegrams are delivered (Western Union Boy, the superb David Newman) via the central aisle. Interaction with the audience is there, too, including distribution of sweets (and very nice they were). The overall feeling is of celebration, which, given that the main theme is deforestation, can be vaguely uncomfortable in the present climate (there's also a line that drew more than a few laughs: 'it isn't very often the conservatives are wrong'). This Bunyan is a cornucopia of deliciously bonkers theatre, including cats (Moppet and Poppet), a dog (Fido), four Swedish lumberjacks, two bad cooks with a culinary repertoire of one dish each, and singing trees. Some elements of the production are a little odd: the four fridges of the second part (a singer for each), are symbols of American consumerism as well as presumably some sort of symbol for Bunyan's companion, the Blue Ox. Michael Daugherty with his preoccupation with American Idols would certainly approve of the American Idols that appear in the form of the transformation of the lovers, Tiny and Hot Biscuit Slim, into Marilyn Monroe and Elvis Presley respectively (both of whom have entered American mythology, joining the ranks of Bunyan, perhaps). In terms of symbols, this is a busy production, one that will reward future viewings to lay bare more and more allusions. And, unsurprisingly for such a production, for an opera that has a forest at its heart, trees are only really represented by a projected photograph.
The stage itself is split; the orchestra is visible, but more at some times than at others. The space onstage is as impeccably managed as is that in the audience arena. Wit, comedy and a light touch can only go so far as Bunyan is no short piece; it takes a sure hand at the helm (James Henshaw's sensitive conducting) and, despite the ensemble nature of the piece, fine principals. The Johnny Inkslinger of Elgan Llŷr Thomas is a fine assumption, lyrical and strong, his retelling of his life story drawing the audience in ('It was out in the sticks that the fire of my existence began'), and he shone, too, in the opera's closing pages; but it is South African tenor Zwakele Tschabalala who demonstrated a properly huge voice, as Hot Biscuit Slim. The pairing of Tchabalala and Rowan Pierce (as Tiny, Paul Bunyan's daughter), was inspired casting. Rowan Pierce, currently a Rising Star at OAE and an ENO Harewood Artist, has never once disappointed, and this is no exception. The combination of freshness of voice and freshness of looks makes her perfect for the role, which she inhabits like a second skin. Pierce may well be associated in many people's mind with early music, but this Bunyan proves she is no one-trick pony.
Elgan Llŷr Thomas is another Harewood Artist, as is Alex Otterburn, who took the part of Hel Hensen with aplomb. The quartet of Swedes absolutely threw themselves into their shenanigan, It's a huge cast list, and the sheer sense of ensemble was brilliant; absolutely core ENO from this perspective. A magnificent, hugely entertaining evening.
Colin Clarke