Switzerland Pintscher, Mendelssohn, Dvořák: Klaidi Sahatçi (violin), Tonhalle Orchestra Zurich / Tomáš Netopil (conductor), Tonhalle Maag, Zurich 9.5.2019. (JR)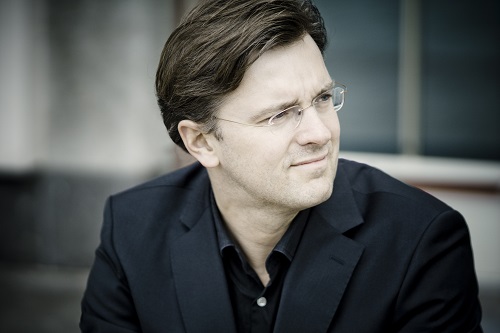 Pintscher – Idyll for Orchestra
Mendelssohn – Violin Concerto in E minor Op.64
Dvořák – Symphony No.6 in D major Op.60
This was rather a ragbag of a concert, as far as programming was concerned, but it certainly proved an entertaining evening. A chance to showcase a contemporary work (Swiss première) by the orchestra's current 'Creative Chair', followed by a very well-known and much cherished violin concerto performed by one of the orchestra's Concertmasters; and, to finish, a lesser known Dvořák symphony.
Matthias Pintscher is the Tonhalle Orchestra's 'Creative Chair' this season. His 30-minute piece entitled Idyll for Orchestra was jointly commissioned five years ago principally by the Cleveland Orchestra, but also by the Bavarian Radio Symphony Orchestra and the Melbourne Symphony Orchestra. Although Pintscher demands a huge orchestra, for long stretches of the work most instruments are oddly silent; it often felt like rather a waste of forces. The work begins and ends almost inaudibly, hardly a whisper, quietude being a Pintscher speciality, with weird and wonderful sounds from all corners of the stage. The percussion has its work cut out with a battery of gongs and metal sheets being struck and brushed continually, adding gentle flourishes and an exotic feel to the work. The middle section is a cacophony of sound, but left no memorable impression, unlike the charming and tinkling piano cadenza evoking Messiaen (Peter Solomon).
Albanian-born violinist Klaidi Sahatçi, one of the Tonhalle's concertmasters for the last 10 years, trained in Milan and Cremona under Salvatore Accardo. Sahatçi adopted elements of historically informed style, the sound therefore less lush than one might be used to, with very little vibrato. His instrument is the 'Wieniawski' Stradivarius dating back to 1719 (on loan, courtesy of Mercedes Benz). He was agile enough, but more volume would sometimes have been appreciated for those at the back of the hall. Netopil accompanied with crisp articulation, but fervent passion was perhaps less evident. There were passages for gentler reflection. The fast finale did not defeat the soloist and he blended well with his colleagues in the woodwind, especially in the scampering main theme. Occasionally I felt the handbrake had not fully been released; there was, at some moments, a palpable sense of caution.
This was, however, a performance that showed Sahatçi's musicianship and firm technique. His colleagues on stage, of course, were thrilled with his performance, the Principal Concertmaster rushing off stage to collect a large bottle of wine instead of the usual bouquet of flowers. It is always good to see orchestral principals come out of their restrictive shell and appear as soloists, even if usually their stage demeanor is less showy than that of many other higher profile soloists. There is no harm in that.
Czech-born Tomáš Netopil is currently General Music Director of the Aalto Musiktheater Essen and the Philharmonie Essen; he is also one of the two Principal Guest Conductors of the Czech Philharmonic. He was 'Artist in Residence' for the Prague Dvořák Festival a few years ago. There are few conductors better placed today to perform a Dvořák symphony.
It was only about fifty years ago that Dvořák's nine symphonies were definitively renumbered to include the four early ones as well as the final five to which the composer assigned numbers upon publication. Even among those five, No.6, which Dvořák published as No.1, was not really the first, having been preceded by the one which his publisher issued as No.3 and which we know now as No.5. Anyhow, the Sixth was the first symphony of Dvořák's to be heard outside his own country, and it was the first one he composed at the request of (if not an actual commission from) a major conductor, Hans Richter.
The Sixth does not quite have the stature and popularity of Dvořák's frequently performed three final symphonies, and yet it is just as characteristic of its composer and so it is refreshing when it gets the occasional concert outing. It is the work that marks his full maturity as a symphonist, belonging to his so-called 'Slavonic' phase. The symphony gave the orchestra its turn to come to full life in this concert, and they clearly enjoyed every minute of it, judging from the beams and smiles all over the stage. I just highlight the two burbling bassoonists, who coordinated to perfection.
The work itself is a mite uneven but unjustly neglected; whilst the opening movement contains beautiful melodies, the slow movement comes over as rather directionless, the pastoral element deepening into stupor. The brilliant furiant Scherzo could well be a Slavonic Dance (at the work's première the audience demanded the movement be repeated – I could certainly have heard it again, perhaps as an encore).
The amiable yet high-spirited final movement has moments of grandeur with assertive new themes appearing as the music proceeds; energetic and precise Netopil, now fully in his element, steered the orchestra securely to the work's jubilant finish.
John Rhodes