Argentina Verdi, La traviata: Soloists, Chorus and Orchestra of Juventus Lyrica / Antonio Maria Russo (conductor). Teatro Avenida, Buenos Aires. 24.5.2019. (JSJ)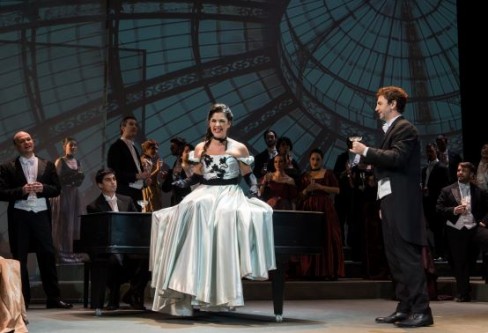 Production:
Director/Sets – Ana D'Anna
Costumes – María Jaunarena
Lighting – Gonzalo Córdova
Chorus – Hernán Sánchez Arteaga
Cast:
Violetta Valéry – Carolina Gómez
Alfredo Germont – Sebastián Russo
Giorgio Germont – Ernesto Bauer
Gastone – Luis Fuentes Bustos
Flora Bervoix – Rocío Arbizu
Annina – María Almeida
Baron Douphol – Marcelo Iglesias Reynes
Dr Grenvil – Felipe Cudina Begovic
20 years since Juventus Lyrica launched and looking from the outside in, it has been quite a journey with close on 100 productions to audiences numbering some 350,000. Through the many difficult economic times of those years – which show no signs of letting up – the still loyal following is testimony to both producers and performers.
The original mission of providing a platform for young singers has underpinned the company's existence continuing to this day and many have gone on to successful careers nationally and some – such as baritone Fabián Veloz and mezzo Guadalupe Barrientos to name just two – also internationally.
With not unlimited budgets the company has continually innovated, with new works alongside the standard favourites, new approaches to production and new collaborators bringing concepts such as original period instruments.
Though the founders are now that much older, with this first production in this anniversary year their energy is clearly undiminished with no signs of slowing down. La traviata is a perennial favourite and given its familiarity, any new production must have a freshness to engage. With a period setting and fine dress to match, novel touches were the domed ballroom in the first act, the setting in the garden with leaves underfoot rather than within the house of the second act when père Germont confronts Violetta and the contrasting stark setting of Violetta's bedroom in the last. Another, a cameo, was the portrayal of Douphol, often a young beau, as an ageing sclerotic.
Freshness in production relies as much on the cast as on the direction and here they lived up to that. Carolina Gómez has been an occasional performer for Juventus Lyrica and here she brought a power and depth to the role of Violetta, particularly poignant in 'Addio del Passato' in the closing act in which notably and unusually Flora also was present. Ernesto Bauer is an old hand playing the role of the older Germont several times and arguably this was his best, having each time become more believable as he has 'aged' into it. Sebastián Russo, Alfredo, likewise is a regular with Juventus Lyrica and sings well but at times lacks some emotion in his acting.
The small roles were all satisfactorily filled and the well-prepared chorus participated enthusiastically.
Conductor Antonio Maria Russo once again demonstrated his deep knowledge and affinity for the score with fine playing from the orchestra and support for the performers.
In this anniversary year Juventus Lyrica's other productions are Mozart's Die Zauberflöte  opening 26 July and on 6 September a special 'Grand Gala' to be held in the Teatro Colón.
Jonathan Spencer Jones