Aviel Cahn's Forthcoming 2019-20 Season in Geneva is Reminiscent of Gérard Mortier's Radical Approach at La Monnaie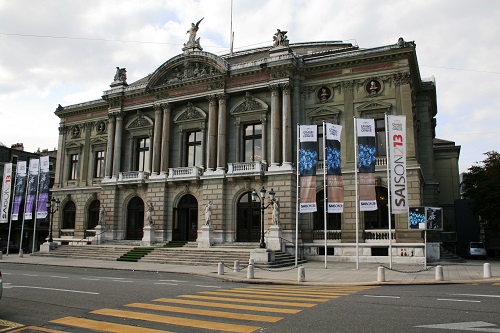 The next season of the Geneva Grand Théâtre has been announced. It is the first under the directorship of Aviel Cahn, whose Antwerp Opera House has just been awarded the prestigious 'Best Company Award', beating Vienna, London, Munich, Paris, …
This is more than a new season; it is definitely the start of a new dawn.
Aviel Cahn's predecessor Tobias Richter will be remembered for running a balanced and competent house and for successfully managing the transfer between the Grand Théâtre to the Théâtre des Nations during the course of several seasons.
But overall, Tobias Richter ran the Geneva Théâtre with the model of various German houses in mind, whereas opera in Geneva was a world unto itself. Aviel Cahn is bringing opera to Geneva, blending his choices to the various parts of the city and with an overall outreach.
The repertory is very different from past directors. One world première, Voyage vers l'espoir on the theme of refugees, Saint-François d'Assise, Messiaen's monumental opera receiving its Swiss première under the baton of Jonathan Nott, Music Director of the Swiss Romande Orchestra and former Music Director of Boulez's ensemble Intercontemporain; Philip Glass's minimalist Einstein on the Beach will be performed by musicians from the Geneva High School for Music, while we will also see baroque works and a baroque conductor performing Mozart … only Rossini's La Cenerentola looks like an easily accessible classical work.
Unlike in the past season, there are several top box-office names mixed in with local artists. Many musicians, directors and conductors are new names. Only Iván Fischer, who will conduct two performances of Monteverdi's Orfeo with his Budapest players and will be in Geneva on a multi-year partnership, has star power.
There will be political undertones. Cahn understands that opera should be an art form which allows audiences to understand topical issues. The Mozart looks fascinating: the dialogue has been updated by the human rights activist Aslı Erdoğan. When one thinks about what is happening in Turkey, no longer a democracy, Cahn is making us aware that musicians can use their art to speak more freely than the neighbouring United Nations ambassadors are allowed to.
Cahn is also adding a series of initiatives, the beach – La Plage – to reach new audiences (no relation to Glass's Opera). These are a series of conferences, presentations, meetings between artists and audiences to ensure that opera houses do not become museum but open forums. This is very much needed in Geneva, where the average age of operagoers is high.
In this respect, Cahn is following in the footsteps of Gérard Mortier.
All of this will not be easy.
Like Mortier, Cahn will encounter resistance and tradition and like Mortier, not all of his choices may be flawless. But there is a new enhanced sense of art not being a luxury item but rather central to life and for everyone.
There is a new logo, new works, new artists, a new website (click here), and a social media handle: #WeArtGTG.
This is a radical departure that has the potential to be truly exciting.
Here are the details of the new season:
Glass: Einstein on the Beach – T Engel, Orchestra of the Geneva 'Haute Ecole de Musique'/D Finzi Pasca
Verdi: Aïda – A Fogliani, Swiss Romande Orchestra/P McDermott, Y Lee/N Mavyanov, S Farnocchia/E Stikhina, M Prudenskaya /A Smirnova, A Markov, L Li, D Thomson
Monteverdi: Orfeo – I Fischer, Budapest Festival Orchestra, E Barath, V Contaldo, M Czerniawsky, C Auvity, F Fernández-Rueda, N RIal, L Mancini
Rameau: Les Indes Galantes – L García Alarcón, Cappella Mediterranea/L Steier, K Mkhitaryan, R Mameli, C de Sévigné, A Edris
Mozart: Die Entführung aus dem Serail – F Biondi, Swiss Romande Orchestra/L Perceval, M Grazia Schiavo/R Nelsen, C de Sévigné, J Behr, D Delaere, N di Pierro
Meyerbeer: Les Hugenots – M Minkowski, Swiss Romande Orchestra/J Wieler and S Morabito, A Durlovski, J Osborn · M Süngü, M Pertusi, L Desandre, L Alvaro, R Willis-Sørensen, A Duhamel
Jost: Voyage vers l'espoir – G Fletz, Swiss Romande Orchestra/ K Mundruczó, K Karagedik, R Chaieb, V Le Texier, D Thomson
Rossini: La Cenerentola – S Montanari, Swiss Romande Orchestra/L Pelly, A Goryachova, E Racha, R Novaro, C Lepore, C de Sévigné, M Viotti
Messiaen: Saint François d'Assise – J Nott, Swiss Romande Orchestra/A Abdessemed, K Ketelsen, C de Sévigné, A Briscein, M Kraus, J Bridges, D Delaere
Antoine Lévy-Leboyer