United Kingdom Bach, Albeniz, Chopin: Hao Zi Yoh (piano) The Keyboard Charitable Trust at Steinway Hall, London. 15.5,2019. (JB)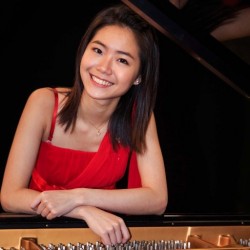 Bach – Partita No.4 BWV 828
Albéniz – Iberia (Almería)
Chopin – Sonata No.3 in B minor
It is sometimes said that Oriental pianists are so skilled in Western music because they are such good imitators. Well that is certainly not the case as far as twenty-four year old Hao Zi Yoh is concerned. Imitation is as far removed from her art as it could be. She speaks at least four musical languages with the voices of natives – Baroque, Spanish, French and (her native) Malaysian. Let me take you through this polyglot pianist's programme in the order in which we heard it. Hao Zi Yoh, I should add, is a slight figure but one who can also make the biggest sound ever to come out of a Steinway grand.
Baroque first. Bach is sometimes called music's mathematician: he seems incapable of inventing a tune, or a fragment of tune – they are frequently fragments – which will not go in the direction he intends at its invention. Nothing is left to chance. Every fragment has its life-history in its birth. We admire the managed ingenuity. Ms Zi Yoh is now based in London and gives masterclasses at Imperial College. You can see how all those scientists would be in thrall to their goddess.
Hao is as much focused on the invention as its progress. But neither is emphasised. Emphasis destroys in Bach. Everything au naturale. In the opening bars of the Fourth Partita the tone was steely and frighteningly loud. Shocking in its way. Nor did she let up in the Allemande or Courante. Not until the Aria and Sarabande did we get a hint – but only a hint – of lyricism. The balance of the two parts – left hand and right – was crystal clear, like two unpolluted brooks in conversation with each other. They rippled away with not a care. For all the volume, she was also communicating through undercurrents. O you lucky scientists of Imperial College!
Her bristling – one might almost say bursting – rhythms in Albéniz's Iberia (Almería) had their own illuminating electricity. An arrest and instantly leave technique emerged. Forced? In a way, yes. But it was a force invented by nature. Very little rubato. Even in the lyrical passages there was little concession to slowing. This was a storm of pianism which nothing was going to hold back. Some nifty pedal work in those singing bits which disturb the storm, achieving a thrilling echo effect, often after she had left the key. She has learned to phrase her chords into the rests, where the rests become the abyss which enriches the flow. All very different from the great Alicia De Larrocha. But certainly a performance to stand alongside the Spaniard's.
For all his pride in his Polish birth, the music of Frédéric Chopin is quintessentially French, composed for and performed by him in the Paris salons. That gives it a certain intimacy. And intimacy is Hao's watchword here. The first movement of Sonata No.3 in B minor is allegro maestoso. says its author. That sounds like a contradiction. How can music be bursting with jollity and at the same time be majestic and dignified? It is a question of nuance, and Hao makes happy twins of the pair: thunderous and like all real aristocrats, never for a moment understated, which is where gentleness comes in. However loud there is always the shadow of restraint. It brings to mind Nietzsche's Zarathustra.
After all that dignity comes the Scherzo. Molto vivace says Chopin, giving us a rare insight into his sense of humour. (The humour comes up again in some of the Studies.) Very lively is the English reading of the instruction, and indeed, Hao takes this at breakneck speed. If you blink you miss it. Was there ever such fun since the dish ran away with the spoon?
The Largo is the slow movement – slow but never ponderous (that would be to destroy it). It also contains one of Chopin's most achingly beautiful melodies. It requires the pianist to abandon his percussive instrument for the singing melodic line of Bellini. Ms Zi Yoh seems unwilling to do this. She rather missed this magnificent Bellini moment. She played more from the head than the heart. There were too many in the audience who have aural memories of Argerich's performance and anything which gets far from that model disappoints.
But the Finale might almost have been written by Chopin for Hao's enormous talent. It's a pianistic firework display, starting in B minor but ending in a triumphant B major coda – Presto non tanto – or fast, but don't overdo it. It requires the pianist to show who is in charge of the instrument! Perhaps no one will do this as well as Percy Grainger who made the first commercial recording of it in 1925. Hao Zi Yoh entered into this challenge with rare vigour, and is surely worthy to stand alongside Grainger.
Imagine the applause at the end of the sonata. It went from tepid to ecstatic. My first reaction when she announced an encore was dismay. I need not have worried. She said she would play a A Distant Voice of the Rainforest by Chong Lim Ng, who had also been her piano teacher in Malaya. The pianist is required to play directly on the strings inside the piano, as well as at the keyboard, and to sing into the instrument (she has a very pretty, quiet, singing voice). It begins à la Cage, but without the strings having been 'prepared' and is one of the most enchanting, inventive modernist pieces I have ever heard. And for most in the room a first for a Malaysian composer. The applause was even more ecstatic than for Chopin.
Lots of pleas for another encore. But she was having non of that. To echo a great sage: I've given one encore and that is enough / said his father, don't give yourself airs. / Do you think I can listen all day to such stuff? / Be off or I'll kick you downstairs.
Jack Buckley