United States Beethoven, Schindler-Mahler, Berg, Webern, Schumann, Schoenberg, Kurtág: Conor Hanick (piano), Ariadne Greif (soprano), Anna Tsukervanik (violin), St. Mark's Church-in-the-Bowery, New York City, 5.5.2019. (DS)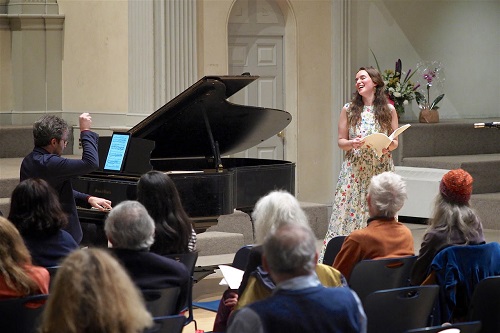 Beethoven – Bagatelles, Op. 126 No.1 and No.6
Schindler-Mahler – Selection from 'Five Lieder'
Berg – Jugendlieder
Webern – Four Pieces for Violin and Piano Op.7
Schumann – Dichterliebe Op.47
Schoenberg – Six Little Piano Pieces Op.19
Kurtág – Tre Pezzi Op.14e
On the chest of Oskar Kokoschka, in his self-portrait, 'Bride of the Wind', set amidst swirling brushstrokes that evoke more of an evacuation-worthy hurricane than serene love, is Alma Schindler-Mahler. Over the course of the last century, her popular reputation as the notorious wife or lover of key music and art figures remains prominent. The canon has made her look as if she 'blows like the wind' from one dominant male creator to the next. As with most women's history, a re-writing of the narrative is required. Schindler-Mahler was a serious composer and fluid writer — as her memoirs prove — and we owe her much of our understanding of Viennese musical social circles.
In this concert at St. Mark's Church-in-the-Bowery, presented by International Street Cannibals, she was also showcased as part of 'Schoenberg's DNA'. Though she was never his lover, she was a Viennese predecessor and contemporary to his burgeoning radical ideas. And on this occasion, while Schoenberg was the main course, I left with Schindler-Mahler ringing in my ears.
From the composer's Five Lieder, soprano Ariadne Greif performed 'Ich wandle unter Blume' and 'Laue Sommernacht' with a perceptive magnetism, framing the delicate balance of complex harmonies and distinct melodies that make Schindler-Mahler's works so gripping. Greif's bold yet smooth voice entered and blossomed glowingly, as if emerging directly from the composer's miniature worlds of storytelling genius.
'Schoenberg's DNA' also crossed the chromosomes of Berg, Webern, Schumann and Beethoven in this exquisitely curated Sunday afternoon. With St. Mark's stark, Protestant interior as background, each work glistened with its own aesthetic.
Pianist Conor Hanick and violinist Anna Tsukervanik, performed a set of unforgettable Webern miniatures, Four Pieces for Violin and Piano. Lightheartedly, a listener might compare Webern's brevity to Twitter — if the concept had existed a century ago. Webern mastered the art of suspending time, often in two minutes or less — as if he were giving himself a limit on the number of notes per composition. Tsukervanik especially rose to the occasion, using the required modern violin techniques with sensitivity and expression that captured the composer's essence.
Sticking to this miniaturist theme came the only actual Schoenberg on the program. Hanick, well-known as an unwavering expert in new music, found succinct clarity in Six Little Piano Pieces, which underlined the power that Schoenberg injected in all his masterworks, even the tiniest. Hanick and Tsukervanik also led the afternoon into the late 20th century with a well-chosen 1979 work by György Kurtág, Tre Pezzi.
The concert was bookended by two Beethoven Bagatelles (Op.126). Re-writing narratives won't be necessary for Germany's most famous musical transplant to Vienna. His DNA can be found in many male or female composers since. Even these two short works revealed a profound understanding of the sublime that arguably transverses any century and any radical change — Schoenberg's or otherwise. To drive the point home, Hanick's stellar reading of these two gems rivaled those of the greatest Beethoven interpreters.
Daniele Sahr