Spain Bellini, Donizetti, Lehár, Bizet, Gounod, Verdi: Juan Diego Flórez (tenor), Vincenzo Scalera (piano), Palau de la Música, Valencia, 12.5.2019. (JMI)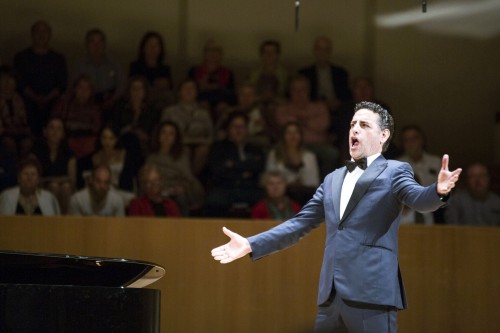 Flórez's programme included:
Bellini – 'Vaga luna, che inargenti'; 'Vanne, o rosa fortunata'; 'Ma rendi pur contento'; 'A te, o cara' (I puritani); 'O di Capellio, generosi amici… È serbato a questo acciaro… L'amo tanto e m'è sì cara' (I Capuleti e i Montecchi)
Donizetti – 'Allegro io son'(Rita)
Lehár – 'Dein ist mein ganzes Herz' (Das Land des Lächelns); 'Gern hab' ich die Frau'n geküsst' (Paganini); 'Freunde, das Leben ist Lebenswert' (Giuditta)
Bizet – 'La fleur que tu m'avais jetée' (Carmen)
Gounod – 'Salut, demeure chaste et pure' (Faust)
Verdi – 'Oh Dolore' (Attila); 'La mia letizia infondere… Comte poteva un angelo' (I Lombardi)
There are not many singers who can deliver a successful recital tour. It demands not only an outstanding voice but also an existing popularity, which means only a very few singers can accomplish it. One of them is Peruvian tenor Juan Diego Flórez, who is on a European tour this month. He has performed in several cities so far, including Barcelona and Valladolid in Spain, and has now come to Valencia and the Palau de la Música.
The recital was definitely a triumph for the artist, especially the encores, although I found the choice of songs at times more than questionable as far as the suitability of his voice is concerned, even if he is a great singer. Flórez has always been and continues to be a light tenor, one who has found a natural fit in Rossini although he has been trying for years to tackle a heavier repertoire, as in the case of his roles in operas such as Lucia di Lammermoor or Manon. In this recital, he went a step further in search of  weightier arias which, surely, is what he likes, although they are not exactly appropriate to his vocal instrument.
Flórez opened with three songs by Vincenzo Bellini that served to warm up his voice and were sung with the qualities that characterize this tenor. Next came the aria 'A te, o cara' from I puritani, which he sang in a remarkable way and without any problem on the always expected high D. However, it seemed strange to me that he sang only the first verse of the aria and dropped the one which begins with 'Al brillar di si bel'ora'.
Bellini continued to be present in the program with arias from I Capuletti e I Montecchi, where Flórez shined. He finished the first part of the program with 'Allegro io son' from Donizetti's Rita, and he was brilliant here too.
The second half of the concert began with three works by Franz Lehár, starting with the well-known aria from Das Land des Lächelns. Flórez sang it in a remarkable way, but with a voice that was too light for my taste. It was followed by arias from two Lehár operettas, Paganini and Giuditta.
The last part of the program was surprising, and it is here where I found his voice poorly suited to the songs. Flórez chose to perform Don Jose's Flower Song from Bizet's Carmen and, while he sings with gusto, his voice is not suited to the part: he is a light tenor singing an aria for a spinto tenor. He was better off, though not fully convincing, in one of Faust's arias from Charles Gounod's opera of the same name.
The official part of the concert ended with Verdi works where his vocal suitability was unconvincing: a Foresto aria from Attila and 'La mia letizia infondere' from I Lombardi.
In the following encores, Flórez demonstrated his ability to connect with an audience, dedicating this part of the recital to popular music and accompanying himself on a guitar. He began with a Valencian song, 'Valencian Eyes', where he definitely put the audience in his pocket. It was followed by Mexican songs by Agustín Lara, well-known to the listeners, and then the familiar 'Júrame'. The recital finished with another surprise as he took on none other than 'Nessun Dorma' from Puccini's Turandot. His vocal adequacy here does not require further comment.
He was sensitively accompanied at the piano by Vincenzo Scalera, who also had his solo pieces – by Bellini, Massenet, Donizetti and Verdi – throughout the concert.
José M. Irurzun