United Kingdom Elgar: Paul Appleby (tenor), Alice Coote (mezzo-soprano), James Rutherford (bass), Bournemouth Symphony Chorus and Orchestra / Kirill Karabits (conductor), The Lighthouse, Poole, 15.5.2019. (IL)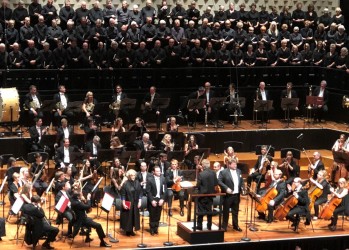 Elgar – The Dream of Gerontius
For decades now we have been used to non-British conductors performing Elgar's orchestral works, but their performances of the composer's oratorios have been somewhat fewer. Drawing the Bournemouth Symphony Orchestra's 2018/2019 season to a triumphant conclusion, Kirill Karabits, the BSO's Chief Conductor, delivered such a profoundly moving performance that this reviewer is unashamed to admit that at a number of points tears stood in his eyes.
'This is the best of me', wrote Elgar about his Gerontius. The writer of this concert's notes, Terry Barfoot, rightly commented about this intensely personal yet universal music: 'It is a central work, in some respects, the central work in our national choral repertory'.
The demanding title role has attracted the cream of tenors. I am reminded particularly of Heddle Nash and Richard Lewis. Lewis's Gerontius always impressed me. His hugely emotional first aria, 'Sanctus fortis, Sanctus Deus…' lingers still in my memory. The American tenor Paul Appleby's delivery did not have the same emotional and dramatic heft. His lighter, sincere and supplicatory tones were much more convincing and successful through the Second Part. Alice Coote was a convincingly protective and soothing Angel preparing Gerontius for judgement and was glowingly consolatory thereafter. Bass, James Rutherford, was oakenly authoritative as the Priest ordering the soul of Gerontius to 'Go forth upon thy journey' at the mightily impressive close of Part One, and as a masterful Angel of the Agony in Part Two.
Special mention must be made of the superb contribution of the BSO Chorus. They shone throughout, from their delivery of the devotional texts in Elgar's complex four-part, fugal writing, through to their exuberant support of the Priest in Part One; and to their demons' vehemence and their exquisitely moving 'Praise to the Holiest…' in Part Two.
Under Karabits, the Bournemouth Symphony Orchestra played with refinement, and was acutely attuned to the sensibilities of Cardinal Newman's texts and Elgar's inspiration. I hope that Karabits will look with favour upon further Elgar devotional works, The Apostles and The Kingdom, or the shorter but equally glorious Lux Christi.
Ian Lace