United Kingdom Man of La Mancha (Dale Wasserman [book], Joe Darion [lyrics] and Mitch Leigh [music]): Company of Man of La Mancha, English National Opera Orchestra / David White (conductor). London Coliseum, 30.4.2019. (JPr)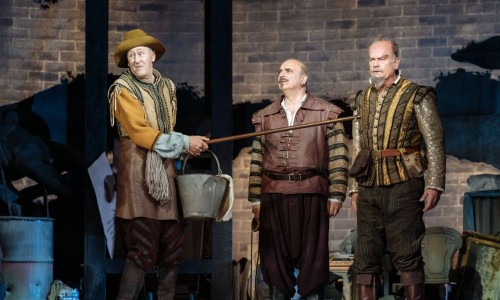 Production:
Director – Lonny Price
Set designer – James Noone
Costume designer – Fotini Dimou
Lighting designer – Rick Fisher
Sound designer – Mick Potter
Choreography – Rebecca Howell
Cast included:  
Cervantes/Don Quixote – Kelsey Grammar
Sancho Panza – Peter Polycarpou
The Governor/The Innkeeper – Nicholas Lyndhurst
Aldonza/Dulcinea – Danielle de Niese
Dr Carrasco/The Duke -Eugene McCoy
Antonia -Lucy St Louis
Fermina – Natasha Leaver
Housekeeper – Julie Jupp
Padre – Minal Patel
Barber – Emanuel Alba
For several years English National Opera has collaborated with Michael Linnet and Michael Grade in a series of semi-staged musicals (Sweeney Todd, Sunset Boulevard, Carousel, and Chess [review click here]). To their credit Dale Wasserman, Joe Darion, Mitch Leigh's 1965 Man of La Mancha gets an accomplished new production from Lonny Price: yet the reason why it has not been seen in London's West End since 1968 soon becomes blatantly clear. Having seen it for the first – and probably only – time it just isn't a very good musical! Seriously, how could Linnet and Grade write in their introduction that it 'ranks on equal terms with My Fair Lady, West Side Story and Rodgers and Hammerstein's greatest hits'? I was sitting amongst many of the first night invitees and it was significant how many people failed to return after the interval. I am not sure the marquee names will guarantee a commercial success.
Loosely based on Miguel de Cervantes's Don Quixote, the rather incoherent 'play within a play' book (Dale Wasserman) finds the author himself (Kelsey Grammer) awaiting trial by the Spanish Inquisition. When he gets put on trial by his fellow prisoners his defence is through the manuscript of a play they threaten to burn that he encourages them to perform. It is the tale of a country squire, Alonso Quijano, who has read many books on chivalry and mused so much about the injustices in his world that he has lost grip on reality. He starts to believe he actually is the knight-errant Don Quixote of La Mancha and sets out to right all wrongs accompanied by his 'squire' Sancho Panza (Peter Polycarpou). Early on Quixote comes off second best in the famous tilt at a windmill and then he mistakes a disreputable inn full of muleteers for a castle and the Innkeeper (Nicholas Lyndhurst) for the lord who will be able to dub him as a true knight. There he encounters the downtrodden serving girl/prostitute Aldonza (Danielle de Niese) and in his deluded state transforms her into the Lady Dulcinea, his 'dream-ideal' to whom he swears eternal loyalty.
Alongside all this there is the subplot of the Quijano's family conspiring against him less out of concern for his welfare and more for their standing in society. Involved are Quijano's niece, Antonia, her fiancé Dr Sanson Carrasco (Eugene McCoy) and a benevolent catholic priest (Minal Patel). They weave in and out of the plot of course in their prisoner personas and in Act II Carrasco appears as 'The Dark Enchanter', a figure that has been haunting Quixote and who he believes is his mortal enemy.
I am happy to praise the work of director Lonny Price and Man of La Mancha is given a twenty-first century staging familiar to those – like me – who review opera at the London Coliseum and elsewhere. Everything takes place in the confines of a bombed-out museum where the rubble strewn basement – with the remnants of its antiquities – has been turned into a prison to house those arrested for opposing a totalitarian regime. The only way in and out from this is via an ominously huge central flight of stairs which is occasionally laboriously lowered and raised. It is down this that Cervantes and his manservant bring their trunk full of costumes and props for his Don Quixote play. The ethnically diverse prisoners shed their contemporary clothes and don period costumes to take part his Cervantes's play.
Truthfully conductor David White has been credited with the 'new orchestrations'. He has indeed done a fine job but the only two songs that are memorable are those that most aficionados of musicals will know best: 'Man of La Mancha' and, of course, the anthemic 'The Impossible Dream' (heard over and over again). What was needed was a total revision/updating of the remaining songs, as well as, the book. There was indeed somewhere to go with this that no producer would have the courage, at least in 2019! With pivotal lines like 'Facts are the enemy of truth' and a puffed-up unstable central character – who believes he has right on his side yet ultimately does more harm than good – doesn't @POTUS come to mind? To have Grammer, a known Trump supporter, as Quixote only highlights the parallel this musical could have been given to contemporary politics, though of course it would have lost its current star if that approach had been taken!
Regardless Man of La Mancha's approach to women is distinctly Trumpian and it is as if the #MeToo movement had never existed. The character of Aldonza begins feisty enough and gives as good as she gets. It soon becomes clear, however, that she is only there to pleasure men who subsequently abuse and degrade her in scenes that have no place on a stage anywhere in 2019. Aldonza is slapped about much too much and when she is raped we – the audience – become unwitting voyeurs.
We would all like to cheer on Quixote for imagining the world as he wants it to be and for thinking he is the only sane person in a crazy world. It is perhaps because Lonny Price and his colleagues have brought so many contemporary references into their Man of La Mancha – and ignored others – that any inherent quixotic optimism in what we could have seen has been fatally undermined.
Although his performance lacks a certain irony, Kelsey Grammer acts well as Cervantes/Quixote with a booming voice that channels the tones of the great Orson Welles who, himself, spent fruitless years trying to make a Don Quixote film. (Another reminder of Welles is the 'Knight of the Mirrors' sequence that owed much – as seen here – to the Hall of Mirrors scene from his The Lady of Shanghai film.) I believe the audience's connection with Quixote's plight would have come through someone capable of a stronger vocal performance. Grammer just about gets through 'The Impossible Dream' but doesn't really 'sell' his character's rousing idealism and does little to dispel the memories of those who you have heard sing it much better.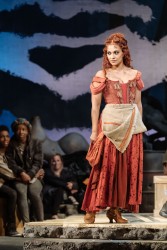 The exceptional singing of the rest of a fine ensemble cast shows up the difference between trained singers and a part-time one. I would have been happier to have seen Danielle de Niese – a true opera star – in a role on the London Coliseum stage that was more worthy of her, but she elicits much sympathy for what her character is subjected to in the absence of any opportunity to fight back. De Niese was at her very best with a plaintive 'Aldonza' when appealing to Quixote to see her as she really is. It is always great to see the talented Peter Polycarpou once more in a musical and I first saw him in Miss Saigon in 1989 (where have those years gone?). His Sancho – whose accent strongly recalls the hapless Manuel from Fawlty Towers – is affectionately devoted to his master but is a wry observer of the events that unfold. There is solid support from all the minor roles including Lucy St Louise (Antonia), Minal Patel (Padre) and Julie Jupp (Housekeeper). One of the few other standout vocal moments is Patel's rendition of 'To Each His Dulcinea' perhaps the best of the remaining songs after excluding the two everyone knows.
The Monty Pythons' Terry Gilliam is another who has attempted – and failed – to film a version of the Don Quixote story and the Pythons are not far away from this Man of La Mancha in the character of Lyndhurst's bemused and sozzled innkeeper, Emanuel Alba's antics as a camp barber, as well as, some of the olde-worlde dialogue and a couple of prancing 'horses'. Perhaps this revival would have succeeded better had it gone full-on Spamalot. However 'Nobody expects the Spanish Inquisition!' or might theyhave done?
David White and the ENO Orchestra make more of the Spanish-flavoured score than it possibly deserves. However, to sum up if you have not seen Man from La Mancha and wondered – as I did – whether it deserves all the hype it got before opening night then do go and make your mind. I can be very positive about the staging it receives and much of the singing and acting but as a musical is it worth all the bother and expense? Sadly no, and if it was deemed worthy of this return to London's West End isn't it time – at very long last – for audiences to get another chance to see Camelot? That hasn't been given a full staging since the 1980s but has a full roster of wonderful songs from the great Lerner and Loewe.
Jim Pritchard
For more about Man from La Mancha at the London Coliseum click here.