United States 2019 New York Opera Fest [5] – Wiancko, Murasaki's Moon: Soloists, Aizuri String Quartet, Yoko Reikano Kimura (koto), Satoshi Takeishi (percussion), Kaoru Watanabe (Japanese flutes, percussion, taiko)/Geoffrey McDonald (conductor), On Site Opera, The Metropolitan Museum of Art, New York, 18.5.2019. (RP)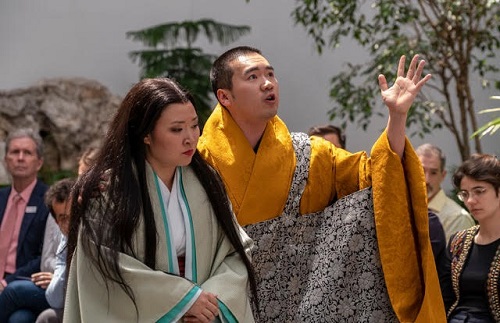 Production:
Director – Eric Einhorn
Costumes – Beth Goldenberg
Wigs and Make-up – Gabrielle Vincent
Choreographer – Yoko Yamashita
Cast:
Lady Murasaki – Kristen Choi
Genji – Martin Bakari
Buddhist priest – John Noh
On the prior evening, New York Opera Fest had taken me to a tiny theater in Greenwich Village. This afternoon, it was uptown to one of New York's most serene spots, the Astor Chinese Garden Court at The Metropolitan Museum of Art. The tranquil space is a re-creation of a courtyard in one of China's most famous gardens, Wang Shi Yuan, or Garden of the Master of the Fishing Nets, in Suzhou. Completed in 1981, the courtyard was made and assembled by craftsmen from China using traditional methods and materials. It was the first cultural exchange of this nature between the US and the People's Republic of China.
The opera of the day was On Site Opera and MetLiveArts's coproduction of Murasaki's Moon by composer Michi Wiancko with a libretto by Deborah Brevoort. As a solo violinist, Wiancko made her debuts with the New York Philharmonic and the Los Angeles Philharmonic before going on to have an international career, and her compositions and arrangements have been performed by ensembles, bands and orchestras around the world. Brevoort is a playwright, librettist and lyricist best known for The Women of Lockerbie, a play about the aftermath of the 1988 bombing of Pan Am 103 over Lockerbie, Scotland, told in the form of a Greek tragedy.
Murasaki Shikibu, the central character of the opera, was the author of The Tale of Genji, a classic of Japanese literature and considered to be one of the world's earliest novels. It is drawn from her years as a lady-in-waiting to the empress and centers on the amorous adventures of a fictional prince, Genji. The moon in the opera's title refers to the legend that Lady Murasaki was inspired to write the novel on the night of the full moon of August 1004 when she was at Ishiyamadera, a Buddhist temple about a day's journey from Kyoto.
I had just listened to an audiobook version of The Tale of Genji and was impressed by how successfully Brevoort captured the essence of the three-part novel (which spans 1100 pages and 54 chapters) as well as its approximately 50 characters in a libretto for a chamber opera with only three roles. Especially since Genji's adventures were the backstory.
In the opera, Lady Murasaki emerges as a complex woman, battling the limitations imposed upon her by a feudal society while struggling to maintain her integrity as a person and an artist. She is bedeviled by her creation, Genji, the manifestation of all that she deplores at court. In frustration she banishes him from her mind, but relents when she realizes that their fates are intertwined and her creation is a part of her.
Brevoort also introduced a Buddhist priest to represent the narrow-minded nobility and their hangers-on. In the opera, as in life, Lady Murasaki was a misfit among the nobility and ostracized due to her lower rank. She, in turn, rejected the lax morals of the courtiers and bristled at being tolerated only because of her writing skills. The priest treats her as a servant and is dismissive of her writing, but delights in reading about his fellow courtiers and their dalliances until he finds himself among her targets.
Wiancko's score struck a balance between the sounds of traditional Japanese music and those of Western opera. The Japanese ensemble of koto, flutes, percussion and taiko was almost a character in itself, embodying the court in all its grandeur. As in traditional Japanese theater, the instruments set the mood and served to bridge the scenes. The strumming of the koto was beautiful, but the most visceral sounds were those of the taiko reverberating throughout Astor Court.
When the characters were singing, Wiancko employed more Western-sounding music. Puccini came to mind while listening to the soaring vocal lines, laden with emotion, that she composed for Lady Murasaki, and the antics of Genji and the priest had their antecedents in Turandot. Wiancko's gift was the ability to merge the two worlds into a coherent whole that was exciting musically and dramatically. Credit in that regard also goes to conductor Geoffrey McDonald, who maintained balance and unity between the singers and instrumentalists.
As Lady Murasaki, mezzo-soprano Kristen Choi displayed thrilling high notes and a warm lower range. As an actress she was equally captivating, especially in the aria-like scenes where she does battle with her fate, and she was as visually compelling when kneeling at her writing desk as she was tearing through the courtyard in her flowing robes. I hope that I will be able to see her as Suzuki in Madama Butterfly next season at Opera Philadelphia.
Martin Bakari's Genji, both imp and rogue, nonchalantly toted a large sack of fans that he had collected from women he had seduced. His burnished tenor was as endearing as his charm. I've heard Bakari on several occasions, and he is a wonderful performer who always delivers. However, this was my first time for John Noh, and I was very impressed by the dynamic young tenor. At times, I was only inches away from him, and his focus and intensity as a performer were amazing. I'll be on the lookout for another chance to see him perform too.
After the opera, one could view The Tale of Genji: A Japanese Classic Illuminated, an exhibit that explores the work's continuing influence on Japanese art. It features nearly 1000 years of Genji-related art ranging from paintings, calligraphy, silk robes, lacquerware and a palanquin for a shogun's bride to popular art such as ukiyo-e prints and contemporary manga. On Site Opera productions always blend music and location to create fascinating and often challenging experiences. Murasaki's Moon was exceptional, in that it afforded the opportunity for total immersion in the world of Lady Murasaki and her masterpiece, combining the new with the timeless.
Rick Perdian