United States Grieg, Sibelius, R. Strauss: Simon Keenlyside (baritone), Cleveland Orchestra / Franz Welser-Möst (conductor), Severance Hall, Cleveland, Ohio, 23.5.2019. (MSJ)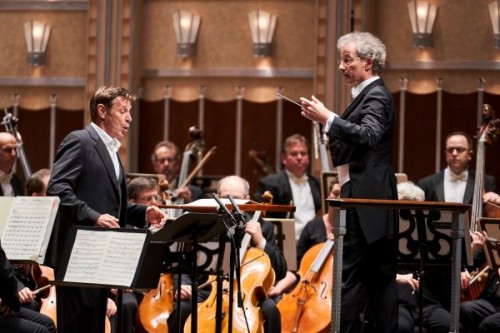 Grieg – Excerpts from Peer Gynt
Sibelius – Songs
R. Strauss – Aus Italien
In his return to conduct the closing concerts of the regular season of the Cleveland Orchestra, Franz Welser-Möst quickly reestablished his signature sound: sleek, lithe, silvery. This was impressive in its own right, considering how different the ensemble has sounded lately under a string of strong guest conductors with bold ideas of their own.
Welser-Möst is also frequently an intriguing programmer. This time, however, the program was perplexing, at best. The only item of substance was the rarest: eight songs of Jean Sibelius, arranged for orchestra. Opening the concert was a random selection of only three items from Grieg's incidental music to Ibsen's play Peer Gynt, and closing it was an indulgence, Richard Strauss' early but not particularly rewarding Aus Italien.
The Peer Gynt selections were distressingly underwhelming, starting with a 'Morning Mood' so hasty, one could barely even make out the grace notes in the flute and oboe solos, though principals Joshua Smith and Frank Rosenwein gamely kept up the breathless pace. A quick look at the score shows that Strauss marked the famous movement 'allegretto pastorale'. Some musicians may take it too slowly, but the score should be paramount, not an overcorrection to other performances that borders on the comical. The following 'Ase's Death' was also too fast to build up any real tension. Then, instead of staying the course of Grieg's own suite, only the prelude to Act I appeared, 'At the Wedding', which makes no sense out of context, since it quotes 'Solveig's Song', which wasn't even part of Welser-Möst's selections. That said, the wedding music was vigorous and Wesley Collins played the offstage Hardanger-fiddle-style viola solos with flair.
The reputation of Sibelius has gone up and down, depending on musical fashion, but his work remains staunchly powerful, expressing deep emotion — though never casually or easily — and building its world out of traditional tonal materials through the lens of Nordic folk elements. It is an area Welser-Möst has not favored in his years in Cleveland, though various guest conductors have effectively led works by the Finnish composer. The Cleveland premiere of these songs was a surprise and a delight.
Surprisingly, the program did not detail who orchestrated each of these songs, except to point out that only one was done by the composer himself. It would be interesting to know the hands behind the arrangements, as some were more convincing than others. All of the results, though, were highly interesting and communicative, and baritone Simon Keenlyside was in good voice, despite his tendency to look down while singing, at times restricting the bloom of his tone.
'Kaiutar' ('The Echo Nymph') evocatively tells the story of an otherworldly creature disappointed in love who elects to lure men astray. 'Illale' ('To Evening') mixed dark imagery and an ardent vocal line with shimmering accompaniment, like the glittering of stars. 'Aus banger Brust' ('From an Anxious Heart'), one of the composer's German settings, was rhapsodic with restless string-dominated accompaniment. Though effective, the splashes of color provided by bass drum rolls and glints of glockenspiel seemed more impressionistic than Sibelian.
One of his better-known songs is the Swedish setting 'Svarta rosor' ('Black Roses') which contrasts a soaring melody with a suddenly somber ending to each verse. 'Kom nu hit, död' ('Come Away, Death') is a Swedish version of a lyric from Shakespeare's Twelfth Night, and is the only one of these songs orchestrated by Sibelius himself, who alternated somber passages with ecstatically atmospheric ones.
'Im Feld ein Mädchen singt' ('In the Field a Maiden Sings') brought another German setting, perhaps the most darkly brooding of all. 'Die stille Stadt' ('The Silent City') was rapt in its stillness. Swedish, the language Sibelius grew up speaking, returned for the finale, 'Var det en dröm?' ('Was It a Dream?'). Though brief, the song arches movingly, though the orchestration seemed a little more sectional than what Sibelius himself would have achieved. Nonetheless, Keenlyside's voice took flight and brought these welcome rarities to a satisfying end.
Closing the program was Strauss's early Aus Italien. Is the piece good? No, it's a formative work that shows Strauss still had a way to go before finding his voice. Is it worth occasionally studying the formative works of major composers? Yes, though the key word is occasionally. In Aus Italien, the real Richard Strauss often seems just around the corner, just out of reach. In the meantime, there's a lot of busy orchestral hauling about that never quite gets anywhere other than by arbitrary change.
The first movement, 'In the Countryside', is the closest to the real thing. But as the piece wears on, the true Strauss slips further and further away, until the finale's quote of 'Finiculì, Funiculà' (which Strauss mistakenly thought was an Italian folk song) seems downright labored — all despite the enthusiasm of Welser-Möst, who has been making his way through Strauss' oeuvre. Considering that the composer is one of his specialties and that he has been music director in Cleveland for seventeen years, perhaps he has a right to indulge in a piece like this. But this was its fourth appearance since 1950, and the second in the last decade.
When I think of the interesting works not heard recently (or, in some cases, ever) in Cleveland, it makes me wish Aus Italien would be put out to pasture. What about Vaughan Williams's Ninth Symphony or John Adams's Fearful Symmetries, Malcolm Arnold's Fifth Symphony or Ives's shorter works, Benjamin Britten's suite from Death in Venice or Robert Kurka's suite from The Good Soldier Schweik? These need a hearing. The good news is, Cleveland's upcoming season is an enterprising one — with none of the above suggestions, but including many worthy, less commonly heard choices.
Mark Sebastian Jordan