United States 2019 New York Opera Fest [4] – Colin Read, On Loneliness and Solitude; Daniel Thomas Davis, The Impossible She: Soloists, Rhymes With Orchestra / George Lam (conductor), Rhymes With Opera, 124 Bank Street Theatre, New York, 17.5.2019. (RP)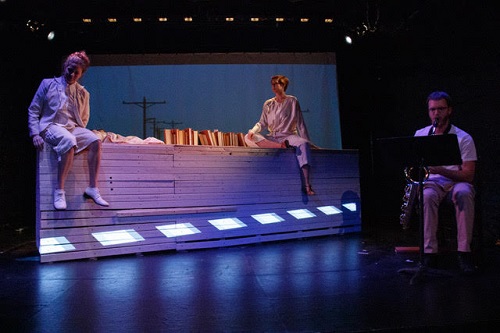 Production:

Director – Laine Rettmer
Sets – Andrea Merkx
Costumes – Rachel Dainer-Best
Lighting – Saúl Ulerio
Hair and Makeup – Brigid Moore
Cast:
Eleanor Roosevelt – Elisabeth Halliday
Lorena Hickok – Bonnie Lander
Outside World – Robert Maril
Present Voice – Zach Herchen
Fortunately for all involved, Daniel Thomas Davis stuck to the facts in The Impossible She, for which he wrote both the libretto and music. This review might otherwise have taken an entirely different turn, nitpicking at factual inaccuracies. The opera focuses on the years 1932-34 when Eleanor Roosevelt went from being the wife of the Governor of the State of New York to First Lady of the United States of America. These were transformative years for Roosevelt, both personally and politically, and a crack reporter by the name of Lorena Hickok, known as Hick, played an out-sized role in both.
The two were in most ways polar opposites. Roosevelt was born into a wealthy, socially prominent New York family. Theodore Roosevelt was not only President of the United States, but the uncle who gave her away on her wedding day, by which time her parents were long dead. Hick grew up poor, left home at 13, worked her way through college and was the first woman to have an article published in The New York Times under her own byline. Tall and gawky, Roosevelt as a child was called 'Granny' by her mother, and she considered herself an ugly duckling. Time described Hick as 'a rotund lady with a husky voice, a peremptory manner, baggy clothes'.
Roosevelt was married and the mother of six children, and Hick was a lesbian. There is no doubt that they fell in love. For several years, they corresponded almost every day, traveled together and continually expressed their affection for one another. Hick's integrity as a journalist was compromised due to their relationship, and she ended up working in the FDR administration. Historians don't debate the intensity of their relationship, only the extent to which it was expressed physically. Davis and Adam Haslett, who consulted on the story and libretto, weighed in on the physical side of the equation.
Roosevelt was played by soprano Elisabeth Halliday, whose height worked to her advantage in creating her character. Petite and pert, soprano Bonnie Lander didn't look much like Hick (which was underscored by references to her actual appearance in the libretto), but she crafted a complex, sympathetic character who was a mix of strength and fragility. By the end of the opera, there was the sense that the relationship had run its course, broadcast by the anxiety and heartbreak on Lander's face and in her eyes. Halliday's Roosevelt, however, beamed, well on the path that would lead her to be deemed 'First Lady of the World'.
The opera was in five scenes. To me, the strongest was a poignant exchange in which Roosevelt and Hick wistfully recited the extraordinary number of places each had lived, and sang ruefully of their 'thirsty' fathers. (Hick had a 'beating' one as well.) The scene had a freshness and sense of expectancy that drew you into the story. Less effective was the one where their relationship took a turn for the physical in the form of a rather tedious striptease that left both women almost fully clothed. The three poems through which Halliday and Lander expressed their characters' feelings for each other were far more romantic, sensuous and revealing.
The scenes were stitched together by a catch-all character called Outside World in the person of baritone Robert Maril. As a journalist, he wryly observed Hick's trajectory. In his working-man guise, Maril embodied the millions for whom FDR's New Deal offered hope. In Davis' shoes, I don't think I could have resisted the temptation to have Maril sing 'Brother, Can You Spare a Dime?' There wouldn't have been a dry eye in the house.
If W. C. Fields had seen Zach Herchen on stage, he would have included saxophonist with animals and children in his never-work-with list. Herchen was a passive observer until he had a horn in his hand, and then he all but stole the show. He provided a running musical commentary on the action, performing alternately on soprano, alto, tenor and baritone saxes. It was the most compelling music of the entire opera; there is a terrific orchestral suite with solo saxophone waiting to be mined from the score.
I was particularly drawn to Davis' manipulation of minimalism, in which phrases of text were repeated and often fractured into words or even syllables. There were passages in the orchestra with frenetic rhythms that also grabbed my attention. The opera is scored for violin, viola, cello, double bass and piano, an effective background for the voices and solo sax. It is exciting music, but the vibrancy and variety of sounds proved to be a lot of competition for Halliday and Lander. Maril had it easier as the sound textures were thinner when he had to sing.
The balance issues had nothing to do with George Lam who, although unseen, proved to be a sensitive conductor and displayed a total commitment to the music. Rather, everyone had to compete with a vintage radio of the type that was a stand-alone piece of furniture. The radio was effective when used to transmit the sounds of the era and provide historical footing, but less so when the orchestra was piped through it. When sitting right in front of it, the music was too loud, and the amplification imparted a sameness to the musical texture against which even Herchen struggled to hold his own.
This was a lot to pack into a short, one-act opera. Mercifully, the set was simple, although there were video projections to absorb. In their introduction to the opera, Davis and director Laine Rettmer stressed how Roosevelt and Hick's story resonated with their own experiences. I get that, but the personal connection needs to be made real for the audience as well. I left the theater with my senses overloaded and, given Herchen and Maril's powerful performances, the story of Roosevelt and Hick had receded into the background.
Colin Read's song cycle, On Loneliness and Solitude, was performed before the opera. He set three poems that express the dichotomy of the liberation of throwing off societal norms and the weight of being alone with one's thoughts: Trumbell Stickney's 'Mnemosyne', Katherine Mansfield's 'Loneliness' and Williams Carlos Williams' 'Danse Russe'. Scored for two sopranos, baritone and the same orchestral forces that Davis had employed (sans the double bass), they were performed staged.
An individual singer was featured, more or less, in each of the songs. Read's music was tuneful, especially the third, which had a lively Latin beat. The first two, sung by Halliday and Lander respectively, had a certain ennui to them, heightened by the languorous poses they assumed while reclining on the floor. In the final one, Maril combined his sense of loneliness with a healthy dose of self-admiration, drawing wry glances from the women.
The 2019 New York Opera Fest has been full of surprises and some memorable moments. Rhymes With Opera added more than a few of each to my memory bank, important ones. Undoubtedly, there will be more in the coming weeks.
Rick Perdian