United Kingdom Bartók: Jerusalem Quartet (Alexander Pavlovsky [violin], Sergei Bresler [violin], Ori Kam [viola] and Kyril Zlotnikov [cello]). Wigmore Hall, London, 9.5.2019. (AK)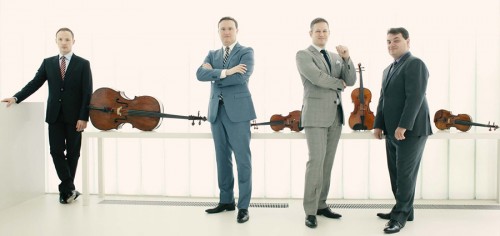 Bartók – String Quartet No.2 BB75 (1915-17); String Quartet No.4 BB95 (1928); String Quartet No. 6 BB119 (1939)
This concert was astonishing for two reasons. In spite of their fine reputation, never in my wildest dreams did I anticipate such wonderful performances of Bartók by the Jerusalem Quartet. Yet their delivery was a privilege and joy to hear, a memory to treasure. It was also astonishing that, in spite of generous concessionary tickets for people under the age of 35, there were quite a few empty seats while youth in the audience was under-represented. Why? Where were the students of London's four music colleges and five university music departments?
The allocation of the quartets in this two-evening Wigmore Hall cycle (on 8th [review click here] and 9th May) was scheduled according to the length of individual quartets as well as to convention. However, interestingly, this grouping placed the two quartets with Arab influences (Nos. 2 and 4) in succession. For instance, with its repeated thirds and relentless drum-like quaver accompaniment, the second movement of Quartet No.2 evokes Arab folk music. Similar occurrences are notable in the fourth and fifth movements of Quartet No.4. In his programme notes Paul Griffiths mentions that Bartók studied Arab music in Algeria in 1913. In fact, Bartók first encountered such music on a short visit to Tangier, Morocco in 1906. Then in 1913 he travelled to the town of Biskra (in Algeria), and to small villages nearby, to collect Arab and Berber folk music. Bartók collected about two hundred melodies; this was the first collection of Arab folk music to be recorded with a phonograph at rural locations by an experienced scholar.
Bartók spent more time on folk music/comparative musicology/ethnomusicology than on composing. Inevitably, his engagement with folk music is integrated into his compositional output. He himself explained that a composer had three ways of utilising folk music: 1. by using actual folk melodies with added accompaniment or using actual folk motives as mottos, 2. by imitating folk melodies or their characteristics, 3. by absorbing the idiom of folk-art into art music. All three of the quartets performed during this concert belong to the third category. Whether it was studied or instinctive, the musicians of the Jerusalem Quartet clearly absorbed all folk-like elements. This was evident, for instance, in the third movement of Quartet No.2, where Hungarian-type musical accents seemed entirely natural to the players. As were all Arab elements already mentioned.
In many respect Bartók could be considered a classical composer. The Hungarian Quartet's 1961 recording of his string quartets is note-perfect, spirit-perfect and is, to my ears, classical. Zoltán Székely, the leader of the Hungarian Quartet, had a strong and long-lasting working relationship with Bartók; he fully understood Bartók's musical language. Listening to these performances with score in hand is a masterclass for how to perform Bartók's string quartets. However, the Wigmore Hall performances by the Jerusalem Quartet caused an unexpected revelation. It turned out that Bartók was not only a classical composer; in good hands he was also a wonderful romantic composer.
Members of the Jerusalem Quartet know the music, they play the music with accuracy and technical bravura, and they evidently live the music. Whether it was a matter of possibly uncomfortable chairs or sheer physical involvement, from time to time the second violinist and the viola player jumped up from their chairs. These manifestations were neither artificial nor distracting: they were just part of living the music. In his long and beautifully delivered solo in the third movement of Quartet No.4, the face of the cellist also told the story. Again nothing artificial, just a genuine facial expression of the music superbly performed. Unforced visual representation played a part in the ensemble's performance throughout; hence a viola string snapping during Quartet No.6 and its subsequent quick replacement did not cause any loss of focus either for the performers or for the audience.
In Quartet No.2 the first movement was passionate but within taste. In the second movement the players demonstrated musical humour and virtuosity, while the build-up in the slow third movement was architecture at its best. Humour and virtuosity were again generously applied in the second and fourth movements of Quartet No.4; in the third movement the cricket music of the first violin was beautifully balanced against the long dramatic declaration of the theme's anguish. In Quartet No.6 the players delivered their individual dramatic solo statements (Mesto) with utmost beauty, while the Burletta movement did not only show humour but gave the aural impression of slightly drunk musicians. This was fully appropriate: the movement is closely related to the second piece (Allegretto) of Bartók's Three Burlesques, Op.8c for piano. There Bartók wrote at the beginning: 'kicsit ázottan' that is 'slightly typsy'.
The technical demands of all these quartets are huge, yet the Jerusalem players made it all sound easy and natural. As an ex-cellist, I am particularly in awe of the Jerusalem cellist.
Who is he, who are they? Their names are specified on the front page of the programme notes but within the twelve-page programme notes there are only nine lines (that is eighteen half-lines) about them. Yet it would be good to know more about their backgrounds, studies and so on as they thoroughly deserved it!
Agnes Kory