United Kingdom The Royal Ballet's Within the Golden Hour / Medusa / Flight Pattern: Dancers, Singers, Orchestra of the Royal Opera House / Jonathan Lo and Andrew Griffiths (conductors). Directed for the screen by Ross MacGibbon and broadcast live to Cineworld Basildon, Essex, 16.5.2019. (JPr)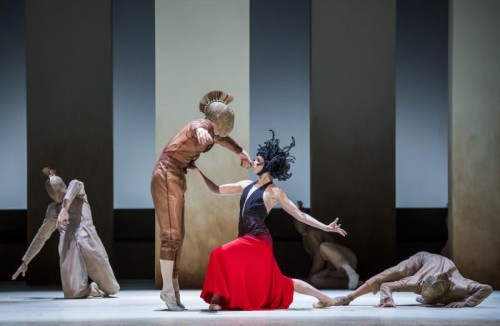 Within the Golden Hour
Choreography – Christopher Wheeldon
Music – Ezio Bosso and Antonio Vivaldi
Costume designer – Jasper Conran
Lighting designer – Peter Mumford
Conductor – Jonathan Lo
Dancers included – Beatriz Stix-Brunell, Francesca Hayward, Sarah Lamb, Vadim Muntagirov. Valentino Zucchetti, Alexander Campbell
Medusa
Choreography – Sidi Larbi Cherkaoui
Music – Henry Purcell
Electronic music – Olga Wojciechowska
Set concept and design – Sidi Larbi Cherkaoui and ROH Production
Costume director – Olivia Pomp
Lighting designer – Adam Silverman
Associate choreographer – Jason Kittelberger
Conductor – Andrew Griffiths
Dancers – Natalia Osipova (Medusa), Olivia Cowley (Athena), Matthew Ball (Perseus), Ryoichi Hirano (Poseidon), Artists of The Royal Ballet (Priestesses and Soldiers)
Alish Tynan (soprano) and Tim Mead (countertenor)
Flight Pattern
Choreography – Crystal Pite
Music – Henryk Mikołaj Górecki
Set designer – Jay Gower Taylor
Costume designer – Nancy Bryant
Lighting designer – Tom Visser
Conductor – Jonathan Lo
Dancers – Kristen McNally, Marcelino Sambé and Artists of The Royal Ballet
I have seen ballet at Covent Garden since the 1970s and have grown accustomed to how – as enjoyable as it often is – it is just mostly recreating the ballets exactly they always have been for several decades and apparently will be for years to come! Although the notes should be sacrosanct in opera, at least, by following Wagner's maxim 'Kinder, macht Neues!' new stagings breathe life into some old warhorses.
I should therefore not be critical of an evening from the Royal Ballet where it fully embraced its contemporary side. However for me it was not a success. Someone in the early stages of planning this programme might have looked at the three pieces and seen how they lacked variety. The movement was almost interchangeable across the three ballets and the tempo of the music – whether Vivaldi, Ezio Bosso, Purcell, Górecki, or even, Olga Wojciechowska's electronic sounds – rarely drifted away from a steady pulse. One example: there was a 'Wow' from someone behind me at this cinema broadcast when in Medusa Ryoichi Hirano's Poseidon has a rigid Natalia Osipova balanced on his feet. An impressive feat indeed! However later in Flight Pattern almost the same image was created as Marcelino Sambé held the equally rigid Kristen McNally aloft. The paucity of choreographic language maybe an issue but, for this reviewer, in these three works there were just too many hands raised, backs bent, legs splayed or curled around other dancers, as well as, other repeated movement. Also none of the works knew when the natural finish seemed to come, and all went on too long.
Christopher Wheeldon's Within the Golden Hour, was originally mounted for San Francisco Ballet in 2008 but here was given new Klimt-inspired costumes; all gold glitter and much gauze that flattered the women but left a lot to be desired for the men. Why it needed Jasper Conran to come up with these new designs is anyone's guess? In a filmed introduction Wheeldon challenged those watching to make up their own minds about what they see though suggested it was about romance. Within the Golden Hour celebrates the bravura technique of the Royal Ballet dancers and is eminently watchable. Coming first ennui had not yet set in about having to see the same steps over and over again. Beatriz Stix-Brunell and Vadim Muntagirov had a charmingly playful duet, whilst there were more serenely tender ones for the pairings of Francesca Hayward with Valentino Zucchetti and Alexander Campbell with Sarah Lamb. Vasko Vassiliev's solo violin contributions earned him a thoroughly deserved curtain call.
Medusa is noted contemporary choreographer Sidi Larbi Cherkaoui's first work for the company and is purely a vehicle for Natalia Osipova. Those watching will find it hard to follow the narrative of the original Greek myth in Cherkaoui's strangely conventional work. Significantly there were hints in the filmed introduction that he might not have been given as much time to rehearse as he might have wanted. Basically it is about the priestess Medusa who serves in the temple of Athena. She gives her scarf for good luck to Perseus (Matthew Ball), a soldier. The jealous sea god Poseidon (Ryoichi Hirano) rapes her but Athena (Olivia Cowley) cannot punish him, so she curses the victim and turns Medusa into the legendary snake-haired Gorgon. She can then take her revenge by turning any men looking at her to stone. However Perseus – because of the scarf Medusa gave him – avoids this fate and beheads her. Cherkaoui introduces the idea into his version of the tale – that is ripe for #MeToo reinvention – of Medusa meeting her end willingly. The music is a haunting blend of Purcell arias sung live and Olga Wojciechowska's electronic score.
No one in 2019 wants to see a graphic rape on stage. (It has taken me some while to recover from what I had to sit through in the last revival of Kenneth MacMillan's deeply misogynistic The Judas Tree.) Here, however, the onstage action is sanitised to the nth degree and if anything the encounter with Poseidon looks rather consensual. There is a lot of faffing around with a scarf and I am surprised the snake fright wig – that caused Osipova all sorts of problems – was the best couturier Olivia Pomp could create. Elsewhere as the Gorgon she gets a designer black/red number and the soldiers get see-through boiler suits and gauze helmets with prominent mohicans.
Athena, Poseidon and Perseus are underdeveloped roles and all eyes are on Osipova who can make standing still on stage interesting. She is a force of nature as a dancer and whilst others think and hesitate everything Osipova does is instinctual. Her Medusa changes believably from a compliant virginal priestess to a fierce vengeance-driven Gorgon with compelling dramatic conviction. After she is killed by Perseus, Osipova gets a melancholy solo as Medusa reflects on her experiences. This was a somewhat inconsequential ending to what could have been a more powerful statement about violence to women and female empowerment.
From seeing her interviewed on film it was obvious what a personal work Flight Pattern is for its choreographer Crystal Pite. To be honest she struggled to put her thoughts – about this 2017 response to the refugee crisis – into words, and it is probably best, as Pite herself suggested, that she lets Flight Pattern do the talking for her. The themes are identity, displacement, migration, containment, separation and loss. Truthfully, there is very little actual dancing from the 36 dancers but are there some achingly powerful images of humanity in crisis, never more so than when the massed refugees almost appear ready to take collective wing at one point. (Thoughts of works on related themes by Russell Maliphant and Akram Khan were brought to mind.) Kristen McNally is a mother grieving from losing a child and gets a distraught duet with Marcelino Sambé as rather an outsider figure and both are mighty impressive. Flight Pattern is set against the sombre sounds of the first movement from Górecki's Symphony of Sorrowful Songs, music that perfectly mirrors the striving to get somewhere but perhaps never arriving.
Jim Pritchard
For more about what is on at the Royal Opera House click here.