United Kingdom Brahms, Mussorgsky, Shostakovich, Bartók: Magdalena Kožená (mezzo-soprano), Yefim Bronfman (piano). Barbican Hall, London, 20.5.2019. (CC)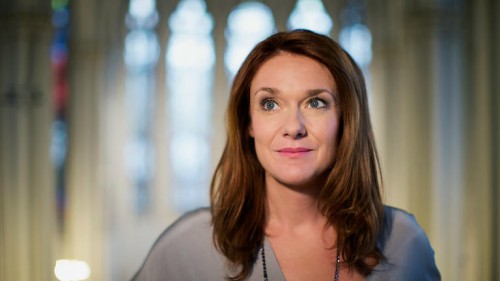 Brahms – Meine Liebe ist grün, Op.63/5; Nachtigall, Op. 97/1; Verzagen, Op.72/4; Bei dir sind eine Gedanken, Op.95/2; Von ewiger Liebe, Op.43/1; Anklänge, Op.7/3; Das Mädchen spricht, Op.207/3; Meerfahrt, Op.96/4; Der Schmied, Op.19/4; Ach, wende diesen Blick, Op.57/4; O wüsst ich doch den Weg zurück, Op.63/8; Mädchenlied, Op.95/6; Unbewegte laue Luft, Op.57/8; Vergebliches Ständchen, Op.84/4
Mussorgsky – The Nursery
Shostakovich – Satires, Op.109
Bartók – Village Scenes, BB 87a
Less than a month ago, Yefim Bronfman gave a lovely, light and appealing performance of Beethoven's Second Concerto with the Oxford Philharmonic at the Sheldonian (review click here). He was in fine fettle here, too, as accompanist and musical partner to the famed Czech mezzo, Magdalena Kožená. It was surprising, then, that more seats weren't filled: there was still significant space in the stalls even though the upper levels had not been opened up.
The attendance level was even more surprising when one takes in a whole first half of Brahms's delicious Lieder (which still to this day unaccountably seem to take a step back to let Schubert and Schumann through in recital programmes). Dressed brightly in scarlet, Kožená gave us singing that was as arresting and radiant as her attire. Bronfman was remarkably self-effacing in his contribution to the first song, Meine Liebe ist grün, yet it was very soon clear that this is indeed a real partnership: the close to the very next song, Nachtigall, was nigh on perfection, sonically gorgeous from both. Kožená's diction was fabulous from the mid-stalls, even when the text had to be delivered at speed. The darkening of tone from both performers for Von ewiger Liebe took us to core Brahms territory of shaded forests; the song Anklänge appeared as a prolongation, simple yet so effective. Total contrast came with Kožená's cheeky delivery of Das Mädchen spricht before burnished tone returned for Meerfahrt (low in range for Kožená, but it still worked). It was lovely to hear Kožená and Bronfman allowing full Schwung to surface in the famous song Der Schmied but perhaps the glory of the Brahms set was O wüsst ich doch den Weg zurück with its seamless legato.
The second part of the programme was brilliantly planned. There was no Czech music this time – Kožená shines in that repertoire – but a stimulating mix of Russian and Hungarian music.
Mussorgsky's song-cycle The Nursery needs to get out a whole lot more – it tends to be eclipsed by Songs and Dances of Death – and what a delight it was to hear it in this resplendent performance. Mussorgsky's writing demands extraordinary cleanliness of delivery from its performers; his characteristic speech-melody ode of melodic writing needs charisma to work, while the piano writing needs a player who can turn on a sixpence. Kožená sang with evident enjoyment, her characterisation of the individual songs superb (we absolutely believed her exclamation of 'rokaznik!' (rascal) – in 'In the Corner', while Bronfman's delivery of the circular lines of the piano part was equally effective. The song 'Zhuk' (Beetle) demands total togetherness at speed, something managed here with seeming ease; in contrast, the blanched voice Kožená found for 'Skukloy' (With the Doll) took us to a fairytale world with a decidedly Russian accent. Bronfman adjusted his sound to Mussorgsky's writing, particularly successfully in the light final number, 'Kat Matros' (Matros the cat).
Many readers will know Shostakovich's Satires, Op.109 through the Galina Vishnevskaya/Rostropovich version that EMI released in the UK. The cycle begins with 'Kritiku' (To a critic), a song with a deliberately and markedly silly end, made the most of here by Bronfman. Throughout, though, it was Kožená's breath control that was most impressive. It is fascinating that in this cycle Shostakovich actually sets the titles of the poems as well, to a tolling piano note before the song proper is launched. The piano's nostalgic yet distorted waltz of 'Kreutzer Sonata' was a highlight, as was the telling of this particular song.
Finally, some Bartók, the Village Scenes, with 'Haymaking' setting the scene before depictions at and around a wedding. Perhaps because of its simplicity – quiet piano chords over a wandering vocal line – the second song, 'At the bride's', was the most successful, heart-stopping in its beauty, closely followed in excellence by the piquantly harmonised 'Lullaby'.
The one encore brought us back to the embrace of German Romanticism, Schumann's 'Wehmut' from the Op.39 Liederkreis, a warm glow to send us on our way.
Colin Clarke