Germany Verdi, Nabucco: Sächsischer Staatsopernchor Dresden, Sinfoniechor Dresden, Extrachor der Staastoper Dresden, Sächsischer Staatskapelle Dresden / Omer Meir Wellber (conductor), Semperoper, Dresden, 5.6.2019. (MC)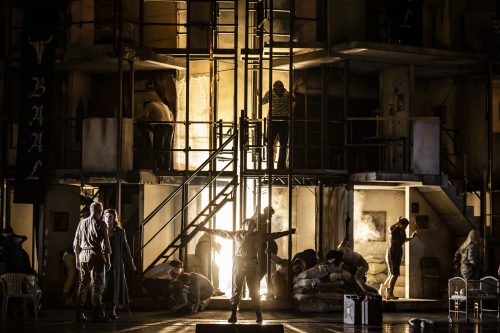 Production:
Stage direction – David Bösch
Sets – Patrick Bannwart
Costumes – Meentje Nielsen
Lighting – Fabio Antoci
Chorus director – Jörn Hinnerk Andresen
Dramaturgy – Kai Weßler
Cast:
Nabucco – Plácido Domingo
Ismaele – Massimo Giordano
Zaccaria – Vitalij Kowaljow
Abigaille – Saioa Hernández
Fenena – Christa Mayer
High Priest of Baal – Sejong Chang
Abdallo – Simeon Esper
Anna – Tahnee Niboro
Markus Marquardt – singing Nabucco (after interval)
Bernd Gierke – acting Nabucco (after interval)
Premièred last month, by my reckoning this was the fourth performance of stage director David Bösch's new Dresden production of Verdi's Nabucco and Plácido Domingo was making his Semperoper, Dresden debut. As often happens in live opera productions, problems regularly arise that need to be surmounted. Before the opera commenced Intendant Peter Theiler announced that Domingo was suffering from a cold but would try his best to continue. Domingo lasted until the interval but then withdrew. For the final two acts the company was fortunate to have available bass-baritone Markus Marquardt, a soloist with the Semperoper ensemble, who sang the role from a lectern positioned at the side of the stage. Unenviably it was Bernd Gierke a member of Semperoper team (Regieassistent) who took to the stage to act the role or at least rush about a lot.
Verdi openly acknowledged the importance of Nabucco 'with this opera it is fair to say that my career began.' This richly rewarding opera, a biblical epic with some of Verdi's impetuosity of youth, tells the story of the defeat and exile of the Israelites to virtual enslavement by the Babylonians during the reign of King Nebuchadnezzar (Nabucco). Verdi originally set the opera around 600 BC whilst Bösch's new production is a contemporary one.
Here Bösch successfully emphasized the differing cultures of the erudite and devoutly religious Israelites and the warmongering and autocratic tendencies of King Nabucco and the Babylonians. This splendid production is one that is relatively easy to grasp much more so than Daniele Abbado's uninspiring and time-dragging 2013 production at Covent Garden that also featured Domingo as Nabucco. Designer Meentje Nielsen's modern day costumes comprise, for some of the cast including Nabucco and Abigaille, light-coloured battle-fatigues and a mix of tee-shirts and camouflage trousers with revolvers and automatic weapons. The Jewish high priest Zaccaria wore a tallit and kippah. Nabucco arrived, not on horseback as announced, but on a military jeep and a pick-up truck carried the dead ox. Fenena wore a dress and overcoat, and the Jewish people had an assortment of modern clothes. Hard to describe was the dazzling effect of Hernández's glittery gold dress worn in Act III.
Dominating the stage was a turret-like structure of four levels accessed by stairs and ladders made of steel scaffolding, an edifice that I guess might represent the walls of Babylon. I noticed that the building had lots of detail including a satellite dish and air conditioning units attached to the side. The construction looked suitably effective following the supposed fire damage and later was transformed by long gold streamers hanging down. A cherry-picker was pushed on stage with the boom-arm used to lift and hang the large ox used for sacrifice and later to suspend the rope for hanging Fenena from a noose.
As Nabucco we didn't hear much of Plácido Domingo in the role, which comes into its own in acts three and four, but he tried his best and that's all one can ask. Charged with a difficult task as the stand-in Nabucco, bass-baritone Markus Marquardt singing from the side of the stage did a commendable job revealing a reasonably rich tone and no shortage of expression. The biggest cheer of the evening was reserved for soprano Saioa Hernández giving an outstanding portrayal of the blonde-haired Abigaille creating a rather unpleasant character, with whom it was hard to sympathise. Hernández's voice was in splendid condition, strong and resolute which projected well through the house; although it narrows considerably at the top. I saw a few people wince when Abigaille cut the throat of the ox, resulting in a gush of blood. Bass Vitalij Kowaljow was very much at home in the substantial role of high priest Zaccaria displaying an attractive deep, rich voice with a touch of menace when needed and so agreeably in tune. The role of Fenena the daughter of Nabucco was taken by mezzo-soprano Christa Mayer. Her Act IV prayer sung as the noose was being placed around her neck contained persuasive emotion and accuracy while communicating impressive vulnerability. As Ismaele, Massimo Giordano didn't have too much to do but acted extremely well, putting much energy into the role and his tenor is pleasant enough.
Under the assured Omer Meir Wellber, the Staatskapelle Dresden tore into the score as if its life depended on it. They displayed high levels of both verve and commitment that never flagged. It is hard to put into words just how good this orchestra really is. Although not operational the previous evening for Die tote Stadt (review click here) the English surtitles were a real boon for me. Despite the problems with Domingo's withdrawal, the performance of this David Bösch production was highly entertaining and I would happily see it again should the opportunity arise.
Michael Cookson