Germany Verdi, Otello: Soloists, Deutsche Oper Chorus and Orchestra / Paolo Arrivabeni (conductor), Deutsche Oper Berlin, 14.6.2019. (JMI)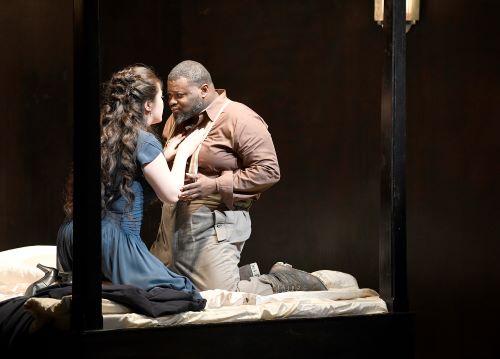 Production:
Director – Andreas Kriegenburg
Sets – Harald Thor
Costumes – Andrea Schraad
Lighting – Stefan Bolliger
Cast:
Otello – Russell Thomas
Desdemona – Guanqun Yu
Iago – George Gagnidze
Cassio – Attilio Glaser
Ludovico – Ievgen Orlov
Emilia – Ronnita Miller
Rodrigo – Burkhard Ulrich
Montano – Byung Gil Kim
Herald – Bryan Murray
Unfortunately, this Otello was the least interesting opera on my Berlin trip. The production does not hold a great deal of interest, the musical direction was rather flat and the vocal distribution was uneven.
Andreas Kriegenburg's staging premiered at the Deutsche Oper in May 2010 and could be seen at Barcelona's Liceu three years ago. It is far from a compelling production, and this is my review from 2016.
The musical direction was in the hands of Paolo Arrivabeni. Otello is an opera that requires a great conductor, and if that is lacking, it is difficult for the opera to succeed. And so it was on this occasion, in which Arrivabeni's conducting was monotonous throughout, though better in the last act of the opera. As always, there were good performances by the orchestra and chorus of the Deutsche Oper.
The number of remarkable Otellos has never been very large, and I have to say that Russell Thomas does not belong to that group. His voice has a certain amplitude, but it lacks nuance and is tight at the top, which was not the case four years ago when he sang Pollione in Valencia.
Desdemona was played by soprano Guanqun Yu, who did well in the part. She has an attractive voice and sings with good taste, although she has some difficulty transmitting emotion to the audience.
Baritone George Gagnidze in the role of Iago was unconvincing. This character also requires a great interpreter, but Gagnidze gave a monotonous performance, one lacking in the sinuousness and nuances required.
Attilio Glaser was a good Cassio, with a well-suited and well-handled voice, and Ievgen Orlov was a sonorous Ludovico. Ronnita Miller, Burkhard Ulrich, Byung Gil Kim and Bryan Murray were all correct in their parts.
José M. Irurzun