United Kingdom Mussorgsky – Boris Godunov: Soloists, Trinity Boys' Choir, Royal Opera Chorus and Extra Chorus (chorus master: William Spaulding), Orchestra of the Royal Opera House / Marc Albrecht (conductor). Royal Opera House, London, 19.6.2019. (MB)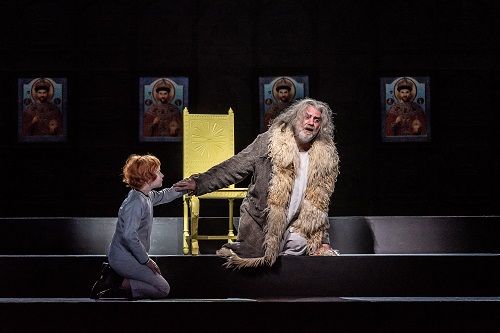 Production:
Director – Richard Jones 
Set design – Miriam Buethner 
Costumes – Nicky Gillibrand 
Lighting design – Mimi Jordan Sherin 
Movement design – Ben Wright & Danielle Urbas 
Associate director – Gerard Jones 
Cast:
Boris Godunov – Bryn Terfel
Andrey Schchelkalov – Boris Pinkhasovich
Nikitch – Jeremy White
Mityukha – Adrian Clarke
Prince Vasily Ivanovich Shuisky – Roger Honeywell
Pimen – Matthew Rose
Grigory Otrepiev – David Butt Philip
Hostess of the Inn – Anne Marie Gibbons
Varlaam – John Tomlinson
Missail – Harry Nicoll
Frontier Guard – Alan Ewing
Xenia – Haegee Lee
Xenia's Nurse – Fiona Kimm
Fyodor – Joshua Abrams
Boyar – Christopher Lemmings
Holy Fool – Sam Furness
Maybe there is something to be said after all for the 1869 version of Boris Godunov. There is obviously a huge amount to be said for what we see and hear, the problem lying in comparisons with later versions. However, unlike 2016, when Richard Jones's production had its first outing, I actually felt – as opposed to being able to come up with an argument in my head – what particular virtues it might have. It no longer came across as the 'sketch' of which I wrote three years ago, so long as one were able to keep 1872, or indeed aspects of Rimsky-Korsakov, out of one's mind. That I was, more or less, speaks perhaps of still more distinguished performances than last time around – and not only of greater receptivity on my part during Britain's own, unending Time of Troubles.
That began, I think, at the top – or rather in the pit. Last time around, Antonio Pappano had offered one of his better performances at Covent Garden. Marc Albrecht, however, proved surer, more focused, more grimly fatal, aided by an Orchestra of the Royal Opera House on fine, impressively dark form. Just what this version in particular needs then: almost enough to have one shrug at losing the Polish act, if not quite the clock. The chorus, almost as much the opera's foundation as the orchestra, was on good form too: the sound of Mother Russia and her tribulations resounding from and through multiple pasts: that of the historical Boris Godunov, nineteenth-century reinventions, and our own. The rawness of its cries certainly brought out that quality in Mussorgsky's 'original' text. One could doubtless pick holes, were one so inclined; I admit my lack of competence to judge the Russian. Neither this chorus nor any non-Slavic one will ever quite attain that 'Russian' sound many have in their heads from recordings, some from performances too. But so what? This is an opera for the world; if your sole objection is that it does not sound as you 'feel' it should, based upon what you have heard before, then perhaps the fault may lie with you. Nationalism may help to ground nineteenth-century opera; it should have no place in twenty-first-century performance and reception.
The same goes for the stage performances too, most highly distinguished on their own terms. Bryn Terfel's portrayal of Boris seemed to me to have developed considerably from last time, though it had had much to offer then too. In some ways, his facial expressions, his haunted demeanour, their combination with vocal delivery seemed to have drawn closer to a great, non-Russian predecessor in the role, John Tomlinson (seen at Covent Garden under Semyon Bychkov in 2003). Not that this was anything other than Terfel's own portrayal, of course. As Varlaam, Tomlinson himself proved in finer vocal fettle than I had heard for some time, his as fully committed a performance as we have come to expect over the years. It was, perhaps, Matthew Rose as Pimen who offered the finest vocal performance of all, the monk and chronicler – apparently innocent, but who knows? – brought vividly to life with surpassing vocal radiance. David Butt Philip's Grigory benefited from a typically detailed, intelligent performance, with Roger Honeywell a properly wheedling Shuisky. This was a Boris with no weak links, cast from depth, other impressive performances coming from Jette Parker Young Artist, Haegee Lee and treble, Joshua Abrams, as the doomed ruler's children. Sam Furness's Fool rightly held sway in his scene – and perhaps swayed the tsar too.
Jones's production has much to be said for it, especially when compared to more recent stagings I have seen from him (Katya Kabanova and La Damnation de Faust, for instance). The ritual re-enactment above of Dmitri's assassination not only chills, but imparts unity and immediacy. That we see the re-enactment re-enacted, or threatened to be, below too heightens the sense of never-ending sorrow, of political and cultural impossibility. The red hair that marks out erstwhile and present Tsarevichi, as well as pretender Grigory, is but the most visible strand that seemingly marks out the fate of all. Lightly nineteenth-century dress reminds us, like Pimen's chronicle, here literally writ large, that this is a contested history, in which generation after generation, not least those of Pushkin and Mussorgsky, will continue to rewrite to their own purposes. There is no peace in Russia, no peace in the world at large. It is not, perhaps, a production that has a great deal to say in and of itself, but it amply permits us to continue on our sorry path, both as chroniclers and readers.
With that, it is goodbye to the Royal Opera House for me for a little while. Next month, I shall leave the country again for a while. Will the 'will of the people' to which Boris attributes the Tsarevich's death continue to prevail? As much and as little as ever. Who will be tsar when I return? A Godunov, a Shuisky, a Romanov? May God have mercy on the souls of the crowd, if not those whose Kremlin machinations have done this to us.
Mark Berry