United States Verdi, La traviata: Soloists, Chorus and Orchestra of LA Opera / James Conlon (conductor), Dorothy Chandler Pavilion, Los Angeles, 1.6.2019. (JRo)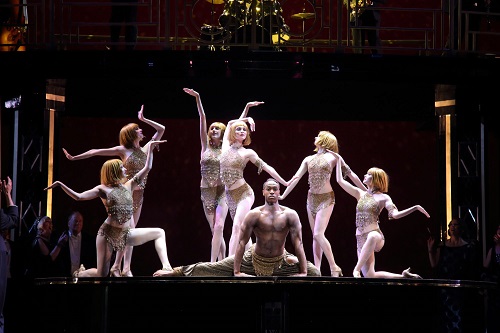 Cast:
Violetta Valéry – Adela Zaharia
Alfredo Germont – Rame Lahaj
Giorgio Germont – Vitaly Bilyy
Gastone – Alok Kumar
Baron Douphol – Wayne Tigges
Marquis d'Obigny – Juan Carlos Heredia
Doctor Grenvil – Christopher Job
Flora – Peabody Southwell
Annina – Erica Petrocelli
Giuseppe – James Callon
Messenger – James Martin Schaefer
Flora's Servant – Steve Pence
Solo Dancer – Louis A. Williams, Jr.
Production:
Director, Sets and Costumes – Marta Domingo
Lighting – Alan Burrett
Chorus Director – Grant Gershon
Choreographer – Kitty McNamee
A 1920s setting would appear to be a logical fit for a production of La traviata – flappers, cocktails, loose morals and all that marvelous Art Deco – and, for emotional resonance, the backdrop of a Europe trying to get over World War I while relentlessly on a path to another. Unfortunately, director Marta Domingo's insight into that time was a picture-postcard version. If she had used the backdrop of the twenties to further illuminate the vagaries of a frivolous world on one hand and a pair of lovers caught up in the bourgeois morality that destroys their happiness on the other, it would have been quite an achievement.
The production, mounted in Los Angeles in 2006 and 2014, was a first viewing for me. It wasn't until Act II that I could move past the glitzy sets and costumes to connect with the principals. Here, soprano Adela Zaharia in the role of Violetta showed exactly what she was made of – a gifted singer with an agile coloratura who conveyed deep feeling through her committed performance. It was a welcome surprise to discover the depth of her talent after a first act full of stereotypically flirtatious acting that distracted from both plot and music.
Subtlety was not a byword of Domingo's direction, sets or costumes. Her concept is a good one, but the execution could have used a lighter touch. During the overture, a waif and a prostitute wait under a lamppost to be swept away by a pimp and a client respectively. In Act 1, a luxurious antique sedan rolled on stage, discharging its bejeweled passengers into a ballroom that was at once tacky and swank, as was the set of Act 2, Scene 2. Dancers on the multi-level stage mimicked a jazz combo while the orchestra played Verdi – not a convincing mime. Showgirls vamped in place of gypsies in the manner of an Egyptian review in Las Vegas, and a dancer in Léon Bakst-style pantaloons danced à la Ballet Russe in place of a matador – full of fun but out of sync with the musical atmosphere. Last but not least, a disco ball relentlessly spun on high, throwing glaring pinpoints of light into the eyes of the audience.
Fortunately, the proceedings quieted down earlier in Act 2 on a tree-filled stage of falling autumn leaves. The singers were allowed room to express themselves dramatically in spite of the fact that the leaves fell too often, punctuating to ill-effect every powerful moment of the score. Though the principal singers' movements felt restricted by the large table separating them, no other distractions were present. Zaharia grew into the character of Violetta in the beautiful duet 'Dite alla giovine', where she agrees to sacrifice herself for Alfredo's sake and for the future happiness of Germont's daughter. Vitaly Bilyy as Germont sang with a dark-hued elegance and conveyed Germont's transition from an imperious father to a benevolent, remorseful figure.
Zaharia and Rame Lahaj as Alfredo made an attractive pair of lovers. With his movie star good looks and warmly colored tenor, Lahaj was convincing as the ardent suitor who cycles through turbulent emotions. His fevered portrayal culminated in a tender duet when he and Zaharia sang 'Parigi, o cara, noi lasceremo' in an emotionally wrenching final act.
It is a tribute to the quality of the principals, the secondary soloists and the vibrant orchestra under James Conlon that they were able to transcend an incomprehensible and bizarre Act III set to achieve a powerful conclusion. Though Verdi and his librettist, Piave, set the action in Violetta's bedroom, Domingo puts her on a lumpy mass of furniture covered in glittery white fabric and seemingly placed under a black sky lit by stars with snow falling on and around her. Is she on Clara's bed in The Nutcracker ready to be whisked off to the wintry realm of dancing snowflakes? Or is she awaiting her apotheosis at the gates of heaven? A simple window frame to suggest an interior would have helped immeasurably to locate the scene and allow for the ministrations of her maid, the attentions of her doctor and the arrival of Alfredo and Germont, who all seemed to inhabit this cosmic realm with Violetta. With the addition of a window, even the trio of ghostly sprites who danced circles around her would have made sense as carnival masqueraders in the streets of Paris (as written), rather than as visitors from the crypts below or from the heavens above.
Even with all these qualifications, the production had its charms: lots of glamour to behold, satisfying performances in all the secondary roles and, of course, that infinitely beautiful music, nurtured and so lovingly interpreted by the esteemed James Conlon, the orchestra and the splendid chorus of LAO.
Jane Rosenberg