United States 2019 New York Opera Fest [7] – Purcell, Dido and Aeneas: Soloists, Jude Ziliak (violin), Isabelle Seula Lee (violin), Danika Paskvan (viola), Anthony Albrecht (cello), Arnie Tanimoto (viola da gamba) / Elliot Figg (conductor and harpsichord), Death of Classical – The Angel's Share, The Green-Wood Cemetery Catacombs, Brooklyn, 8.6.2019. (RP)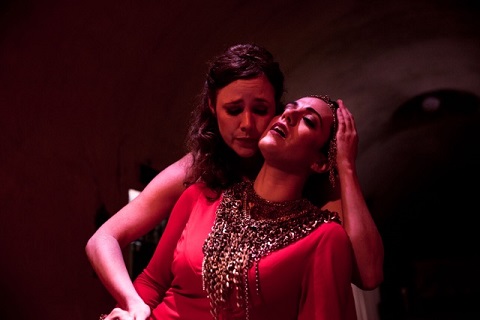 Production:
Director – Alek Shrader
Lighting Designer – Tláloc López-Watermann
Choreographer – Liana Kleinman
Costume and Jewelry Designer – Fay Eva
Makeup Designer – Ivey Ray
Cast:
Dido – Daniela Mack
Aeneas – Paul La Rosa
Belinda – Molly Quinn
Sorceress – Vanessa Cariddi
Achates – Marc Molomot
Anna – Brooke Larimer
Witch Crone – Alyssa Martin,
Witch Maiden – Erin Moll
Misenus/Ilioneus – Kannan Vasudevan
Iarbas – Paul Greene-Dennis
The Spirit – Liana Kleinman
Outside Carnegie Hall, I overheard a man say, 'I went to the most bizarre Dido and Aeneas last night'. I didn't linger to hear any more of the conversation, but knew instantly that he was referring to The Angel's Share's production of Purcell's opera at Green-Wood Cemetery. It was on my schedule for the following evening, or his words wouldn't have pierced the post-concert din at the corner of 56th Street and Seventh Avenue.
Brooklyn's Green-Wood is one of those grand nineteenth-century burial grounds with amazing monuments and trees worthy of an arboretum. (The Kousa dogwoods in full bloom were stunning.) On this perfect June evening, opera-goers were eased into the experience with a whiskey tasting, fantastic views of Lower Manhattan and a walk through the cemetery to the subterranean Catacombs, a long, white chamber lined with 30 burial vaults.
The Catacombs have an atmosphere all their own, so director Alek Shrader and his creative team's scenic touches were few. When love blossomed, garlands of flowers festooned the stage, while washes of red light appeared when passions ran high. As improbable as it sounds, Shrader managed to evoke the stylized grandeur of a Cecil B. DeMille Biblical epic in this small space. Samson and Delilah kept crossing my mind, especially since Daniela Mack as Dido and Paul La Rosa as Aeneas certainly had the charisma and looks to rival any Hollywood stars.
The innovative features of Shrader's Dido and Aeneas were the addition of dialogue from Christopher Marlowe's play Dido, Queen of Carthage, and the character of Iarbas, a Numidian chief. Here, as in Virgil's Aeneid, Iarbas is in love with Dido, the Queen of Carthage, who has rejected his many proposals in favor of Aeneas. The few lines from Marlowe's play added context and meant a few more singers were on stage, a pretty neat solution when it came to the choruses.
Dressed in scarlet, Mack made a dignified, stoic Queen. With a quick turn and the slash of a sword, she deftly stabbed herself before beginning 'Dido's lament'. Mack captured the queen's indignation and resignation over her abandonment by Aeneas with a rich mezzo-soprano voice that throbbed with emotion. When she collapsed at the end of the aria, her red dress created the illusion of a pool of blood: it was a stunning visual image.
La Rosa's Aeneas was a brash opportunist who, despite his promises to Dido, barely hesitated when destiny beckoned him to Rome. La Rosa's robust baritone seemed constrained by the music Purcell composed for Aeneas, but perhaps I just wanted to hear him sing more. Tenor Marc Molomot's sailor injected a touch of humor and lightness in the tragedy with his boisterous singing of 'Come away, fellow sailors'. Bass-baritone Paul Greene-Dennis had little to sing but was a commanding presence as Iarbas.
Vanessa Cariddi as the Sorceress worked her evil and cast her spells with relish. Her beaded headdress, as well as those of Alyssa Martin and Erin Moll, the Wayward Sisters, were fantastic creations. Molly Quinn was a sympathetic Belinda, while Brooke Larimer as Anna always had a devilish look in her eye and a knowing smirk on her face.
Liana Kleinman both choreographed and danced the non-singing role of the Spirit. On such a small stage, a dancer might have easily been a distraction or an annoyance. Kleinman, however, seamlessly inserted the Spirit into the fabric of the production, capturing and amplifying the profound emotions of the drama.
Elliott Figg and his band of players were excellent. Musically, this was the most satisfying of the three operas that I've seen presented by The Angel's Share in the Catacombs, which is solely a matter of balance and acoustics. It was all so easy on the ear. Purcell's music, with its lighter textures, more subtle colors and buoyant rhythms, is perfectly suited for a small, resonant space.
Opera at Green-Wood is an experience that extends beyond the music. Exiting the Catacombs, I inhaled the powerful, sweet scent – a blend of honey and lemon peel – of a giant linden tree. Swarms of fireflies darted among the elaborate hillside tombs and mausoleums as I walked back to the towering Victorian gatehouse, backlit by the lights of Manhattan. Bizarre never crossed my mind, but extraordinary did.
Rick Perdian