Germany Massenet, Don Quichotte: Deutsche Oper Chorus and Orchestra / Emmanuel Villaume (conductor), Deutsche Oper Berlin, 13.6.2019. (JMI)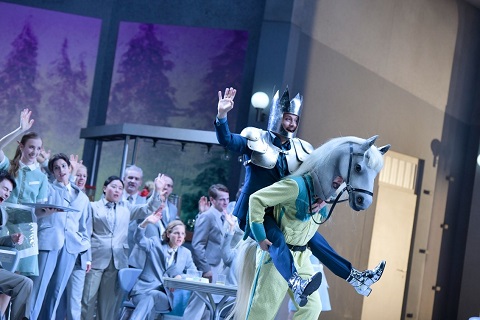 Production:
Direction – Jakop Ahlbom
Sets – Katrin Bombe
Costumes – Katrin Wolfermann
Lighting – Ulrich Niepel
Cast:
Don Quichotte – Alex Esposito
Dulcinée – Clémentine Margaine
Sancho Panza – Seth Carico
Pedro – Alexandra Hutton
Garcias – Cornelia Kim
Rodriguez – James Kryshak
Juan – Samuel Dale Johnson
Don Quixote has always played a strong role in the history of opera: more than 80 titles have featured the 'Knight of the Sad Countenance' as protagonist. Probably the best-known of them all is Massenet's opera, though one should add that it is seldom performed these days. The last time I saw it was eight years ago at the Teatro Real in a concert version, and I think the only current production on offer is at the Mariinsky Theater in St. Petersburg. The initiative of the Deutsche Oper Berlin to stage a new production of the work is most welcome.
Jakop Ahlbom is making his opera debut with this staging. The author's marvelous creativity stands out in a special way, although all the originality is at the service of the opera and not the other way around, as so often happens. He brings the action up to current times to tell a tale full of fantasy and imagination.
The first act takes place in a tavern where Dulcinea is a waitress, and Don Quixote rides in on his horse, Rocinante, which is none other than Sancho Panza. The windmill scene is less imaginative but features a spectacular performance by contortionists surrounding Don Quixote. Act III, set in the thieves' cave, is splendid, with a whole series of extras as insects. The final scene of Don Quixote's death is performed at the front of the stage and works very well. The costumes are modern and fun, the lighting is effective and the stage direction savvy and amusing – all in all, it's an excellent production.
The musical direction under Emmanuel Villaume was quite convincing: he took the work at a good pace and supported the singers. Once again, the orchestra and chorus were impressive.
Don Quichotte was played by bass Alex Esposito. He gave a fine performance, but it fell below the level I experienced with Ferruccio Furlanetto in the role. Esposito's voice is a little short on volume, and he was lacking emotion in the final death scene.
Dulcinée was sung by mezzo-soprano Clémentine Margaine who was good in the part, though she too failed to measure up to my memory of Anna Caterina Antonacci in Madrid eight years ago.
Baritone Seth Carico did well as Sancho Panza, or perhaps one might refer to him as Rocipanza or Sanchonante, since his character is a mixture of Rocinante and Sancho here.
Dulcinea's suitors were nicely covered by Alexandra Hutton (Pedro), Cornelia Kim (Garcias), James Kryshak (Rodriguez) and Samuel Dale Johnson (Juan). The extras and the dancers were terrific.
José M. Irurzun